A successful call center agent needs excellent customer centric skills to give out the best results. These agents act as the face of the company. They need to interact directly with the clients. They can make or break the image of the company. They need to satisfy customers with their exceptional quality of service.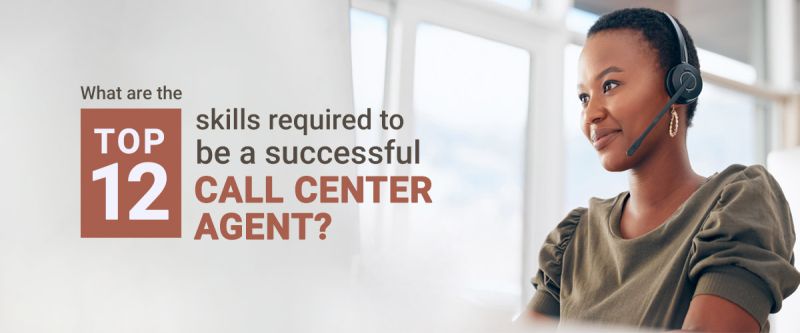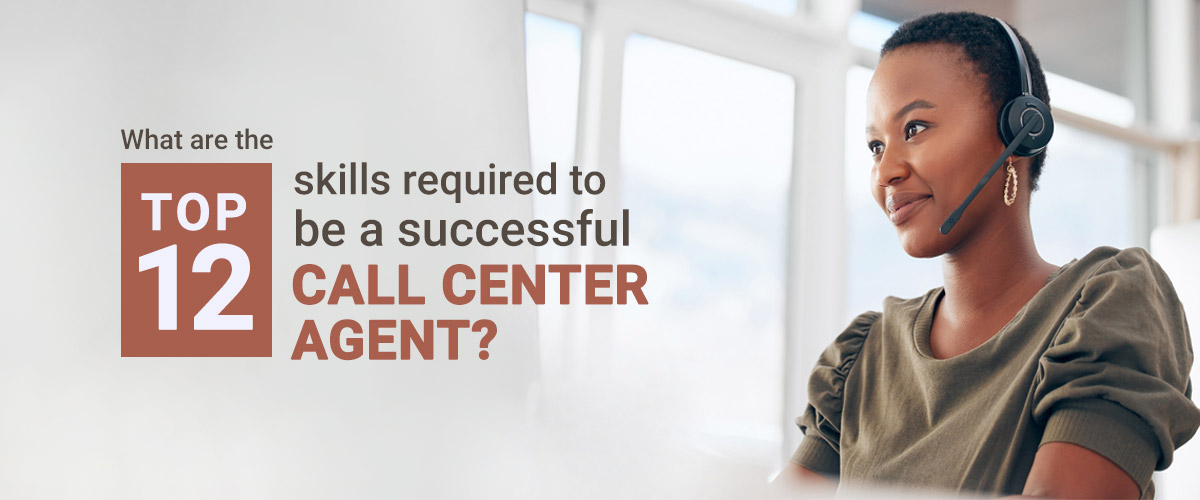 A department entirely responsible for handling incoming and outgoing customer calls is a call center. Businesses usually have their centers within their premises, or else they might hire call centers or outsourcing consultants. These centers will have all the infrastructure supporting world-class delivery services. The employees working in such service centers are called call center agents. They are well-versed with solid communication and problem-solving skills to solve every non-technical and technical issue. In addition, they can address the different requirements of the businesses.
The 12 important skills service agents need to cultivate are listed
Effective communication

Productive and clear conversation helps in resolving customers' issues. Communication skills save time and help in understanding the problems of your customer.

Mastering the products and services

Agents with in-depth knowledge of the products and services can be an asset to the company. Providing solutions for the client's issue gets easier, creating long-term. They can easily recommend appropriate suggestions quickly to meet customers' demands.

Quick-thinking

Whenever scripts fail to assist agents, there might be situations where agents are not able to identify rapid solutions. That's where agents need to think quickly and come up with satisfactory solutions. Sometimes they will need to modify the pitch to suit the situation. Quick thinking can give your customers amazing satisfaction with their problems getting solved. This improves the efficiency of your service centers overall.

Patience in handling any situation

Patience plays a crucial role in these kinds of jobs. Agents might encounter different categories of customers. Customers need to get time to explain their concerns. Service representatives need to explain and assist them actively with a positive attitude. When dealing with an upset or confused customer, you need this skill.

Empathy

Empathy is a skill that can build a positive and authentic rapport. Understanding customers' needs can help them realise that they are valuable. Attendance to detail allows them to enter information into the client's good records.

Flexibility

Handling several important call center communications with different personalities is not easy. Agents who can go with the flow are flexible enough to meet your client's needs. Customers can have different moods, and a call center agent should be capable of handling those moods.

Listening Skills

Intense listening skills can help call center agents to get a perfect understanding. This helps in ensuring no essential details are missed during the conversation. Difficulties faced by customers can be understood without asking them to repeat them. It helps in curbing the call numbers needed to resolve issues.

Providing feedback

Agents have to ensure they give their customers timely feedback. A user-friendly explanation of all things that have to be done or what has been done. On-time feedback delivery helps increase customer trust.

Speed

Working with quick and efficient speed is one of the major skills. The more calls an agent can handle, reduces the expense of the company. The company will need a few agents, and the work will go on smoothly. Customers need their call answered quickly. A fast-working agent can be the best solution for a customer who needs a fast solution.

Creativity

Creativity brings out the best working solutions for a strong agent. Callers' needs can be met in the best way possible. This will help improve customer satisfaction and resolve issues effectively.

Organizing skills

Agents have to keep themselves incredibly well organized. Multi-tasking capability is a must when taking a client call. They need to check the database, update CRM, and take notes. The helps in reducing errors and addressing client needs efficiently.

Going the extra mile

Going the extra mile to win over a customer is a gesture to show your dedication. Skills should be refined and learned continuously to give the best customer experience.
Conclusion
These 12 mentioned qualities are very essential to become a successful call center agent. So, train your agents on the relevant skills and improve your call center efficiency.