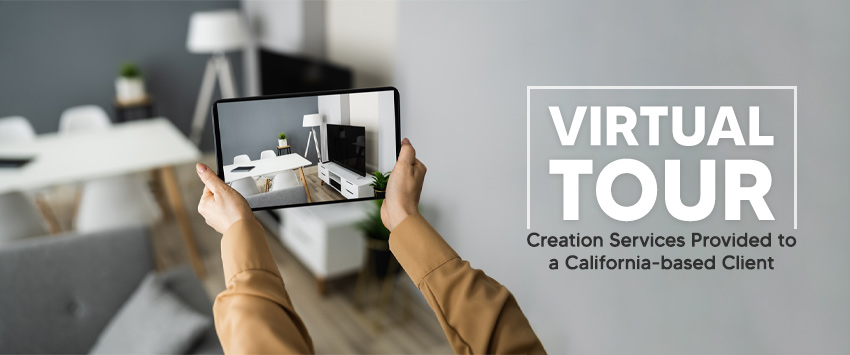 Requirement
The client was a real estate business owner who was new to the field and was looking for cost-effective virtual tour creation support. The client had a total of 5 villa projects throughout California and he wanted our experts to develop different walkthroughs for each project while including various combinations of designs, textures, and colors for both the indoor and the outdoor spaces.
Constraints
The client was pressed for time and wanted us to create 50 virtual tours within a span of 7 days post deal closure. Our team regularly handles big, complex, and long-term projects for several clients on a retainer model and so we faced difficulty in assigning the right resources to the project to deliver the outcome within the client's specified deadline. The client's budget was also a bit tight and so we had to deliver whatever we can within limited time and budget while keeping quality as the prime consideration.
Solution
We finally assigned 5 employees from other projects to this project and they had to manage the varied demands of multiple projects during that time. The team started their work a day after the deal closure and committed their time, energy, and ability in designing varied walkthroughs that perfectly portrayed all the details of the properties including their landscaping.  Each presentation was unique in terms of décor, materials, textures, and colors and was delivered with high levels of precision, clarity, and aesthetics.
Impact
The client was highly impressed with the outcomes and he actually used our personalized designs to plan the interiors of his properties. Our inputs provided him with the base to design the indoor spaces with high level of creativity and uniqueness. The client was able to strengthen his marketing portfolio and the success of our efforts got reflected in the client's ability to sell 2 properties within a span of 2 days. Today, the client is one of the top names in California's real estate market and he launches multiple projects annually. He still works with us and our partnership is 5 years old now.