YouTube Shorts are short forms of vertical video content of 60 seconds or less, native to YouTube. Content creators can create the Shorts and publish them directly on YouTube. Like TikToks and Instagram Reels, Shorts have become popular online. Owing to their high engagement factor, more and more brands and digital creators are creating Shorts for their channels.
ProGlobalBusinessSolutions offers a stellar video editing service curated especially for YouTube Shorts. Backed by a team of expert video editors, PGBS caters to a global clientele and helps them increase their channel viewers. Our top-notch editing service can give life to your creative ideas and make all your Shorts stand out.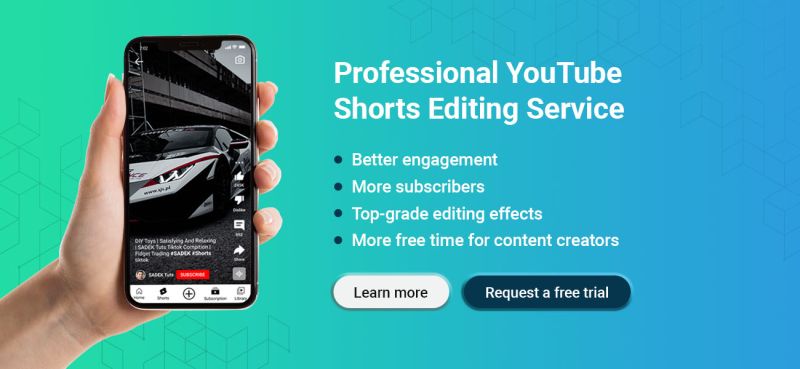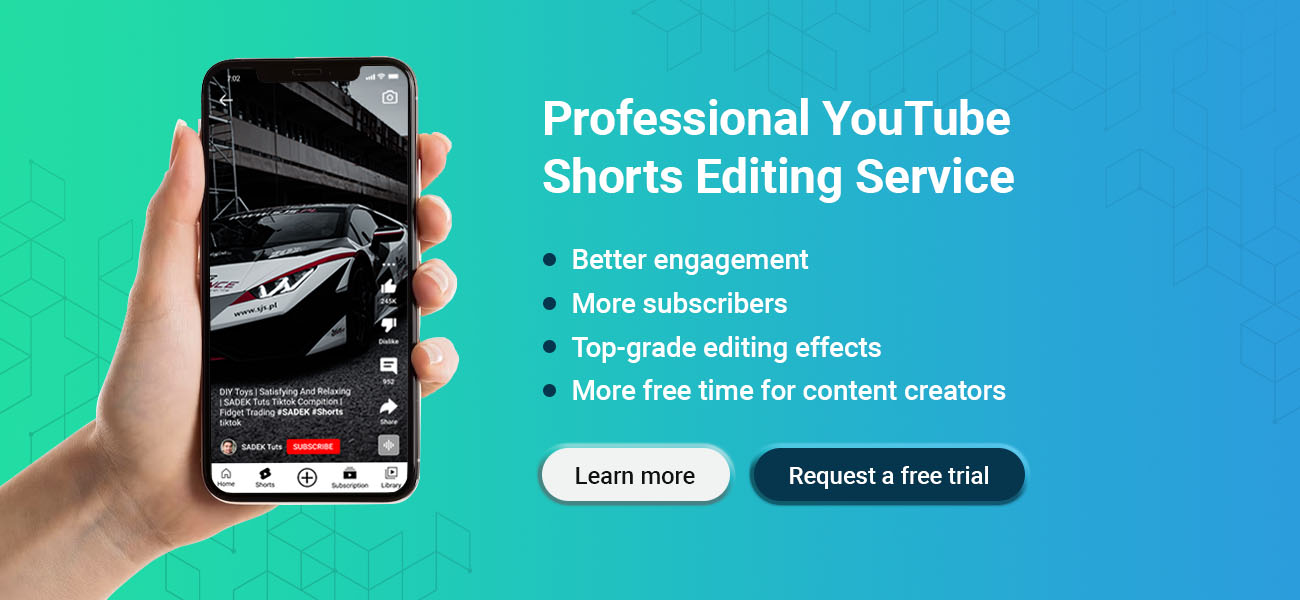 Why do you need professional YouTube Shorts editing services?
More than 1.5 billion active YouTube users watch shorts daily. That's a big number. Your video content must cut through the noise to tap into this huge target demographic. For that, a professional and experienced touch is required. Hiring a professional editing agency for your Shorts content will result in better-optimized videos. This will drive more viewers to your channel and increase your subscriber base.
A team of professionals has access to unlimited cutting-edge technologies and equipment for their editing process. Hence, you can leave the technicalities to them while enjoying more free time to invest in creating quality content.
Video categories we serve
Our YouTube Shorts editing services cover a broad spectrum of categories. We don't believe in a "one-size-fits-all" approach. Thus, our editing experts ensure each video content's edits are unique and distinctive. Some of the categories we serve are:
Gaming shorts
Product Shorts
Review Shorts
Life hacks
Before and after
Beauty tips
Makeup tutorials
Motivational Shorts
Funny Shorts and more.
Our YouTube shorts editing services includes
Color correction
Noise reduction
Volume adjustment
Text overlay addition
Subtitle/CC addition
Adding special effects
Adding cuts and transitions
Adding background music
Benefits of outsourcing YouTube shorts editing to us
When you work with our team, you experience something you have before. With 10+ years of hands-on industry experience and domain expertise, our team creates captivating videos aligned with YouTube's algorithm. If you are still not convinced, check out the following qualities that make us stand out!
International standards

We adhere to international standards in our editing process, using the latest software versions. We deliver final files in HD specifications and universally compatible MP4 format.

Transparent work process

Right from the start till the end, we keep our clients in the loop. For every step, we keep them updated with any development and seek review.

End-to-end solutions

We also offer scripting, storyboarding, thumbnail creations, and other end-to-end high-end solutions to our clients.

Professional consultation

Not just editing, we also help first-timers and novice content creators with professional consultation. Such as the right time to upload the Shorts, the right target audience to choose from, and more.

Up-to-date with trends

Our prolific video editors keep themselves updated with all the latest trends in the digital world. This helps them to imbibe the trends into their editing workflow.

Robust infrastructure

We take pride in our robust infrastructure and ability to scale. With a fleet of the latest equipment, advanced hardware set up and industry-standard workstations, we deliver only the best!

Stringent data security policy

We are equipped with a highly safe and secure file transfer protocol. This ensures zero data leakage or any malware/virus attack threat. We also sign an NDA to safeguard client data.

No hidden charges

We hate clickbaits. Hence, we have zero hidden charges within our pricing. With PGBS, you get what you pay for!
Team up with ProGlobalBusinessSolutions for exciting YouTube Shorts editing
Ready to boost your Shorts videos this 2023 and beyond? Collaborate with our YouTube video editing team and see your channel grow to newer heights. Just send us your raw video footage and let our editing professionals show their creativity.
If your business needs any social media video editing (Facebook, Instagram, TikTok, Twitter, LinkedIn), feel free to get in touch with our team!