We create thumbnails for YouTube videos that get clicks!
100% custom-designed, optimized, and aesthetic designs at an affordable price!
90% of the most successful videos on YouTube have the most visually captivating thumbnails. And that's why content creators are actively turning towards getting custom thumbnails for their videos.
At ProGlobalBusinessSolutions, we offer unique YouTube thumbnail creation services to attract more clicks. We carefully create the best thumbnails for YouTube videos that will grab the user's attention. Our expert graphic designers are well-versed in the trends and buzz on YouTube that appeal to viewers. Each thumbnail is different and unique from the others.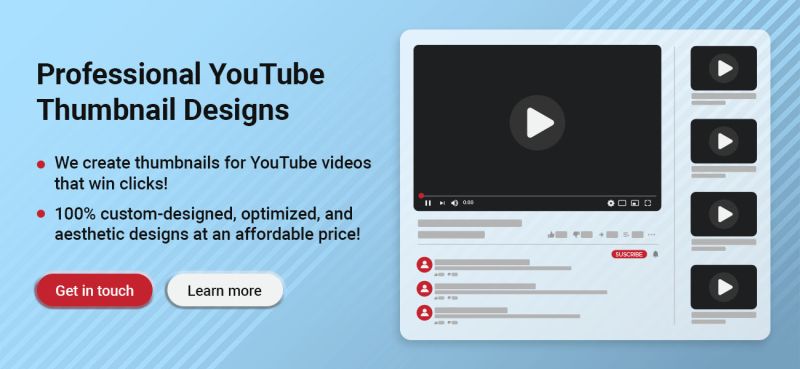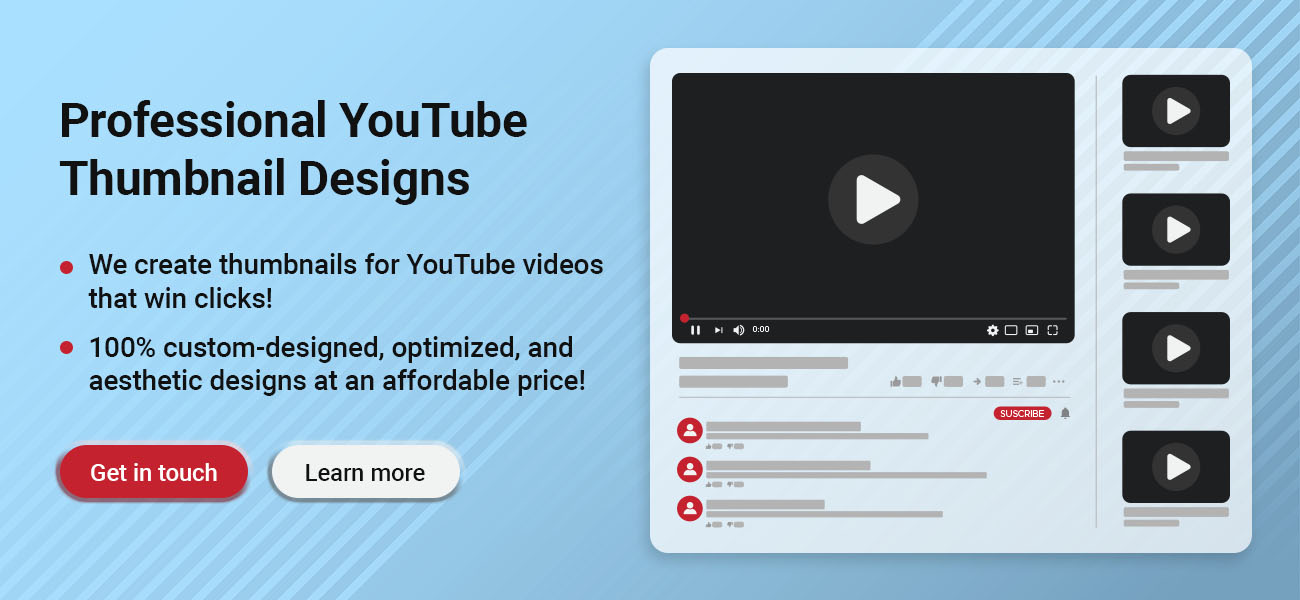 Get in touch with us today and give your videos a major boost!
Why does your YouTube video need professionally designed thumbnails?
Thumbnails are the first thing your audience will see on your YouTube channel. They decide to click on the play button based on how engaging and quirky the thumbnail is. Hence, having a thumb-stopping graphic for long YouTube videos or YouTube shorts is mandatory. Also, optimizing them is imperative. The right resolution, file size, type, and text – all make a thumbnail truly eye-catching.
Only professionally trained experts can develop such multi-purpose thumbnails for YouTube videos. Their creativity and technical prowess are needed to make a thumbnail optimized for visibility on YouTube!
Our stellar YouTube thumbnail creation service caters to
Stop using random and boring thumbnails that stop your audience from clicking on your content. Catch their attention with the most eye-grabbing thumbnails created by our experts. Our top-notch designs are best suited for-
YouTubers
Content marketers
Podcasters
Video podcasters
Course creators
Vloggers
Corporate organizations
– and more!
Benefits of using our YouTube thumbnail design services
Our image editors help you get back to creating the best content for your YouTube channel and forget the hassles of designing thumbnails. Focus more on your quality script and leave the design hassles to us!
Click-worthy designs

We create each thumbnail based on the key highlight of a video that grabs eyeballs and increases click-through rates.

Affordable rates

Our prices are affordable, flexible, and won't burn a hole in your pocket.

Creative Team

We are backed by a creative team that has a strong eye for detail.

Super-fast turnaround

Get the best thumbnail designs within 24-48 hours (based upon the volume)
Related Services
Team up with ProGlobalBusinessSolutions today for the best YouTube thumbnails!
Creating a visually captivating thumbnail for your YouTube videos is our priority. We have experts on our team who understand your objectives, what your video content is, and analyze your target audience. Using these insights, they develop eye-candy designs to peak interest among the audience and make them click.
Team up with us today and grow your subscribers. Let's attract more potential viewers to your YouTube channel!
Also, if you need custom thumbnails for your Facebook and Instagram reels, TikTok videos, or other marketing videos, we are just an email away!