Graphic design may immediately remind you of stunning web graphics or creative advertisements. But you must note that graphic design is a vast field that includes the creative designing of magazines, product labels, infographics, business cards, mobile apps, book covers, software interfaces, posters, logos, signs, and website layouts. The list is quite long.
So what is graphic design and how would you describe the field of expertise? But this piece of content would still give you a detailed overview of the subject matter while allowing you to gain a deeper understanding of this creative career option.
What is graphic design?
Graphic design is an art of expressing ideas and experiences using appropriate visuals and texts in a creative manner. In simple terms, graphic design communicates messages visually with visuals assuming various forms such as logos, webpage layouts, posters, book covers, flyers and more. It contains artistic components or design ideas that influence the viewers' perceptions in a subtle manner.
Graphic design connects businesses with their customers, allowing them to share information related to events, projects, campaigns, or products with their customers. It facilitates product promotion and advertising. It allows people to interpret complicated information easily. It is an integral component of a business's brand building program.
It is noteworthy to mention that even though graphic design projects are meant to support commercial purposes, but it is also used frequently to reflect artistic pursuits. Graphic designers make use of visual hierarchy and page layout techniques to display typographical and pictorial elements in a creative manner so as to create interactive designs that would address the specific needs of businesses and to generate optimum user experience.
Before we move further into the discussion, let us discuss what is digital graphic design.
What is digital graphic design?
Digital graphic design involves the creation of graphics through computers. Digital graphic design includes both static images and movements that form part of 2D/3D animation, 2D/3D models, and interactive pages.
The History
Graphic design dates back to the ancient times when hieroglyphs were drawn in Egypt and when cave paintings were drawn to commemorate important events. The term 'graphic design' began to be used during the 1920s in the printing industry and it included multiple activities that were geared to boost the aesthetic appeal of print-outcomes through a creative combination of color, images, and typography.
Key Considerations
Creativity and graphic design are not based on any rule. There's no set guideline as to how you should use your graphic design principles to create project outcomes. Your outcomes should typically depend on your perceptions of what your clients want and the persona of the brand that you are promoting. Here are the typical graphical considerations:
Pattern
Symmetry and Balance
The Golden Ratio (proportions of 1:1.618)
Flow
The Rule of Thirds (how users' eyes perceive layouts to be good)
Typography
Repetition
Audience Culture
The overall objective of graphic designers is to showcase information while striking a perfect balance between beauty and usability and portraying an organization's brand's persona in the most appropriate manner. By creating an impactful visual presence by aesthetically arranging visually-appealing elements, graphic designers can instill values in their designs, which should resonate with the values embraced by their target audience.
Design Fundamentals
You should be aware of the principles and elements that form the foundation of graphic design in order to be able to understand the broader scope of the subject. Visually-appealing and memorable designs are created when creative professionals are able to use elements in creative conjunction or opposition with each other.
These are the main graphic design elements:
Graphic designers base their outcomes on certain principles or guidelines that allow them to design effective outcomes. These principles allow them to achieve balance and stability in their project outcomes. The basic design principles are:
Movement
Emphasis
Proportion
As mentioned earlier, there is no set pattern or rule that a graphic designer must follow. However, a graphic designer should know these principles very well so that they can create their own principles in the most creative manner.
What is the importance of measurement in graphic design?
Measurement is of extreme importance in graphic design mainly because of scaling and conversion purposes. Accurate measurements allow graphic designers to scale up or scale down a visual while maintaining quality. Use of appropriate measurements also allows designers to convert one file format into another format including the print format while adhering to the preset quality standard.
What is leading in graphic design?
Leading refers to the gap between several lines of type. The number of lines range from two to multiple, as per requirement. Leading is measured from one baseline to the other. Leading is the imaginary line where a text line rests.
Importance of Color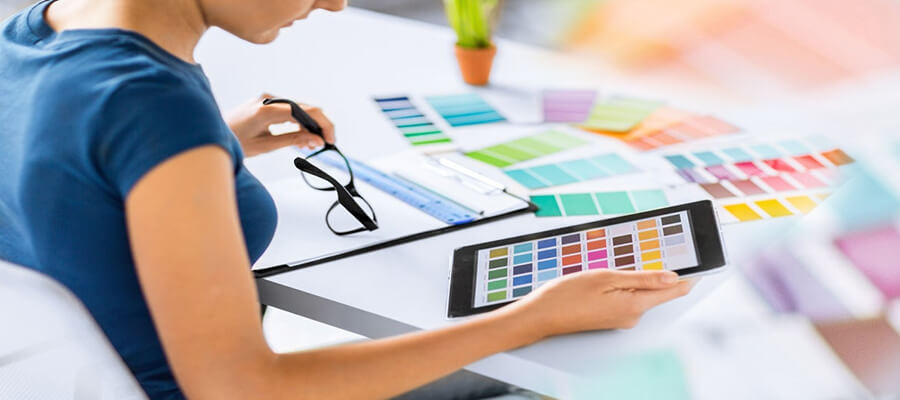 Graphic designers need to have a thorough understanding of the color theory and should be creative and sensible enough to determine the color scheme as per project requirements. The choice of color should not only be based on the brand's persona, but also on the likings and disliking of the target audience. You should make sure that the design elements form a harmonious combination with the tone and the overall effects and are able to influence a user's emotions in a positive way.
What is a mockup in graphic design?
A mockup refers to a full-scale sample of a design, mainly used for product demonstrations or testing. It is used to show how the actual design would appear in reality.
Types of Graphic Design
There is no single way to define or describe graphic design and we have already mentioned this fact at the beginning of this article. The subject includes within its purview many fields and specializations. It is about generating brand-specific and audience-specific print media and web media graphics.
Thirty years back, the scope of this creative field was limited only to print-outcomes that included movie posters, advertisements, and magazines. This is the era of digital revolution and today, graphic design has undergone transformation and has assumed a digital makeover. Creative outcomes in modern times are shaped by modern technologies. Here are the main types of graphic design, which owe their origin to the digital revolution:
Web Design


Web designers design the overall layout, navigation, and color scheme of websites and their main objective is to create intuitive and engaging webpages.

UX Design

Graphic designers, who specialize in creating custom UX designs, ensure that users get a pleasant experience while exploring a website. These designers emphasize value, usability, adaptability and desirability. UX designers combine aesthetics with usability to create easy-to-use website interfaces. They must take into account the information architecture of the interactive designs and the visitors' visual processing abilities in order to ensure smoother accessibility. Professionals who design UX should ensure that their designs are pleasurable, meaningful, and usable.

Motion Graphics Design

Professionals specializing in motion graphics can enliven visual elements by adding special effects and animation. The scope of motion graphics includes movies, TV shows, and video games. Motion graphics can be progressively used by businesses to create impactful ads. Motion graphic designers have the expertise to create animated logos, presentations, tutorial videos, apps, video games, advertisements, title sequences, trailers, presentations, promotional videos, animated banners, GIFs, etc.

Branding Design

Branding design is used by businesses to create visual identity as part of their branding initiatives. By using appropriate visual elements, graphic design companies can communicate their brands' personality, tone, and essence to their customers and can create engaging experiences. Designers who specialize in creating visual identity graphic design collaborate with brand stakeholders to create logos, color palettes, typography, and image libraries. These design assets can be used in diverse media including corporate stationery, business cards, corporate gifts, etc.

Promotional Design

Graphic design is a powerful marketing and advertising tool for businesses. Graphic designers specializing in creating visual marketing content work closely with a company's owners or the marketing team to create different forms of web media and print media graphics. These professionals are expert at designing various types of marketing collateral such as infographics, postcards, flyers, brochures, presentations, email marketing templates, website and blog-images, vehicle wraps, magazines, signage, social media ads and banners, etc.

Publication Design

Graphic designers who specialize in publication design work in collaboration with publishers and editors to design layouts of books, catalogs, newspapers, newsletters, directories, magazines, annual reports, etc. These designers are expert at both print publishing and digital publishing, and they can creatively use typography and artwork including illustrations, photos, and graphics to create awe-inspiring layouts.

Packaging Design

Product packaging is an important marketing and branding tool. Packaging designers have thorough knowledge of print and industrial design and they have expertise in creating designs for product labels as well. They are champions at working on other branding assets such as photography, visual identity, and illustrations.

Environmental Graphic Design

Environmental graphic design connects people with places and makes spaces more informative, interesting, and engaging. It is interesting to note that wayfinding is a special type of graphic design that combines strategic signage, landmarks and clues to help people find their ways to their destinations. Some of the typical graphic design outcomes are signage, wall murals, public transportation murals, indoor spaces of retail outlets, museum exhibitions, event and conference spaces, etc. As a matter of fact, environmental graphic design is a multidisciplinary field and demands knowledge of interior, architectural, landscape, and industrial design. Designers specializing in environmental design should have knowledge of design and architecture.
Building a Career in Graphic Designing field
With the emergence of new types of digital graphics in response to the technological advancements, we have been witnessing the creation of new career opportunities in this field. This has led to a transformation of the graphic design career landscape. We have noted a fall in demand for the services of traditional graphic designers who primarily create print media graphics. On the other hand, the Bureau of Labor Statistics (BLS) reveals that the employment of graphic designers who specialize in digital graphics is expected to increase by 24 percent through 2028. The spur in the demand for digital graphics is attributed to businesses' additional focus on digital media to boost their digital presence. We frequently come across thousands of job titles that demand a degree in the subject and based on our research and analysis, we have been able to come across the following graphic design jobs title:
Multimedia Artist
Web Designer
Marketing Designer
Art Director
UX Designer
Layout Artist
Web Designer
Creative Director
Brand Identity Designer
Candidates who receive proper training and develop appropriate skills and are passionate about putting their creativity to their best possible use can build a marvelous career in this field.
Best graphic design software to learn
There are certain tools that are widely used by graphic designers who specialize in generating digital designs. Before the advent of digital visuals, sketchbooks used to be a graphic designer's most frequently used tool. Even today, most graphic designers prefer to sketch out their ideas on a piece of paper before they can actually create the design digitally. Today, with the advent of state-of-the-art programs, designers can directly create digital rough sketches and can modify them as per project needs using ground-breaking tools.
These software programs frequently get upgraded to higher versions and so it is important for graphic designers to stay updated about the changes so that they can optimally use the upgraded features to create superior graphics.
At the end of the day, a graphic designer needs ideas and inspirations to create a solid foundation for their designs. It is the concept that matters the most and then it is through the appropriate use of digital designing tools that the concepts can be brought into life. So if you are a design professional who's looking for new concepts, try looking out around you or search the internet for inspirations.
So what is graphic design in its very essence?
By now, you must have realized that graphic design does not have one-size-fits- all character. You can use graphic design in innumerable ways to address diverse requirements or to create non-commercial outcomes that would inspire others.
Whether you have realized or not, graphic design is all about understanding the emotions of people. Even though graphic design has assumed its present-day digital makeover, it still remains as an application of tried-and-tested principles. Identifying the psychologies of different individuals and delivering designs that relate to their emotions is the key to becoming successful in this field.