ProGlobalBusinessSolutions presents itself as one of the most professional Indian based outsourcing companies providing custom brochure design services. Brochures offer complete information about the company in an interesting manner. They are easily adaptable to different forms, be it hard copy, PDF, PowerPoint presentation or any other.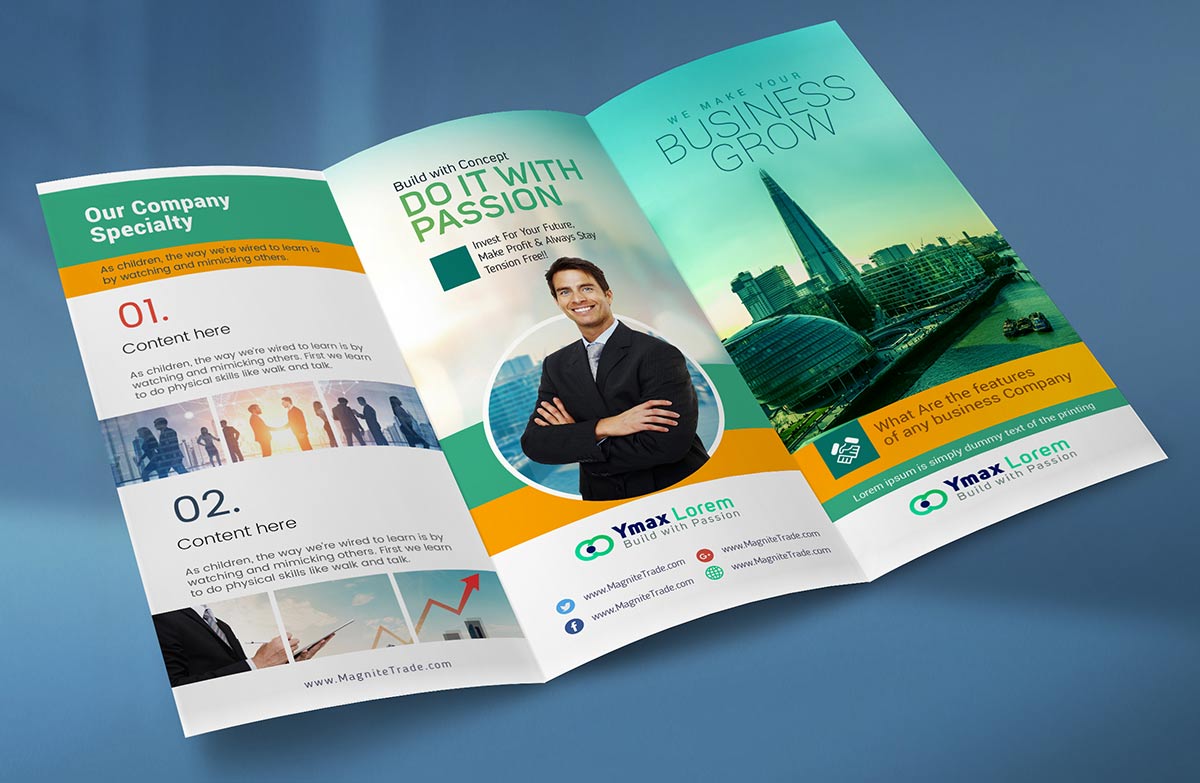 Brochure design services in India
With the popularity of design services in India rising, companies are increasingly outsourcing their requirements to India in this regard so as to make a great impression on the minds of their customers. It is the responsibility of companies to design a good brochure via the medium of the advertisement materials.
However, instead of going for cheap services always opt for the best by outsourcing to a proven brochure design company in India. When the advertisement materials are innovative and informative, they become one of the best marketing tools for the company. The best thing about such advertisement materials is that they can be used by any company, irrespective of their background, be it industrial, museum, non-profit organization, school and others.
Professional brochure designs from PGBS
Since inception, PGBS has been offering professional and creative graphic design services that help companies appeal to their target segment in a highly convincing manner. Our talented team offers counseling and advice to clients to help them with the best designs that can be offered at the fastest turnaround time.
Our experts consult the clients outsourcing to us to understand their expectations, get inputs, ideas and discuss the concept. We help the clients put the intended message in the advertising material in an impressive manner. We design the brochures with the right mix of image, content, illustrations and of course technology. Our experienced personnel makes the best advertising materials that convince the target audience for the clients who outsource to us.
Brochures- single or multifold is the first step of rapport building with the clients. It has to be precise yet convincing enough about the quality of the products or services offered. Experienced professionals here in our outsourcing office including creative writers, visualizers, and graphics experts work collectively to make the advertisement material. The ideas of professionals aim to connect with readers and creating a strong impact on them.
Types of brochure designs we provide
Bi-fold: We develop attractive bi-fold brochures, which can create the desired interest or impact on the audience for opening and viewing the content.
Tri-fold: We can craft highly impact and versatile tri-fold brochure designs in both standard and large sizes to boost the marketing campaigns of clients.
Multi-page bi-fold: We can create multi-page bi-fold brochures, which usually includes 4-page, 8-page, 12-page, 16-page, or 20-page designs as per the clients' need.
Gate-fold: We design the gate fold brochures in the most unique and appropriate way that can produce the necessary impact in the minds of the audience.
Double gate-fold: Since the double gate-fold brochures are quite expensive, we offer the designs at a cost-effective price without compromising on its quality and appeal.
Accordion-fold: As an alternative to the tri-fold brochure, we are also apt in designing accordion-fold brochures or Z-fold brochures to cover the various needs of the client.
Cross-fold: We are also specialized in creating cross-fold brochure designs that can enable readers to fold it to a transportable size for carrying it wherever they want.
Roll-fold: We can also create roll-fold brochure designs for clients if they wish to guide the users for viewing the information in an orderly manner.
Benefits of outsourcing to us
Instead of using the existing online templates, our brochure designers use their creativity to design unique concepts for the brochures that meet the international quality standards. We always try to come up with something new that will help the client's products or services to catch the immediate attention of users and stand out in the market. Here are a few advantages that you can bound to get once you have associated with us.
We offer the shortest turnaround time for completing the client's project and within the committed deadline.
The brochure design costs we charge is cost-competitive and set within the client's budgetary constraints.
We deploy cutting-edge software like InDesign, Illustrator, Photoshop, etc. to craft the most appealing brochures.
If required, we can carry out unlimited revisions so that our clients are 100% satisfied with the project's output.
We have covered a large number of projects, which makes us the experts in designing all types of brochure.
Since a brochure reflects the brand and values of a company, it is an integral part of any business and must be left in the hands of an expert brochure designing company like PGBS. Let our professional brochure design services be your greatest strength and help you to create the desired impact on your clients and customers by offering customized design solutions. With a deep understanding of the graphic design skills and techniques, we can create the best-in-class brochure that you will ever come across in the industry. Our brochure design cost per page is minimal and we provide customized price lists for 4 pages, 8 pages, 12 pages, 16 pages, 20 pages etc. In addition to this, we also offer additional graphic designing services, which includes e-brochure design, flyer design, leaflet design, booklet design, catalogue design, and more.