PGBS efficiently caters to the needs of wedding photographers, videographers and also to the couples by offering incredible wedding video editing services. They have to simply provide us with selected wedding footage they like, share us their requirements or specifications and then we will come up with visually creative and appealing wedding videos. Our services will suit anyone's budget and the post-production works will leave the lasting impression of your sweet memories.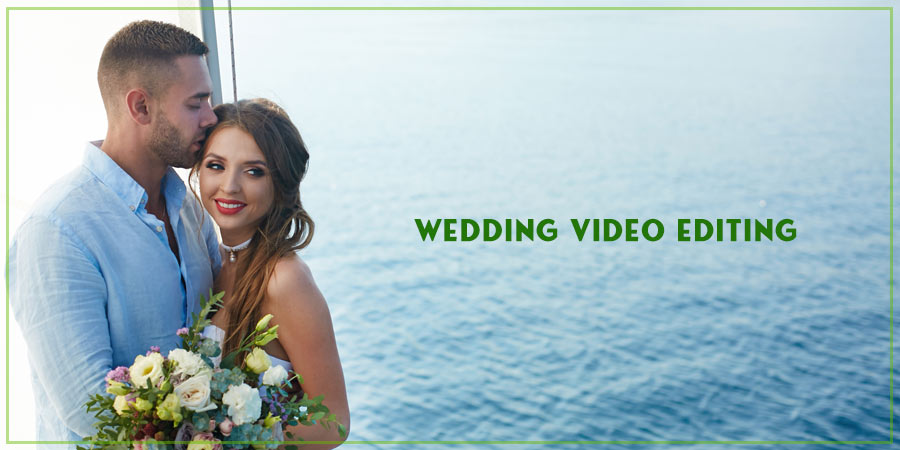 Professional Wedding Video Editing Services by PGBS
Our services can be totally relied upon and the same goes for our wedding photo post-processing assistance as well. At PGBS, we have highly creative and talented wedding video editors to help you out – no matter if it is a small editing work, or elaborate wedding photoshoot, putting together video clips or developing a full-length video – we can handle it all perfectly.
Once we get hold of your wedding footage, our video editors get into action to give it a high-defined, personalized feel. With their creativity, skills and advanced video editing techniques, they assimilate all the suitable photos and videos and do away with the extra or unwanted shots, and eventually succeed in developing an amazing digital output. But it completely depends upon the quality and duration of the client footage provided.
Checkout here the various kinds of wedding video editing services handled by PGBS
Drone Footage Editing:  Keeping up with the latest trends, yet-to-be wedded couples opt for drone video shoot these days. You have the choice to outsource to us such video clips and we will blend it effectively along with the right ingredients to make a wedding video as a whole that is engaging and meaningful.
Wedding Anniversary Videos: We can create exceptional versions of wedding anniversary videos, helping couples and families relive the beautiful moments of a very special day.
Pre-wedding/ Engagement videos: Our video editors can meticulously work to refine pre-wedding/ engagement videos while ensuring that they maintain the authenticity and beauty of the original pictures.
Wedding Invitation Videos: We can refine raw footages of wedding invitations, allowing hosts to impress their guests with feelings of warmth and joyful gestures.
Special Interview Editing:  It is a fad to include interviews given by the guests within the wedding video these days. It is not only exciting but gives an emotional feel to the entire video.  We creatively fill in wedding guest interview shots without hampering the flow of the video and make it more engaging and entertaining.
Highlights Editing:  This includes capturing the best or most candid moments and putting them in a sequence that will be overwhelming and attractive. By proficiently organizing different footage and polishing the flow of the wedding video.
Custom wedding video creation:  Creating customized wedding video with the help of one's own personal footage that one would be having, in the absence of the actual wedding footage.
RAW Video Editing:  We can edit raw wedding video clips, add quality and come up with literally a 'picture perfect' results; while leaving you to focus on shooting the wedding completely. It's quite ideal to make your clients smile with satisfaction.
Re-editing Videos: Nothing can spoil the mood than watching the video of your special moments that is poorly done or lower quality. PGBS has the skill to fix it all. We are expert in editing existing wedding video into something refreshingly remarkable.
Marriage Video Editing Process at PGBS
The Project Requirement Form: We insist the client to fill the form that we send you so as to help us get a clear idea about your requirements. It includes specifying particular details pertaining to the kind of editing you need, tone of the video, color choices, editing style, and so on.
Receiving Files: You have the choice to send your media files through highly secured and swift FTP or mail them through CD/DVD, memory card or USB.
The Editing Process: We get down to start editing your video, once you have made us clear about your requirements. Without understanding exact client requirements, even the best video editor won't be able to assure excellence.
Reviewing the Video: Within a stipulated time, we complete the video editing work and send you those files to review them. Once you send the feedback, we rework on the changes, if any.
Delivering the Final Copy: After incorporating the changes, we will send you the final copy as well as return the original wedding photos and videos in any format specified by you.
Outsource Wedding Video Editing Services to PGBS & Reap Benefits
PGBS is grateful for having extremely proficient video editors on board, who have years of experience in this profession and are armed with advanced skills and video editing techniques.  We have an edge over other leading video editing services providers in the industry and our services are most sought after for being quite budget-friendly. By associating with us, you have multiple advantages through our wedding video editing services. Have a look at few of them here
Complete Video Editing Solutions: We offer total assistance for any kind of video editing requirement and make sure that our services are cost-effective and give value for time and efforts. Be it audio editing, wedding photo editing, 360-degree wedding video editing or video composting, anniversary videos, pre wedding videos, etc. – we handle them all with efficiency and expertise.
Blending Clips Remarkably: Our team meticulously go through all the footage given by you, sort and blend them together seamlessly in an attractive manner. Thus, a highly remarkable wedding story is developed by us that encompasses some of the most cherishing moments for you and your viewers to enjoy.
Maintain a good color ground: We understand that videographers don't have enough space to concentrate on white balance since weddings have a consistent flow. Also, there will be multiple cameras handling the event. PGBS team takes care of these drawbacks by correcting the color balance and using apt techniques for color gradation so that not a single candid shot or best moments are missed; you will definitely be happy with the final results.
The video cuts to the rescue: By infusing creativity and advanced skills, our video editors at PGBS do wonders while mixing video and audio elements. Even the most difficult hard cut is given a beautiful twist with our video editing prowess. Through proper discernment, we incorporate L-Cuts and J-Cuts to give a refined outlook.
Transitions That are Seamless and Clean: Our video editors can effortlessly handle random, different clips altogether and bind them together in a seamless and well-edited, clean sequence so that it doesn't hamper the flow of the video or annoy viewers with shaky footage. We ensure to choose matching videos as far as possible to blend them efficiently to form an easy transition from one scene to another.
The befitting and legal background score: Music breathes life into any kind of video and it is highly influencing. So when it is a wedding video, we incorporate the right kind of background score that will leave viewers in awe and smitten.  We have a music bank that has different kinds of music to suit any mood or tone at the wedding; all of which are copyrighted.
Delivery right on time: At PGBS, we value our clients' money and investment. We ensure that we deliver the final copy of the wedding video right on time while adhering to our clients' specifications. We can even deliver the video on the same day based on your requirements. Our services are designed to specifically fulfill these goals.
Choose PGBS for Outsourcing Wedding Video Editing Services
When it comes to outsourcing wedding video editing services, there is hardly anyone who can match to the calibre of PGBS; the same is testified by most of our previous clients and that's why we are unhesitant to state the same. We are a group of creative and passionate professionals who strive to offer top notched quality services to our clients.
At PGBS, our highly skilled video editors are experts being equipped with advanced techniques and wedding video editing software to handle all kinds of video editing demands. By outsourcing wedding video editing services to us, you can enjoy qualitative videos at surprisingly affordable prices. We can do wonders on wedding videos…