How much do companies charge for video editing services? How much is needed to get a video edited? Well, there are several factors that determine the video editing rates with one factor being the project timeline. For example, professional video editors typically determine project costs by making an estimate of the number of days that they would take to edit videos.
A rough estimate could be 3-4 days of editing efforts for each footage-capture day. While this is a fair way to calculate a rough estimate, but it is not based on whether the recorded source video was a one-hour or a three-hour file. It is very important to measure the duration of the source video in order to estimate the cost in an appropriate manner. The average video editing cost ranges somewhere between $6 to $50 based on the complexity and type of video.
Price starts from as low as $6/hour. Get quote.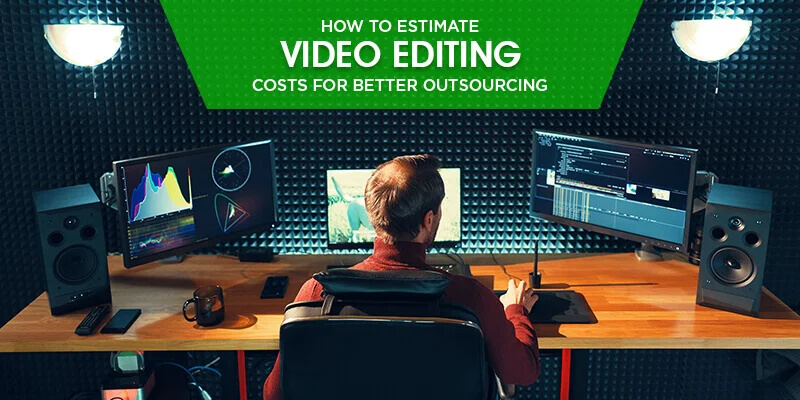 Factors Influencing Video Editing Cost
If you consider 10:1 as the ideal source to editing ratio, then 2 hours of source video would demand 20 hours of finetuning efforts. This ratio is determined by the number of cameras you use, the number of takes, and if the finished outcome would feature B-roll cut-outs. The video editing ratios associated with the production of 3-5 minute marketing videos fall in the 5:1 – 25:1 range. Editors find it easier to edit a video with long takes compared to the ones that have several cut-aways or inserted edits. Similarly, videos having dramatized effects and diverse angles would demand greater efforts and editing time. On the other hand, the source to edit ratio will fall in the range 25:1 to 35:1 in case of music videos that feature several montage sequences and prompt edits.
The Workflow of Video Editing
Importation of source materials including videos, logging, and identification of selects
Rough cut
Input and corrections
Color corrections and sound- mixing
Final checking and handover of compressed video
The costs are also determined by the number of cuts per minute, which the finetuned video would have. You can then multiply the number by the total length of the finished video. You would get 50 cuts in a 5-minute video that has 10 cuts in each minute. With an execution time of 6 minutes for every cut, the total time estimate would come to 5 hours. The cuts-per-minute estimate is based on several factors, such as transition quality and type, the complexity of the audio, motion graphics support, the presence of complex montage sequences, the number of iterations, color grading, etc.
You can set up a video editing market price list by combining both the systems. It is a good idea to calculate the source footage by committing a planning and exploration time and by considering cuts per finished minute as the execution time. Video editing rates per minute in India would depend on the video editors' experience as well as the region where you belong to. The higher the experience of the video editor, the higher would be the charge. If you are located in a city, you can expect higher charges.
Video Editing Hourly Rates Vs. Fixed Fees
When you are charged with a fixed rate, you have a definite idea about how much you would need to pay in total. On the other hand, with hourly rates, you may never be able to guess how much you may end up paying at the end of the project. The costs that you may need to bear at the end may be significantly high too. There may be a monthly retainer model of payment as well in which you may need to pay fixed monthly charges to your service provider to get a fixed number of videos edited per month. Whether you are looking for a 30-second video, a 1-minute video, or a 10-minute video, based on the complexity, the editor may charge a fee.
Freelance Video Editor Rates
If you are looking to hire a freelancer, you should know that the average ongoing video editing costs depend on the different levels of support provided. An average rate charged by a beginner freelancer video editor is $20 USD to $40 USD per hour, and expert editors may charge $50 USD to $100 USD per hour based on the complexity. The average editing cost per minute starts from $2 USD to 4$ USD if it involves only editing. The mentioned cost may differ from country to country, especially in India, the Philippines, Brazil, Poland, Malaysia, etc.
Basic Editing

This is charged at the lowest end because basic level of support is mostly delivered by beginners who have very little experience in the field and less knowledge of leading software. Basic software such as Final Cut Pro and Adobe Premiere are used to deliver basic level of support. The different activities involved in basic editing are exporting-importing of video files, identification of selects, logging, adding transitions, adding sounds, enhancing color, rough cuts, etc.

Intermediate Level

The support included at this stage includes cinematography, videography, montage sequencing, and animations.

Editing Plus Producing

In this level, apart from demonstrating solid expertise, a video editor needs to apply skills with regard to product or project management, creation of live action videos, storyboarding, directing videos, and delegating.
What you need to note is that the time that an editor takes to finetune a video typically depends on project-specifics. It may take up to 1 hour of video post-processing work for every one-minute of finished edit in case of a vlog-type video.
You can try out video editing yourself, but when you outsource this task to a professional video editor or a reputed company delivering video editing services, you will be able to save costs on templates, stock videos, software licenses, plugins, etc. You can use third party assets and save licensing fees.
Costs depending on the video editing types
Editing of different types of videos would demand different level of efforts and the costs would vary accordingly.
How to Choose a Video Editing Service Provider?
The cost of video editing would vary from one service provider to the other. Service providers that employ experienced staff would charge you on the higher side whereas new companies would offer comparatively low-priced packages. But you may need to practice a lot of caution as you need quality outcomes and justification for your investments. You may not want to do business with a service provider that offers you a low-priced package at the cost of quality and timely outcomes. Here are a few factors that you should consider while selecting a video editing service provider:
Customer Service: Video editing companies that deliver the best customer service are the most trusted ones. When you are able to reach a company at any time you want and the customer service team is able to handle your queries professionally, then you can assume that the company follows a sound professional philosophy and can go that extra mile to meet your expectations and to send you quality outcomes.
Testimonials: Check testimonials about the company. Check the testimonials about the company from all forums and find out if the company has a good reputation in the market. Check if the company is ready to share a few references whom you can contact to know how they felt working with the company.
Transparency: Check the billing details properly. Check if there are hidden charges. Check the costs of every element. A good company will have a transparent billing procedure in place. Check every component of the billing and find out what element is charged at what price.
Why is PGBS your most trusted video editing service partner?
PGBS has decades of experience in offering diverse video editing solutions and can complete thousands of projects within a shorter timeframe. Here's why you should trust us with your video editing requirements:
We have the industry's most experienced video editors working with us. So we would guarantee you high-quality outcomes.
We attach high importance to data security; we would never lose your data. Your identity would always remain confidential.
We deploy advanced infrastructure and can scale up our operations if we have a large project to handle.
We have a quality team onboard; our quality supervisors would review your deliverables before we send them to you.
We offer competitive video editing cost in India starting from USD 6$/hour ensuring that clients with different budgets are able to use our services.
Our customer service is highly recognized in the industry. We respond to our clients' queries at any time of the day and make sure that they get the solutions that they look for.
You may either work with a freelancer or you may choose to do with a professional company that has well-established systems and procedures in place. However, it is very difficult to determine freelance video editor rates. You may be charged wrongly. Hence, it is recommended that you work with a reputed company to get your investment justified and utilized properly.
Get cost estimate for your video based on the requirements.