ProGlobalBusinessSolutions is the most trusted OCR services company living up to the clients' expectations for more than a decade now, and for us our clients come first.
We have a pool of talented minds who are masters of their field, and they understand the process from the core and provide the best OCR clean-up services.
OCR (Optical Character Recognition) is the most necessitated process to organize large volumes of data. Being technical, the process can sometimes still allow scope for errors in terms of missing characters or symbols or even duplicity of words, etc. These types of errors lead to the deterioration of data quality.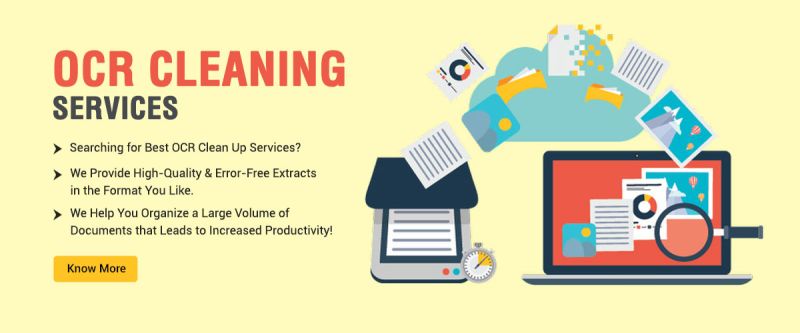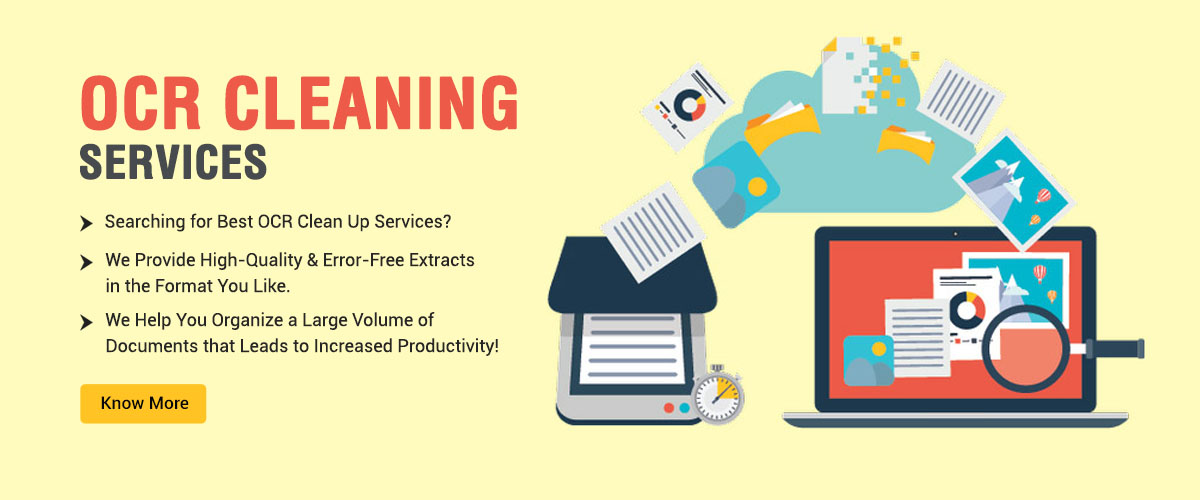 If these errors are not fixed, it may lead to inaccurate business actions as everything is highly dependent on data extraction and management in every venture.
This is why there is a need for experts to get it done in the most professional and error-free way. We are ably supported by expert staff and this has made us one of the best OCR clean-up companies on the industry horizon.
OCR Cleanup Services at ProGlobalBusinessSolutions
At PGBS, our experts cater to your OCR cleanup-related issues with our wide range of OCR clean-up services. We provide the most affordable rates and provide international standards in our work.
Our OCR clean-up services include
OCR Error Control Services

There is quite a scope of errors during the OCR process, but we at PGBS have the solution to this problem. With the help of our state-of-the-art technology and subject matter experts, we have developed the best methods to control these errors.

With the help of our proven methods, we make the documents precise and correct. Also, we follow a thorough quality check process to avoid any scope of error in the work before delivering it to our clients.

We believe in quality delivery!

OCR Database Cleanup Services

In a business, the database is the heart as it possesses all the information of the applications. Thus it needs to be precise and perfect.

We understand the whole growth of your company depends on the database. Thus we provide uber class database cleansing and ensure the removal of duplicacy in data, repetition of words, or irrelevant data. We even keep a keen eye on the minor mistakes and remove them to give you what we call 'perfect output.'

OCR Bulk Volume Services

Every business does multitasking, but if one task is eating up all of the time and hampering the productivity of the other, then it is good to delegate it to experts.

Many businesses, especially product-centric ones, generate invoices regularly, and these invoices require a regular clean-up.

This is quite impossible to perform such a voluminous task single-handedly. Thus, it is always advisable to outsource OCR bulk volume clean-up work to experts like us.
Outsourcing OCR services can give you quality work in the fast turnaround time, which is quite a pennywise decision.
Reasons to Choose ProGlobalBusinessSolutions for OCR Cleanup Work
We eradicate all the scopes of human error using OCR technology. This means there is no incorrect or misprinted data in your documents.
We save you valuable time, money, and effort by reducing the paperwork. This means all necessary information about your business is now digital and easily accessible.
Digitization of documents gives you ample space to set up other operations in your office.
Benefits of Choosing ProGlobalBusinessSolutions
Highly-trained Technicians
International Standard Quality
Use of Latest Technology
Files Transfer in Multiple Formats
Competitive Prices
Data Security & Confidentiality
Multiple Quality Checks for Error Free Output
Timely Delivery
End to End Customized Services
OCR Cleanup process with PGBS
Step 1: Collection of documents in digital format.
Step 2: Scanned documents are converted into images using the most updated OCR software.
Step 3: Results are generated, and data entry is done to fill in the missing characters and words, remove duplicacy, etc.
Step 4: Verification and validation of the output with multiple quality checks.
Step 5: OCR clean-up and optimization
Step 6: Final submission of files
Outsource OCR Cleanup Services to us
ProGlobalBusinessSolutions is a leading-edge OCR clean-up service provider with a global presence and a sound work portfolio that speaks for our quality and successful deliveries.
We have a talented team offering OCR services also having expertise in data processing. At ProGlobalBusinessSolutions, we recruit the most agile subject matter experts with core knowledge.
We provide our services in the most streamlined and professional way. Having served the industry for more than a decade now, we have emerged as one of the trusted outsourcing partners around the globe.