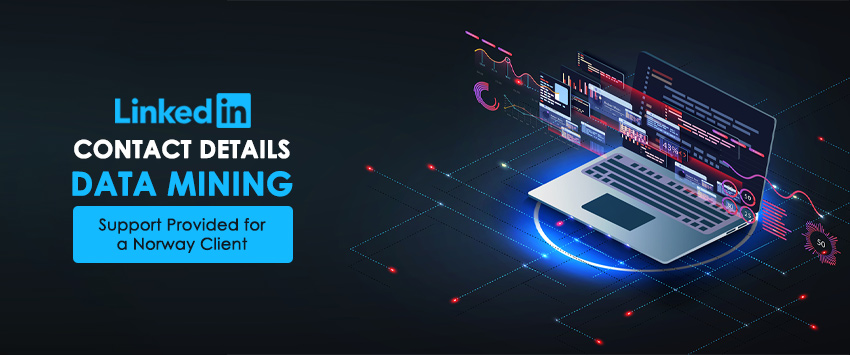 Client
The client hailed from Norway and he needed our assistance with data mining services. (This is one of the most unique among countless data mining success stories we have to share.) He already had an established brand with good repute and was involved in the manufacturing of seals and bushes for automobiles. Presently, they supply products to various companies all around the world.
The client needed a proven partner capable of mining out contact details from several social media websites, especially LinkedIn. He approached us as we were referred to him by one of our previous customers.
Challenges
The challenges encountered were a bit unique. It is an extensive and exhaustive process demanding considerable manual labor. Hence, we needed to make sure that a dedicated team is set up for the project and that no one leaves midway. We had to reserve people to deal with any unforeseen situations.
Simultaneously, we had to work out a plan to access LinkedIn groups that were closed. Multiple profile details had to be extracted without getting blocked by using a particular IP.
Solution
Having done a lot of similar projects earlier, we had an exact idea regarding what to do. We started by using reliable software that we were well acquainted with. Being one of the most experienced high-quality data mining services companies, we succeeded in extracting and tabulating profiles as per specific client demands along with the industry as well as location of the profiles. Our team also made sure that duplicate and irrelevant profiles were eliminated from the list.
After getting the names of contact persons and their relevant details, we went ahead and carried out a Google search for all the profiles to see if any other details for contact existed. This helped to a great extent in case of profiles with incomplete information. Also, for assuring that multiple searches are not blocked by LinkedIn, we made use of web filters and contact lists were segmented and then only provided to the resources.
Outcomes
We handled the project exceptionally and assured that the whole work was flawless. All specifications made by the client were met. We sourced nearly a million profiles along with complete contact information. The client was very happy with our accuracy, timeliness and, professionalism. He signed many more projects with our company.
If you too are in quest of remarkable data mining services, reach us and, let's discuss.