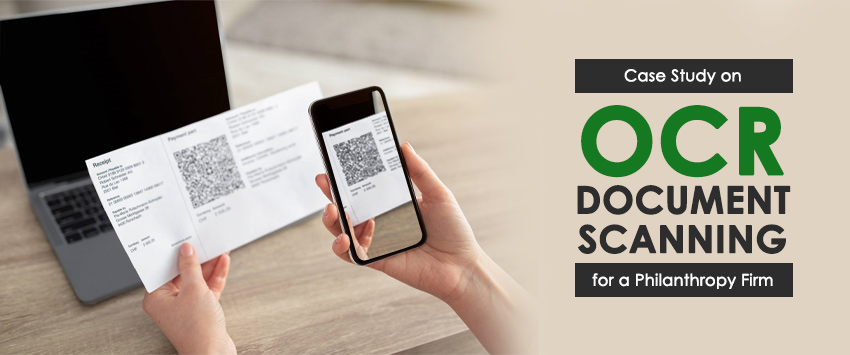 Client:
A renowned UK firm involving itself in philanthropic activities globally.
Challenge:
To facilitate expeditious processing of donation forms by eliminating time intensive and expensive manual intervention.
Solution:
To completely live up to the expectations of the client, we arrived at a data scanning and OCR solution known for its accuracy, high processing speeds, simple deployment, user-friendly graphical interface, and proven ability to seamlessly integrate with local ERP systems and Microsoft SharePoint. Our trained professionals conducted several interaction sessions with the client to clearly understand his requirements and the layouts needed to facilitate easy sorting.
Our technical team passionately got down to implement the project. Assistance and support regarding the intricacies involved in the process were sought from the client to launch the developmental process.
Donation forms were broadly classified into five different formats with each format having the credit card and cheque variants to capture contributions meticulously. Apart from English, Arabic language was chosen as the second language.
Seasoned operators were engaged in scanning the donation-related papers and then they were uploaded to the OCR module for fast processing. Documents in electronic formats were uploaded straight to the module.
Our state-of-the-art OCR (Optical Character Recognition) software is proficient in capturing data based on document classification, recognition of imprints; extracting the name, ID, amount of donation, method of donation, details of payment, validity span etc. from donor forms. Staff engaged for verification kept a close eye on extracted data and ensure the accuracy of recognized information. Pre-defined mathematical rules programmed into the system spontaneously checked the net donation value. Donor database was set up and donor ID number comparing was done against this to facilitate the creation of a new account when the new donor was added. Verified data along with OCR images were imported in Microsoft Dynamics and SharePoint for storage and analysis, and post-processing.
Outcome
Data input time was curtailed by about 30%, which also brought down the overall operational costs. The client was extremely satisfied with the efficacy of the system.
Contact us
Do you have any scanning and OCR services realted need, don't worry we are here to help
Contact us