If choosing the apt company for converting your book into an eBook is your concern, reduce your worries as you are with one of the most professional companies to which you can outsource your eBook conversion services requirements.
With years of experience in the digital publishing industry, we help various publishers and authors to convert the digital manuscripts into compatible eBook formats. We also focus on making the eBooks accessible across multiple devices such as tablets, smartphones, or any other eReaders. Our team possesses professional expertise to provide the complete eBook services regarding the creation, conversion, and management of desired content into the specified eBook file formats.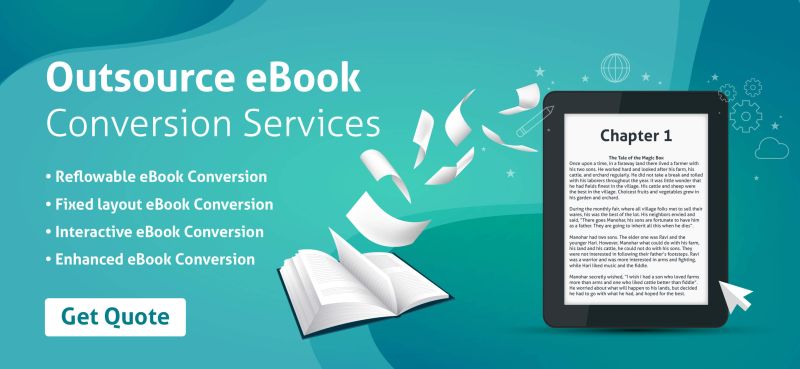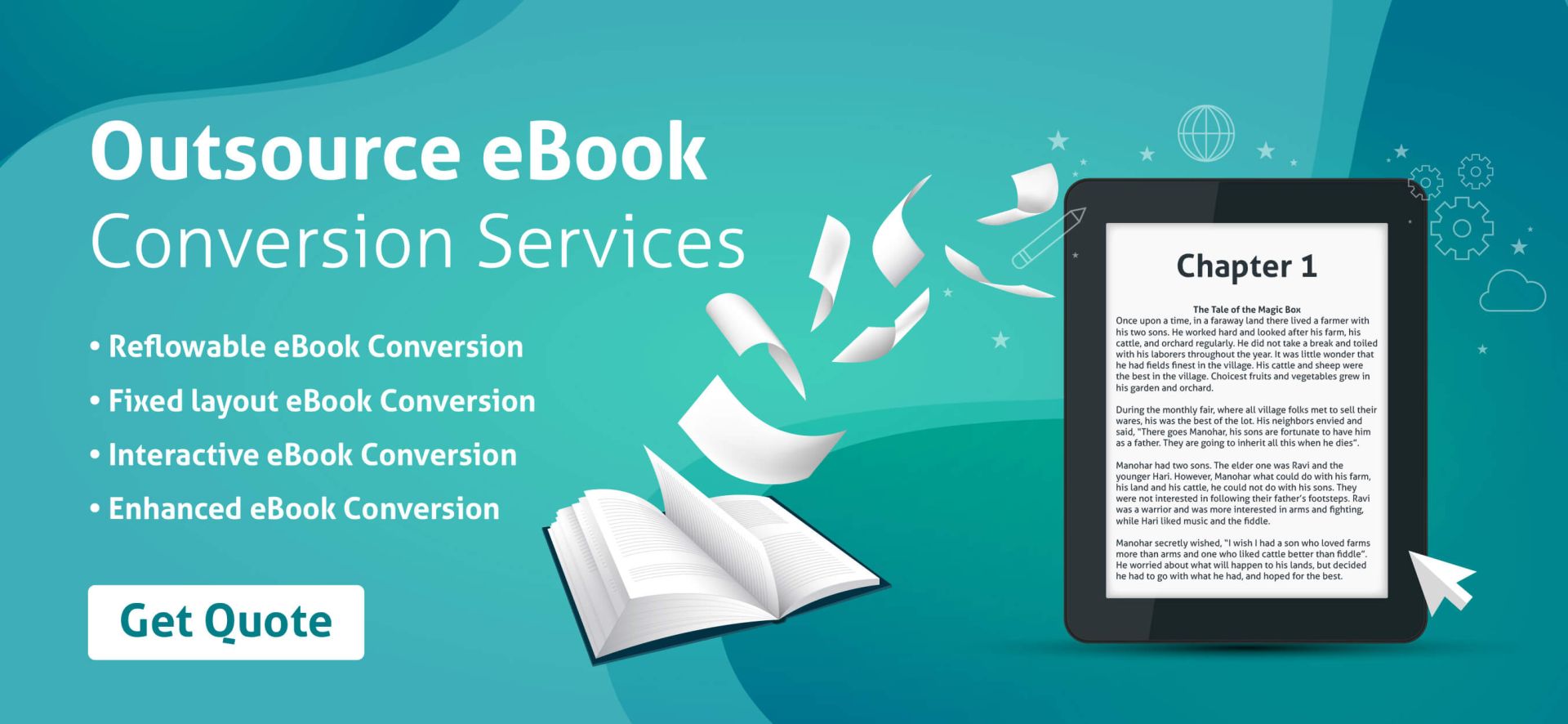 We completely adhere to the International Digital Publishing Forum (IDPF) standards for eBook conversion without any loss of information and provide these services to various individuals, authors, publishers, and self-publishers. We can also add different features according to the client's requirement by including 2D or 3D animated videos, internal or external links, interactive images, and read aloud audio highlighted texts, etc.
Our Professional eBook Conversion Services
Our team is proficient in converting different types of physical book to eBooks according to eBook distribution platforms. The professionals here are expert in creating eBooks attuned to all prominent eBooks publishing platforms like Apple, Amazon KDP, Google, Kobo and Barnes & Noble.
Have a glance at different eBook conversion services detailed below for your self publishing needs
The process we follow to convert a physical book to an eBook
Mail us your manuscript and get a quote from us
If you feel fine to proceed with us, you furnish us the below details
Provide us with edited and final manuscript after proofreading or else we can help you with book editing services
We also offer professional eBook cover designs and eBook formatting for the various eBook genres
Payment has to be made mostly in advance in case of the new customer
After the conversion is done, we will email the files for review and also details regarding how to view the file on different eReaders will be provided. Any modifications can be intimated for further betterment. Editorial changes after conversions will be charged extra.
Why are we being best among other eBook conversion companies in India?
We are driven by the passion for perfection and governed by ethics
Highly skilled professionals with years of experience and working for various client requirements.
Economical solutions with a great level of quality
We provide multilingual eBook conversion in more than 30 languages that include Arabic, Japanese, French, Dutch, Polish, Hindi, Italian and more.
Specifically customized ePublishing solutions and personalized customer assistance.
Professional book editors to provide you with flawless manuscripts
We guarantee quick turnaround time and quality check is done in all stages of project execution.
We support global publishing houses, libraries, universities, press, authors, publishers, etc. to self-publish their eBooks.