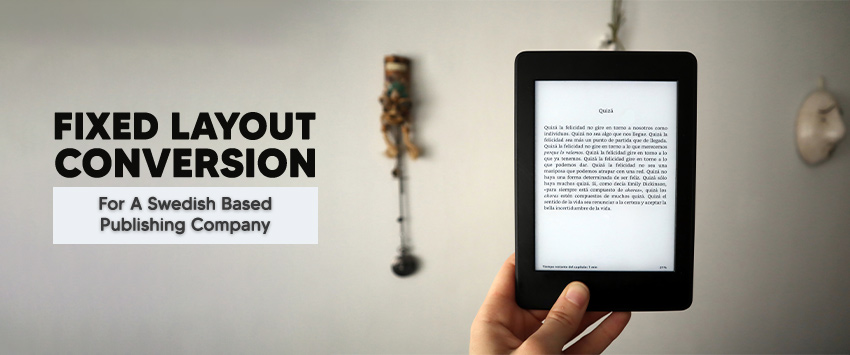 Client
The client is one of the leading names in Swedish publishing industry. They have a great reputation and are well-known in the industry. Every year, the company published nearly 1000 children books in Swedish. We were contact by them for read aloud book conversion.
Requirements
The client was in need of an expert team for handling the conversion of Swedish books by embedding rich features of read aloud in it, including narration. As a lot of eBooks had to be worked upon, they were finding it infeasible to carry out the task in-house. The cost of production was high and meeting the demand of speed to reach market on time seemed impossible for them.
Challenges
There were some obvious challenges as read aloud book conversion to ePub3 was the ideal solution and for that certain level of proficiency was mandatory. The features demanded by the client were bookmarking, zooming, dictionary linking, text search and thumbnail navigation etc. Incorporating these was not something completely hassle-free.
Solutions
As soon as the project got confirmed, we called an internal meeting to handpick the best people capable of handling the project of creating read aloud fixed layout eBooks. A properly structured eBook conversion specialist team was created with a project manager. We submitted a sample and on approval, we kick started the work.
Our experts availed the client really remarkable eBooks featuring perfectly managed pictures, illustrations and other multimedia elements. We assured apex accuracy in regard of highlighting the words while they were read.  Also, the reader was provided with complete control for handling audios based on his preferences. He can turn off or on the soundtrack and opt turning automatically the pages in line with narration.
Result
We succeeded in achieving perfect synchronization of audio and text; it was in fact the most time consuming and crucial aspect which we unfailingly attained.  Swedish was the foundation language and hence experts with us had to take immense care while tagging words with narration timeline. It was as a whole quite challenging and critical task because any hitches or gaps in understanding could pave way for serious mistakes. Silent words handling was done using most professional techniques. Along with narration, background score that the client provided was successfully incorporated.
The client was really pleased with our fixed layout ePub conversion services and promised to reach us gain whenever he encounters another conversion need.