Are you looking for a way to make your book more accessible? Do you want your book to reach the global audience without having to face linguistic barriers? If your answer is 'Yes', you have come to the right place.
PGBS has several years of experience in offering superior multilingual eBook development services to self-published authors and publishers.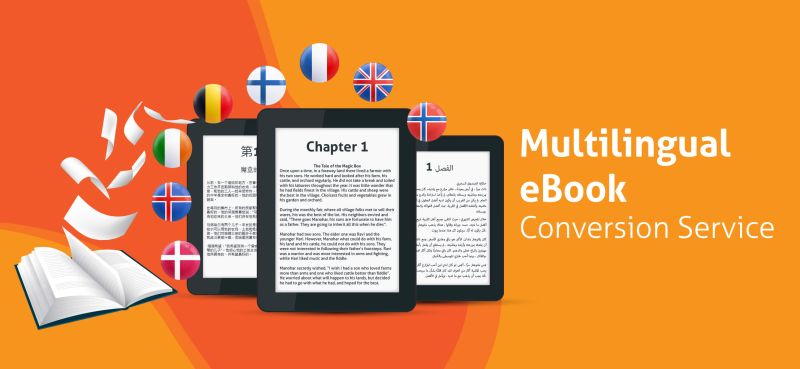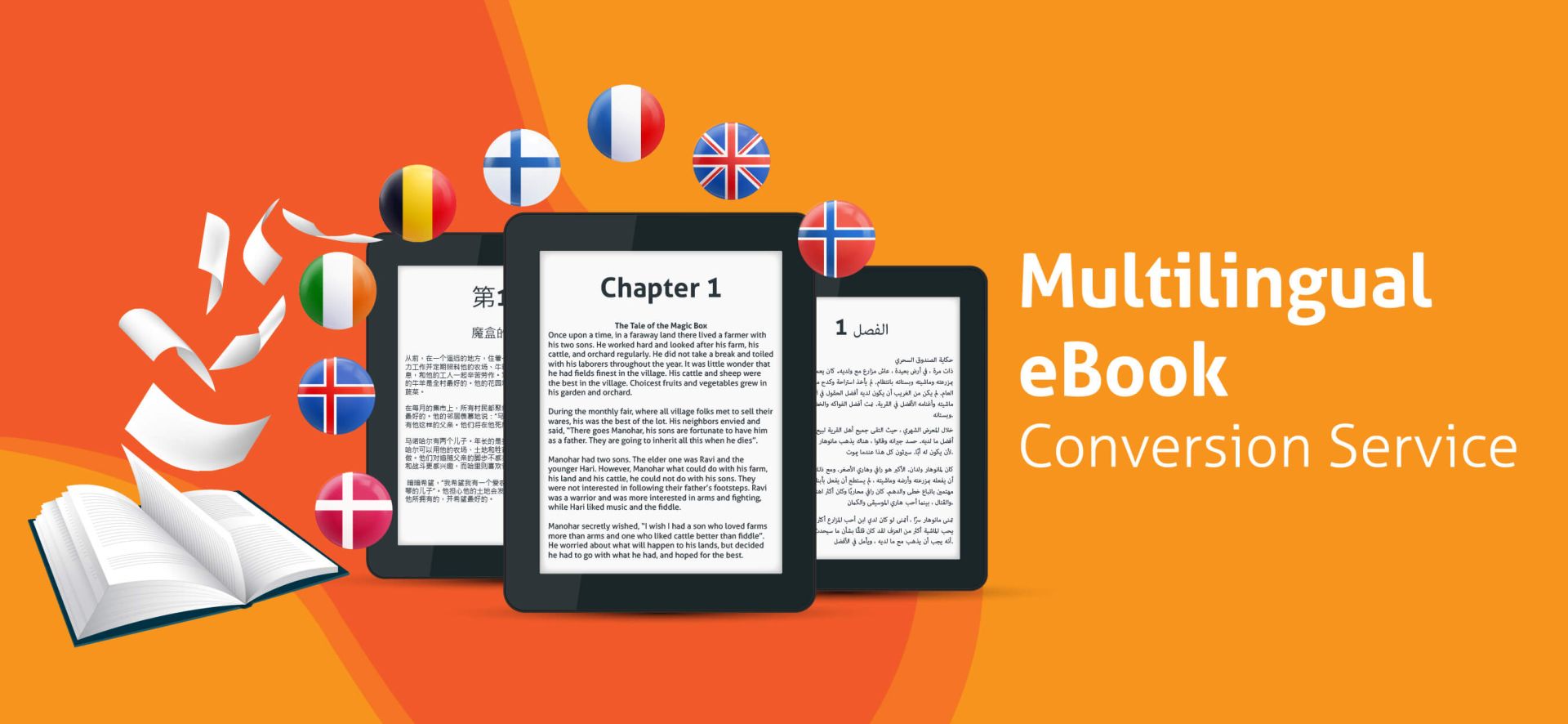 We are a team of eBook conversion specialists and language experts who can upgrade your eBook to help you meet the specific needs of different categories of readers.
Reach Your Audience in Their Native Languages
PGBS provides conversion in various international languages to expand your reach.
Multilingual eBook Conversion Service Portfolio
We, at PGBS, can carefully convert books to ebooks, ensuring perfect accessibility across digital devices and platforms. We have extended our eBook conversion support to help authors overcome linguistic barriers and reach readers across the globe.
Our service portfolio includes
eBook Conversion

We provide professional eBook conversion services for documents that are in varied formats. Our specialists are experienced in converting books to digital readable format in the most efficient manner. We can also convert your book into various eBook formats such as PDF, ePub, kf8, etc.

Editing and Proofreading

We provide professional editing and proofreading services that ensure the creation of error-free content.

We improve your book by identifying inconsistencies and rectifying them before it reaches your readers.

eBook cover design

No matter what anyone says, books are inevitably judged by their covers. We provide eBook cover design services and help you turn abstract concepts into beautiful imagery. Our team of designers skillfully combine simplicity and meaning into creating your eBook cover, which impresses the readers at first glance.

Rich Media Additions

We add interactive texts, images, videos, and audio clips to give your readers an experience that they won't forget. Our team has the expertise to develop rich multimedia-based interactive eBooks.

Driving eBook Performance

As a part of our eBook services, we ensure to test the final digital version on various digital publishing platforms as well as devices in order to ensure seamless functionality.
Types of Multilingual eBook Conversion Support Provided By Us
Choosing the right type of multilingual eBook conversion services is vital to the success of your venture. You readers would love to access your eBook on diverse devices and platforms. That's the reason why you should ensure that your readers get great reading experience irrespective of the devices or platforms that they choose.
Here are the different types of multilingual eBook conversion services that we provide:
Word to ePub

Microsoft Word is one of the most popular word processors that are used around the world. It works on both Windows OS and Mac OS and it is highly preferred by authors and publishers. If you need conversion from Word to the ePub format, we offer the perfect solution. Given the complexity of formatting and the accessibility parameter, we take special care to ensure that your book remains readable.

InDesign to ePub

We help authors who need a creative touch prefer to write their book on InDesign. With this format, you can create tons of specific fonts and layouts. But if you want it to be published internationally, it is better to convert it to an ePub version using our multilingual eBook conversion services.

PDF to ePub

With the increasing popularity of e-readers, a PDF to ePub conversion is now more important than ever. PDFs are one of the options for reading documents on an e-reader in digital format; however, this can be inconvenient. In addition, PDFs are static, and you can only see its full potential on desktop screens. We will convert your content to the ePub format that is compatible with all devices for worldwide accessibility.
Why Choose PGBS for multilingual eBook creation services?
The PGBS team adheres to the international digital publishing standards for ePublishing services. Our in-depth ePublishing expertise helps authors and publishers to distribute professional ebooks and impress their readers on a global scale.
Our professionals provide flawless multilingual eBook conversion services support using latest tools and technologies to convert books into eBooks.
Benefits of Having PGBS as your eBook Conversion Partner
We're the go-to "eBook conversion specialists" in the global outsourcing network. Here is a list of reasons why we add value to your eBook related requirements:
Quality Service

As a multilingual eBook development service company, we do care about the quality of the results.   We ensure that you receive high-quality ebook services that can generate value for you.

Quick Turnaround Time

We create multilingual eBooks using proper strategy and research.  That's why you can always expect the services to be delivered on time.

Cost-Effective

We provide cost-effective ePublishing solutions; our pricing is transparent and it does not include hidden fees or charges.

Robust Technologies

We use advanced tools and technologies to convert books to ebooks. Our experienced professionals ensure to deliver your outcomes within the shortest possible time. You'll never have to worry about the last-minute changes as we're here for you.
Outsource Your Multilingual eBook Conversion Needs to PGBS
PGBS is a leading offshore outsourcing service company specializing in multilingual eBook solutions. We are driven by the objective of helping authors and publishers reach their readers in different geographies and cultures.
Whatever your preferences are, you can get your ebook translated into your preferred language without any error. We would maintain the technical quality of the book while having it properly formatted according to the publishing standards.
Discuss your requirements with our experts and get the right quote. If you need a magazine, novel, or a recipe book to be converted into a digital format, we can convert your manuscript into an eBook. Our rates are affordable and the turnaround time is short, so you will benefit from cost and time efficiencies.