ProGlobalBusinessSolutions (PGBS) is a professional video post-production services company in India with expertise in editing diverse categories of content. With over a decade of experience in event video editing services, we are curating event videos that transmit the most powerful emotions and experiences.
When creating a buzz in the market, event or product launch videos, we understand how important motion content is for digital marketing strategies. This is why we work diligently to meet the desired output to create the most compelling footage for your business happenings and brands.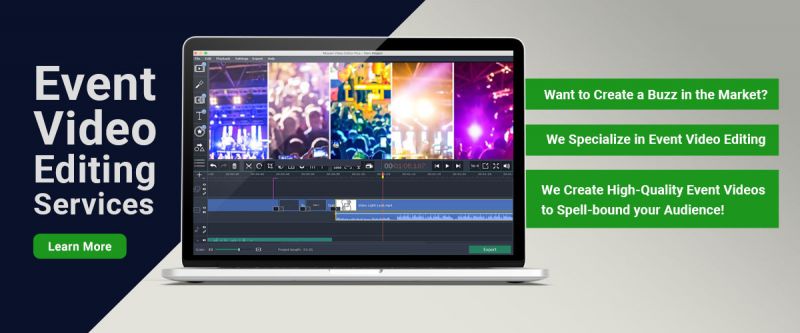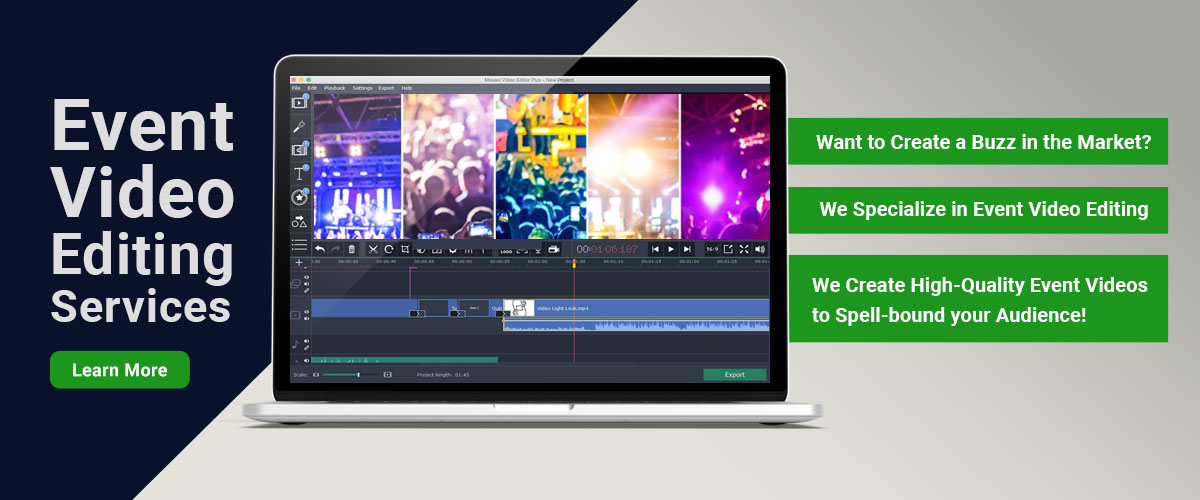 Whether it is a corporate event video, event footage, event promo, event teaser, brand promotion video, event music video, or business video, we deliver top-notch editing that level up your branding game and publicity.
Our event video editing services for various sectors
At PGBS, we have a work portfolio covering editing work for almost all sectors. We believe in creating high-quality content that leave your audience spellbound. With extensive editing experience, our team works around the clock to provide the best results for our clients.
Conference Videos

Our professional editors create short clips of exclusive conference footage to highlight interesting aspects of the event. This boost brand interest and goodwill among the audience.

Award Ceremony Videos

We keep the best of your award ceremony in the footage, including various performances, audiences, and glamor. Create a permanent record of your program with our top-notch editing services.

Launch Event Videos

We can help you with the best-in-class edited videos that can be a game changer when posted on social media or your website if you have a launch event. A launch event video always helps create awareness for a new product or create brand visibility for businesses.

Promotional Event Videos

When it comes to promotional events, all you want is to reach a larger audience in every medium. With our event promotion video editing services, you can reach the widest possible audience and propel your company to new heights.

Cinematic Wedding Videos

We help narrate wedding stories memorably by editing wedding films that carry speeches, candid moments, and much more. We employ a storyline, setting, and mood, as suggested by the client, throughout the film.

Music Festival Videos

If you've got a concert coming up, promote it with captivating videos edited by professionals like us. When the music festival is a success, celebrate it by sharing glimpses of it on social media or your website. Trust us to edit music videos stunningly and cost-effectively for both.

Business/Corporate Event Videos

Celebrating your business goals, culture, and achievements through corporate events helps build morale among stakeholders. We help edit these corporate events video into highlights, YouTube shorts, social media reels, etc., to aid you in reaching out to potential customers in an effective way.

Competition Videos

Whether its sports videos or fun competitions conducted in schools, colleges, neighborhoods, or offices, we help edit compelling visual stories. From highlighting the key performers and award winners to focusing on the best moments, we cover them all.

Pre-recorded Live Videos

YouTube live streaming is everyone's handy solution now for telecasting weddings, launch parties, and so on. Not all of them can make it to your live streams, which is why we assist in editing the pre-recorded live videos into shorter ones, clips for reels, promotional shots, etc.
At PGBS, we create the best publicity show clips that get maximum attention and compel the viewer to keep watching.
Different platforms we edit for
From social media to professional marketing, we at PGBS specialize in editing event videos of varying lengths for various mediums, in the most creative manner.
We edit background music, adjust logo placement, add relevant animation, remove unwanted clips, and ensure a smooth transition throughout.
Whether on Facebook, Instagram, YouTube, LinkedIn, Twitter, or any other social media platform, our editors know the expert way to edit and produce trending event videos.

Reels: Helps recap a glimpse of your business or personal events as reels video, which everyone loves.
Stories: Ensures to create hype for your new post or upcoming event through short promos.
IGTV: Delivers enhanced longer event videos for Instagram to help people, who missed the event, experience it.
Advertisements: Helps to promote your upcoming or recent event for your brand image by using eye-catching event teasers and trailers.
Channel Intro: We merge and standardize video formats to share a channel's voice.
Shorts: We shorten longer event videos with modern effects and filters into engaging clips.
Channel videos: We compile different footage from events into vlogs video, trailers, etc., with apt thumbnails, in a minimum turnaround time.

Slideshows

Slideshows help share important memories from professional and family events. We are here to edit such videos with the same zing by rearranging clips, adding animation, etc.

Websites

We provide event videos in different dimensions and formats suitable for homepages and service pages to keep your websites updated with the latest events and happenings.

Online video-sharing platforms

Our experts analyze the audience's interests on different forums to edit event videos for various hosting websites like Vimeo, DailyMotion, TED, Veoh, etc., ensuring a wider reach.

Advertisement Videos

We offer creative and affordable event video editing services for offline and online mediums like television, video banners, etc.
Why choose PGBS for event video post-production services?
Flawless and express workflow
Use of leading-edge technologies
High-end basic and professional editing
Competitive pricing
Short TAT
Consistent editing style
Versatile editing packages
Proven expertise with top clients
Outsource your requirement to PGBS today!
ProGlobalBusinessSolutions provides cutting-edge video editing services. We understand video editing from the ground up and offer world-class services to a variety of industry verticals.
With a client base in almost every part of the world, we serve the most refined and advanced event video editing services, meeting international standards.