Video is the most consumed online content worldwide. Any good online video content is the result of hours of labour and dedication done by an in-house team or an outsourced video editing service company. The videos we see on the internet have to be created, edited, and made to run successfully over the internet.
Videos have now become a quintessential way of expressing self, promoting business, and a major source of income for many people worldwide. Any quality content is a mixture of a mind-blowing script, stellar-level video editing, and motion graphics.
Video editing accentuates the quality of the raw camera footage and helps the viewers feel more connected to the content. The proper color, sound mixing, effects, voice-over, etc., never fails to awaken the audience's emotions.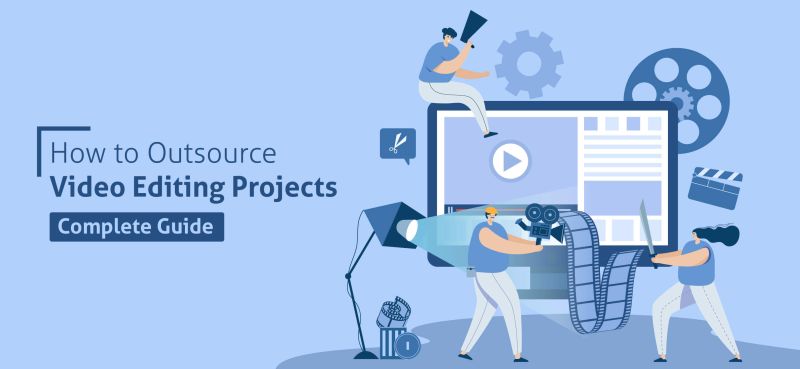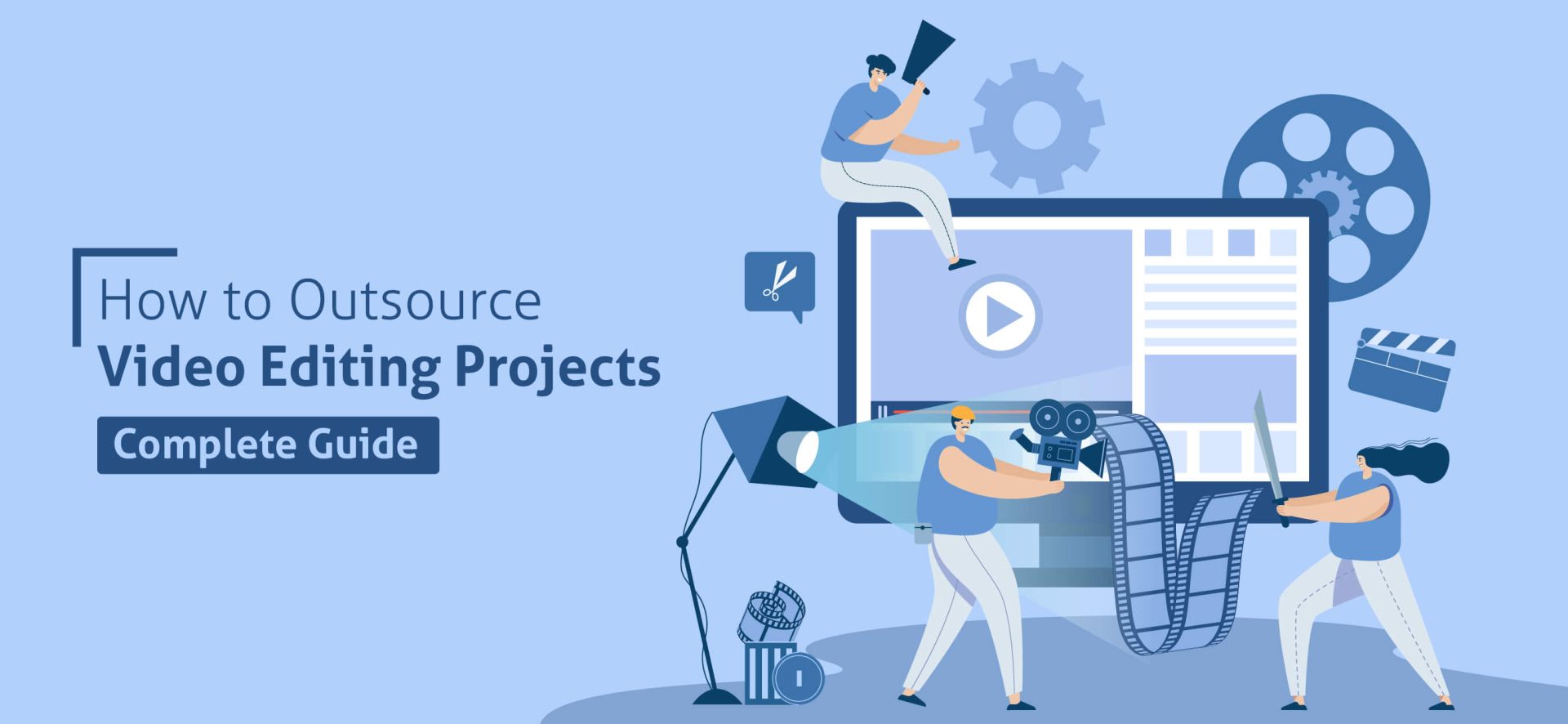 How to outsource video editing?
When it comes to outsourcing video editing, you have two options to choose from. You can either choose a freelancer or a professional company to outsource your video editing requirements based on the project volume.
It is generally seen that creators have many thoughts before outsourcing video editing. They worry about the following:
The cost, "Would I save more bucks if I do it myself?"
The utilities, "How is it going to benefit my business?"
And most importantly, "How to outsource video editing?"
Quality research will easily get you the answers to the first two questions. But it's somewhat difficult when it comes to the third one. Now let us see the route map to outsource video editing.
Know the intent of your video content first

For any creator, knowing the intent of their own content is of utmost importance. This will make the communication between you and the video editing service provider easier, whom you would approach.

This, in turn, will help you get the output you are aiming for. You might create any content you like, but you should know the purpose before outsourcing your videos for editing. Try to figure out the following:

If you are a filmmaker aiming to make elaborate and lengthy content for entertainment purposes.
If you want to earn revenue through your daily YouTube video content.
If you want people to follow you on social media through the instructional and motivational videos you make.
If you are trying to promote your business or sell an idea.
If you are collaborating with brands through your video content.

Where to find the video editing service provider?

After you are clear with the intent, you are now ready to search for the service provider. These service providers are professional video editors who know "what to deliver" and "how to deliver."

People mostly give up at this stage as it requires a lot of research. But trust us, the effort you put in here will make the entire process worthwhile. We are giving you some ideas on where you can get hold of service providers to outsource video editing services.

Search engine search box using the proper keywords based on your requirement, especially Google, Bing, Yahoo, etc.
Online blogs providing the names of famous video editing companies.
If you want to hire freelancer video editors, look for famous freelancer-providing websites like Fiverr and Upwork Inc.
Post inquiries on different social media networks like LinkedIn, Facebook, etc. This will make your connections know about your need and you might end up getting a few.
You can always consider partnering with us to edit your video content, as we are an eminent name in the market for state-of-the-art service.

Create your job description and hire the right editing partner

As discussed before, the intent makes the process seamless, so create a job post by putting all your requirements in it. Circulate this job post on social media or wherever you think it can get you a hold of suitable profiles.

If you are aiming for a bigger move, consider leveraging established service providers or experienced freelancers with a minimum experience of 5 years. Selecting the right partner will help you save time and earn more revenue through your content.

Keep the following checklist handy while hiring support for outsourcing video editing:

Check the types of video editing services they provide and what they specialize in.
Check their work samples and portfolios in detail and see if they align with your interests.
See if they have a quick turnaround time and are used to tight schedules and deadlines.
Enquire about the software they use and try to know more about it if you are not well aware of or accustomed to it.
Check their data security standards to ensure the safety of your data.

Discussing the terms, conditions and payments

After you have finalized your outsourcing agent, now it's time for you to enquire about their video editing pricing packages. If your budget matches their quotation, then go ahead with the legal terms (or at least an agreement) or negotiate with them if it doesn't.

This process might take you some time as you might like the work of that particular service provider, but you might not have the budget. So negotiating or going for the next one will require time and energy too.

Focus on keeping the following clauses in your contract:

Intent of work, as clearly stating the work's intent, will save both you and your video editing outsourcing partner from having undue troubles with each other.
Payment schedules, when and how to pay the remuneration, or in how many installments you are going to pay them.
Ownership rights to keep the integrity of your work intact.
Problem resolution to ensure the peaceful resolution of any trouble that might occur during the contract period.
Delivery time, as TAT plays an important role in sustaining a good bond between you and your audience.

Building terms for future collaboration

If you really like the work of the service provider you have chosen or if you find visible results of the output they have produced, keep the channels open for collaborating with them in the future.

This is always helpful as it takes down the massive load from your shoulders of finding a new service provider all over again. This can be done by:

Maintaining good conversational terms with them during the service period. This is always beneficial as it will give you the kind of service you want from them.
Provide feedback in all possible media, as it will boost your and your service provider's names.
Be a part of their client testimonial by filling out the feedback form they provide (if any) at the end of the service.
Establish pro-social behavior by referring them to your peers or anyone needing a video editing service, be it for any purpose.
You can also give them credits wherever you post your video.
Benefits of outsourcing video editing services
Although it is not hard to find over the internet, we will still mention the key benefits of outsourcing your video editing needs for you in this blog. They are:
Lets you work tension-free on your content. You can put more effort into writing the script, or the camera works without worrying about the final result.
You can make as many cuts as possible and strengthen your content, as the video editors will take care of the rest.
Through their professional skills, you can get the type of work you need, and that will attract more audience.
You can utilize the time and generate more content compared to your competitors.
Your product videos reach a new height with professional editing touch earning you a good volume of customers.
Why partner with professional video editors?
Every content creator wants their audience to enjoy their content and help them achieve what they are aiming to. Professional video editing companies work based on guidelines, and their expert hands know exactly what to produce. They have the expertise to edit various kind of videos like wedding video editing, YouTube video editing, corporate video editing, vlog video editing and more.
They make use of the latest software and technology to edit and deliver content the audience likes to consume. Moreover, their professionalism makes them work adhering to the work ethics, and you are sure to get the work done within the timeline you have set.
So, if you plan to outsource your video-editing projects, we are just a click away.