A latest HubSpot data states that more than 66% of online consumers make their purchase decision only after watching a product video. Thus, it is evident that video marketing helps a brand multiply its sales. However, at the same time, creating an engaging content that goes viral is a tough deal. Just creating a killer script won't help; one needs to trim and make the shots flow together, creating coherence.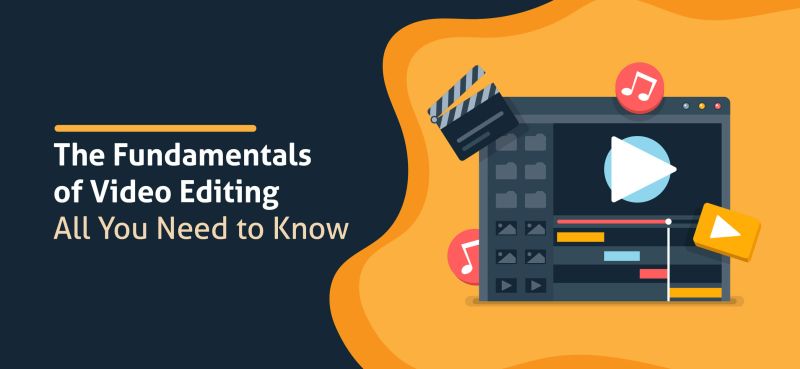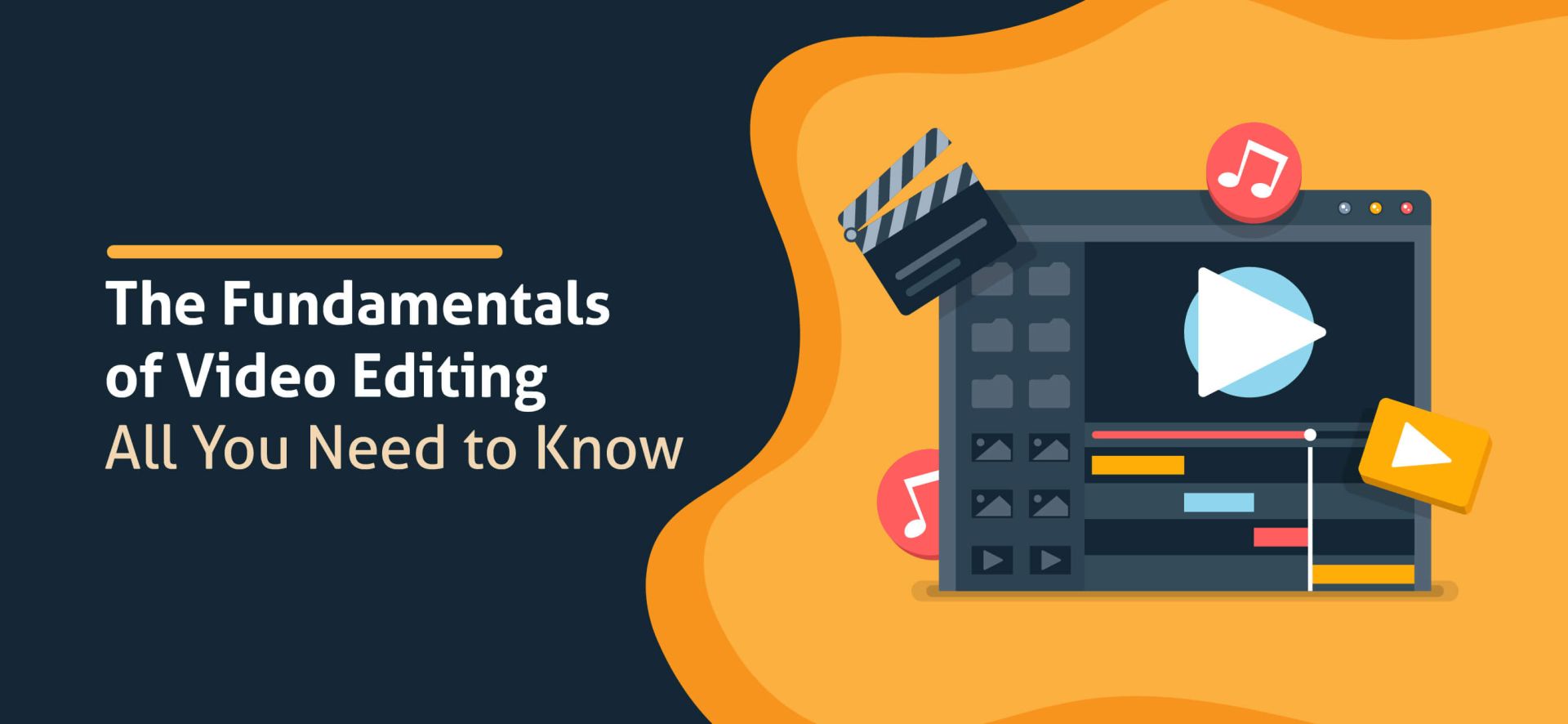 That's why knowing the basics of video editing is mandatory to make the viewers interested in what your content has to say. It goes without saying that much of the impact a video creates, the credit goes to the editing. Let's delve deep into the know-how of producing and editing a stellar video. Before that let us understand "what is video editing?"
What is video editing?
Video editing is the art of manipulating a series of video clips by adding creative as well as strategic alterations to the already shot footage and scenes. These changes, or "edits" make a video aesthetic, easy to understand, and engaging to the audience.
Any kind of motion content, live-action, animation, brand videos, marketing campaign teasers, documentaries, short films, or full-feature films has three distinct stages to undergo. They are:
Video editing falls in the third and last stage, i.e., post-production.
What are the 5 basics of video editing?
Before proceeding to the in-depth technicalities, let's talk about the basics of how to edit a video. Experienced video production studios have skilled editors who start with these basics, eventually moving towards the finer intricacies. So, keep scrolling if you are an aspiring video editor looking for some guidance.
Footage Sequence
First and foremost, start with framing the shots per the story. Every content must have a unique storytelling factor that holds the attention of the onlookers. Arranging the shots and scenes in a linear way is the trick here. One must ensure a narrative flow is maintained throughout the shots.
Intro Clip
Figure out the opening shot. Your opening shot is what builds up the curiosity among the viewers and establishes the mood. If it is a light-hearted content, the opening shot must not be too complex or gloomy.
If it is a professional brand or corporate video, the opening scene must feature the brand logo. And if it is an informal content, like an engagement or a wedding, start with happy scenes in the opening.
Consistency
Maintain a specific rhythm or tempo. You do not want the shots to be too fast, which confuses the viewers without conveying what's happening onscreen. You also do not want the scenes to lag too much in between, breaking the viewers' concentration. An editing specialist must know how to strike a perfect balance between the scenes.
Color Grading
Color correction and color grading are two of the most important aspects of video retouching or editing. Color grading sets the entire tone and mood of the story and psychologically communicates the same to the audience.
Choose right output format
Finally, knowing the right video file formats for exporting the files is crucial, as it directly affects how you want to publish the final produced content online. A few of the commonly used formats are .mov, .webm, .wmv, .flv, etc.
Every streaming platform and social media channel has its own preferences for video formats; thus, being updated about them and optimizing the video files accordingly can augment the reach of the content. Video editing software like Adobe Premiere Pro, DaVinci Resolve, Movavi, etc., have their exporting formats and settings.
Different types of video editing
All content creators, or in fact, editors must be aware of the various types of video editing techniques involved that make a content engaging and appealing.
Trends in editing styles might change each year, but these fundamental techniques remain unchanged. Skilled professionals leverage these techniques to create a coherent story viewers want to watch until the end. Check them out.
Offline video editing

This is an editing method in which the clips and footage are transferred from a recording device to a desktop for making the edits. This offline mode of editing makes it easier for the editor to perform complex and time-consuming editing effects freely without real-time playback.

Online video editing

This technique allows the editing to be made with the help of online software, web applications, and similar technologies. Some of these web applications are Veed.io, Canva, ClipChamp, Kapwing, FlexClip, and so on.

These online software for video editing are mostly free to use and help in basic functionalities such as trimming, cropping, adding titles and texts, etc.

Cloud-based video editing

This technique allows the editing using cloud technology. Cloud computing is utilized to connect a team of video editors to work on projects from anywhere, anytime.

This minus the geographical limitations, allows file storage on a single platform, gives unlimited access to all the participants, and facilitates the editing process without having to download any file. Adobe's Creative Cloud Suite supports cloud-enabled editing.

Live video editing

Probably one of the most critical and challenging editing techniques is live editing, wherein the editor makes all the edits and iterations in real-time. This is most common in newsrooms where live news and interviews are broadcast. Also, this tactic is utilized for news broadcasts for live sports events or musical concerts.

Here, the editor has all the control and can watch all the news feeds to make the changes then and there. Thus, it should be done by seasoned professionals with lots of hands-on experience and expertise.

After Effects, final cut Pro, Premiere Pro, and Avid Media Composer are a few software that help in making such fast-paced edits with quick cuts in between scenes.
What is the purpose of video editing?
As we all know, proper editing makes a video more creative, appealing, and engaging for the audience. Well, it can also turn them into revenue-making tools, inspiring visitors to try the service or product.
Product or service videos are made solely owing to this one purpose, to grab the audience's attention and convince them about the product or the service.
Below are a few more key significances that editing has in the video post-production stage.
Integrates a smooth flow between the scenes to help the audience understand the story's narrative.
Facilitates perfect cuts to move freely between scenes without taking away the intended messaging.
Puts the sound, such as background music, voice-over, and foley noise, all in sync. Sound editing is not just adjusting the volumes or adding new sounds. It is also about adjusting the audio and visual track in perfect timing, eliminating environmental noise, microphone feedback sound, and many more.
Editing also smoothens and makes transitions seamless between scenes and frames that, keeps the creativity intact, show a passage of time, showcase a shift in storyline, and so on.
In a nutshell, editing makes the audience stay emotionally connected with the onscreen occurrences, maintains perfect flow, and maximizes its value online.
Utilization of video editing across different sectors and industries
Video marketing has a far-reaching impact across multiple industries and service sectors in improving their marketing and communication, generating brand awareness, aiding internal training programs, retaining existing customers, as well as closing new ones.
More and more industries are leveraging online motion content on a daily basis to keep their social media channels live and active. Some of these industries are:
Advertising agencies
Event planning firms
eCommerce sector
Corporate training and instructional services
Film production houses
Music production agencies
Fitness training
Vlogging
Travel and hospitality
Real estate
Education
Scientific research and development
Health care
Manufacturing and engineering
All of these aforementioned industries produce hundreds of thousands of video contents on a daily basis, both for their internal activities such as generating awareness, brand promotion, and lead generation – as well as for their external clients. All these digital assets require regular editing to optimize them for public viewing.
Whether you are a professional videographer or a brand owner, you may collaborate with a professional video editing company and get beautifully edited shots for your purpose.
What are the career opportunities for video editors?
Video editors are those professionals who can beautify a video or a film with their skill sets and usage of the latest technologies. They are mostly in charge of the post-production and work closely with the maker or director of the film. Professional videographers can also hire experienced editors and outsource the editing requirements.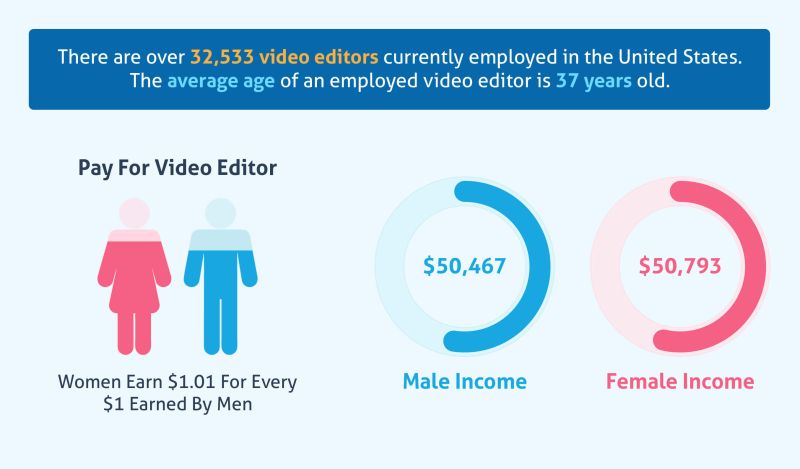 The scope for this particular career is surging high owing to the massive number of videos being produced for online consumption. The Bureau of Labor Statistics conducted a survey that says that there are more than 30,000 active video editing professionals in the US, and the market is projected to rise up to 29% by 2030.
Such is the high demand for good editors who are professionally trained and constantly upgrade themselves with the latest trends.
As far as the qualifications are concerned to start a career in video editing, anyone with a creative bent, eye for detail, aesthetic sense, and adequate knowledge about editing tools and technologies can opt to explore this genre as a career option.
Nonetheless, it is always a good idea to have a professional editing and VFX course done to add greater value to the resume.
Summing up!
Hope this guide has proven to be a handy resource to you, explaining what video editing is, the types of editing techniques, which sectors use it the most, what are the career options video editors have, and so on.
Braced with all these tips and information, now it's your turn to hone your editing skills and produce compelling video content. This guide will certainly help you refine your expertise and give you some good ideas on where to start.