WordPress, undoubtedly, is a great platform with great features and an easy-to-use interface. However, sometimes, your WordPress site may take significant time to load, which may in turn lead to a decreased performance. Websites that load fast get the maximum page views, allow users to enjoy a great experience, and support SEO activities. In this article, we have discussed some really easy-to-implement tips to boost your WordPress website performance and have adopted a step-by-step approach to make things easily understandable.
Why should you want your WordPress Site to load fast?
Research conducted by StrangeLoop, which included Google, Amazon, and other prominent websites, there will be 16 percent fall in customer satisfaction, 11 percent drop in page views, and 7 percent drop in sales conversions for just a one-second delay in web-page loading time. So this means that you may lose visitors if your website takes time to load. Additionally, websites that take time to load find their places at the bottom of the Google search results and experience low traffic. So it boils down to one simple fact- you should take appropriate measures to ensure that your WordPress site loads fast.
Is there a way to check the speed of your WordPress site?
You may often have the presumption that your website loads fast all the time. However, the fact is that Chrome or other modern browsers store your website in the cache when you frequently visit your website. So whenever you begin to type your website's link, the website gets automatically loaded. But this may not be the case with users who are visiting your website for the first time. Interestingly, people in different geographical locations will be having different experiences with your website. You may consider testing the speed of your website using IsItWP's free tool called WordPress speed test. So what should be the ideal loading time for your website? To be exact… 2 seconds or even lesser.
Why does your WordPress site load slowly?
When you learn what causes your website to perform below its optimal capacity, you take a step towards implementing appropriate solutions that would improve performance. These are the primary reasons why your WordPress site is slow:
Inefficient Web Hosting: Your website's speed is most likely to get affected adversely due to incorrect configuration of the hosting server.
Inappropriate WordPress Configuration: Overloading of the server may take place if cached pages are not supported by your WordPress site.
Larger Files: Larger sized pages that contain multiple larger media files such as images and videos are more likely to take more time to load.
Inappropriate Plugins: Poorly-coded plugins may slow down your website to a significant extent.
External Scripts: Ads, font loaders, and other external scripts can significantly impact your website's speed.
Why is Good WordPress Hosting so Important?
Your website's performance, to a large extent, is dependent on your hosting service. When you use shared hosting, your website will slow down if your neighboring site gets a lot of traffic and brings down the overall server performance. However, when you go for a managed WordPress hosting service such as WPEngine, you would benefit from optimized server configurations, automatic backups and updates, and sophisticated security measures.
Easy Steps to Speed Up Your WordPress Site
Changing your website's configuration is a scary task if you are a beginner and know nothing about coding. So we have discussed about some of the easiest steps that you can use to boost your website's performance.
Here we go:
Additional Tips to Boost Your WordPress Site's Speed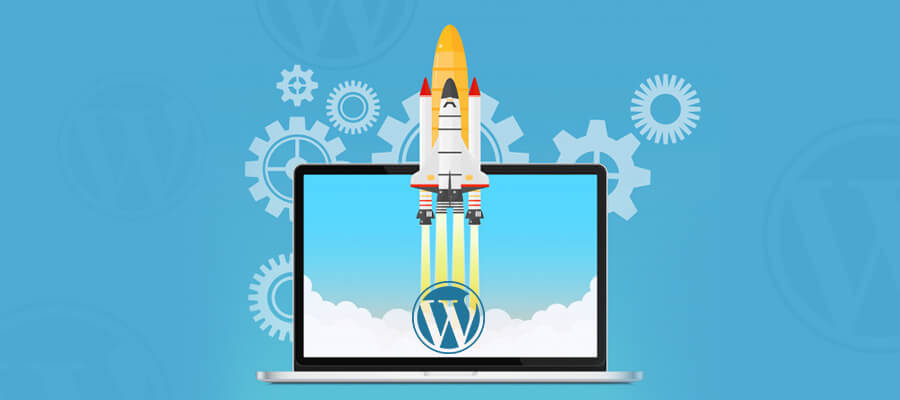 Approach Your Hosting Service Provider

Check with your cloud service provider if they can provide you with useful suggestions on how you can increase your website's load speed. This would save you from performing tedious research and finding a solution that may not be appropriate.

Perform Database Optimization in Content Management Systems(CMS)

You can boost your website's performance through database optimization. The size of your database increases, which in turn, leads to slower website speed, if your CMS contains a lot of complex plugins. For example, the WordPress CMS saves comments, articles, and data and consumes a large part of the storage space. Each type of CMS needs a different optimization approach and comes with a certain number of plugins. For instance, WP-Optimize is an effective optimization tool for WordPress sites.

Minimize Redirects

Extra http requests generated by website redirects create an adverse impact on website performance. You should either choose to minimize redirects or eliminate them completely. Perform a site scan to spot the redirects on your page. You can use Screaming Frog to identify the redirects. You should retain only the critical redirects after ensuring that they serve an important function.

Optimize Image Size

Images add beauty to a website and they are a vital sales tool for Ecommerce websites. There's no doubt about the fact that images improve customer engagement. However, large image files slow down website-speed. There are certain software such as Kraken, ImageOptim, and JPEGmini that would allow you to compress image size without compromising on the image quality.

Decrease the use of web fonts

Today's web designers use web fonts, which have emerged as a popular trend over these years. However, web fonts have an adverse impact on the page rendering speed. Web fonts create additional HTTP requests and you can decrease your web fonts by choosing only the only required styles, using modern formats for modern browsers, and including the commonly used characters on your website.
And here we are! We hope that you would be easily able to implement these easy fixes to boost your WordPress site's performance. Make sure that you test your website's speed once you apply these techniques. Do let us know about the results. If you need any web design support get in touch with us.
Other Interesting Articles