PGBS provides world-class customer service support to startups, mid-sized ventures, and large corporations across the globe. One of our key specialties in the call center service domain is live chat support. At PGBS, we understand the importance of maintaining constant rapport with customers and address their queries or complaints in a timely manner.
Our live chat support customer service is delivered by individuals who have excellent writing and problem-solving skills and can handle every query with patience and thorough knowledge of the situation and the subject. Our live chat service is specially designed to help you remain available to your customers 24/7 for 365 days annually.
We employ smart executives who undergo rigorous training in our facilities to gain expertise in delivering live customer support.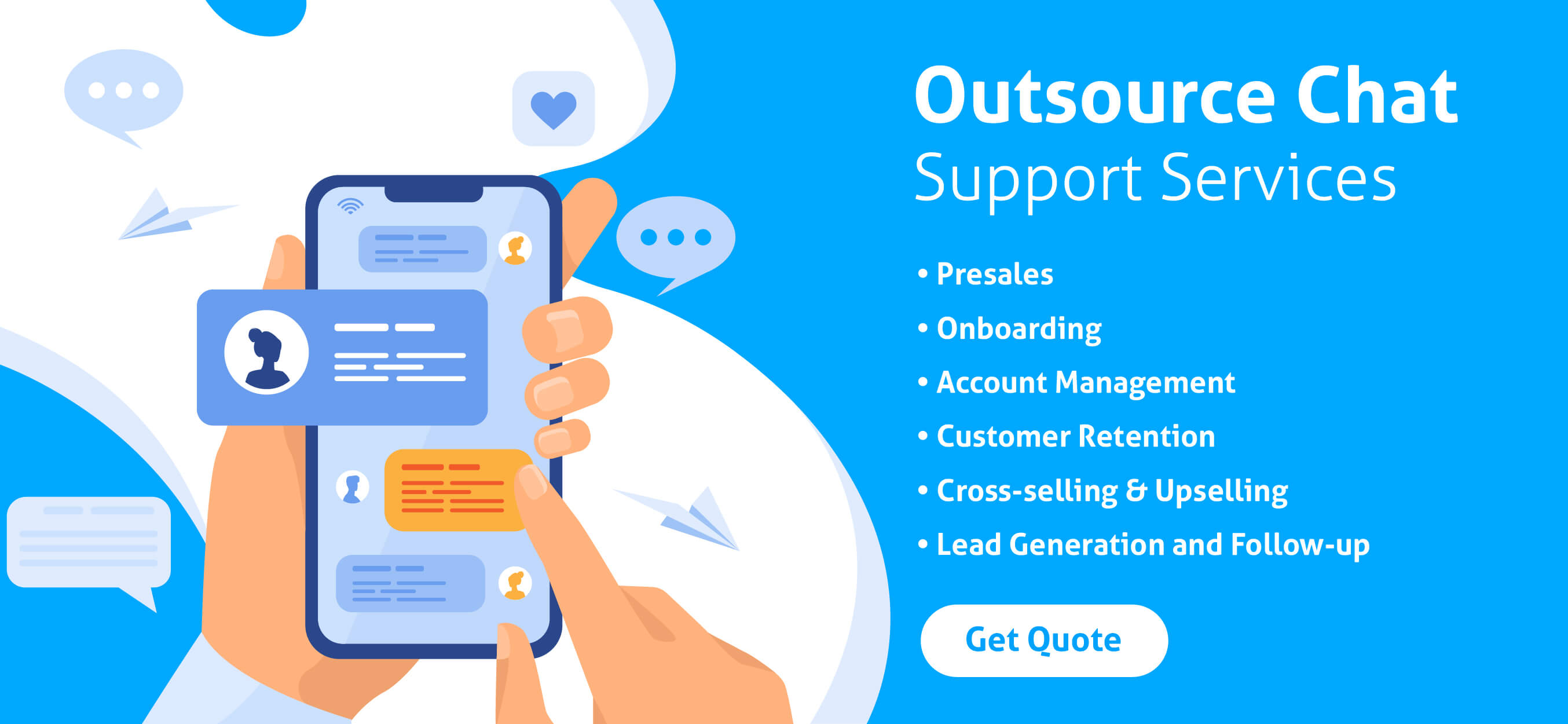 Our Live Chat Support Services – Key Highlights
Presales: We engage with your customers at a deeper level, encouraging them to do business with you.
Onboarding: We persuade your customers to make them feel motivated to make the most out of your services.
Account Management: Our staff can manage all your accounts professionally, managing activities such as billing, refunds, renewals, and adjustments.
Product Support: We can deliver product knowledge and educate customers about use and problem-solving.
Customer Retention: We establish a strong rapport with your customers, helping in promoting account renewals, and building long-term contracts.
Cross-selling & Upselling: We can strategically introduce new offers to your customers and boost your ROI to a significant extent.
Handling of conversation created by Visitors: Our executives do not make a delay in responding to visitor-initiated chats and they always do their best to provide them with expert answers.
Grievance Resolution: We have a team of specialists who are specially trained to provide expert recommendations and to resolve issues.
Lead Generation and Follow-up: We can generate leads over chat sessions and even engage in the active follow-up.
Inbound Customer Support: When we have a new prospect interacting with us, we have professionals to deliver inbound customer support.
Technical Support: We have troubleshooting experts onboard and they have the strong technical expertise to resolve technical issues.
Telemarketing: We can deliver cutting-edge telemarketing support over live sessions to help you close deals immediately.
Products/Services Information Delivery: Our staff can deliver important information quickly and provide product information in precise terms.
Order Management & Fulfillment: We can deliver customized order management and fulfillment services depending on the industry you are catering to.
Handling of Order Processing Queries: We can handle any queries with regard to order management such as order management and delivery status.
Helpdesk Support: We can provide instant support, allowing your customers to get access to the information that they are looking for.
Why outsource 24/7 chat support to us?
PGBS is a reputed live chat support service provider with employees who have strong communication skills. We adopt a proactive approach in delivering an optimized level of multilingual support to your customers. A prime aspect of our assistance is 24/7 chat support outsourcing services that allows your business to remain live all the time to address your customers' needs.
Boost Customer Satisfaction: We follow a continuous improvement plan, allowing our clients to benefit from a high level of customer satisfaction.
Reduce Customer Support Costs: We price our packages competitively, thereby allowing our clients to benefit from cost savings.
Drive Sales: We can address your prospects' queries and convert your leads into your customers.
Strengthen Your Support: Whether you want a 10-member team or a 200-member team, we have world-class customer service teams to support your needs.
Channel Integration: We use dedicated processes and smart CRM integrations to be able to collaborate with your current teams to help you expand your capacity.
Proactive Chat Support: We can proactively initiate conversations when we find your customers browsing through your product pages or FAQ section on your website.
Chat Support Strategy: We can develop the perfect strategy and conduct resource planning to help you make the most out of our services.
Multi-Platform Compatibility: We have a thorough knowledge of popular chat platforms and CRM technologies and can integrate our systems into your platform seamlessly. We can even recommend the best platforms if you need.
Multiple Delivery Centers: We have call centers located across the world and employ local resources, which help you cater to the exact needs of customers in different geographies.
Multi Language Support: We appoint people from various countries across the world and they can deliver support in their native languages, thereby helping you to build a strong rapport with your global customers.
Data Security: We have high-standard data security infrastructure in place, and we promise to safeguard our clients' data at all costs.
Weekly/Monthly Reporting: We would send you weekly and monthly reports to help you monitor progress and to compare outcomes with respect to time.
Outsource Chat Support Services to PGBS
We support businesses operating in diverse industries and we make sure that our employees develop thorough knowledge about your business before we assign them to specific roles. This earns our chat support services and call center support services global acclaim. If you have a requirement, do talk to us. We would be happy to support you.