Strong relationships with your consumers are the backbone of every business. The best way to retain your consumer with your business is to provide a fantastic customer service experience. Even if companies provide the highest quality product to their buyers, if they fail to give them the long term interactive support, it's sure that the company will lose the customer. Service to the buyer is essential to creating a loyal client base for all your future business. Company executives are the face of your organization, and they can make or break your brand image.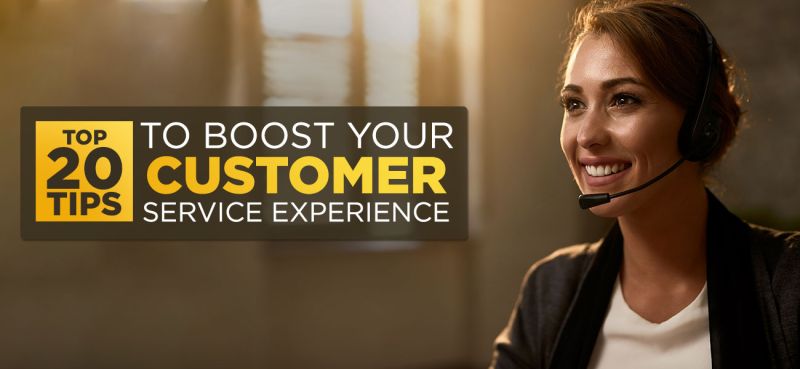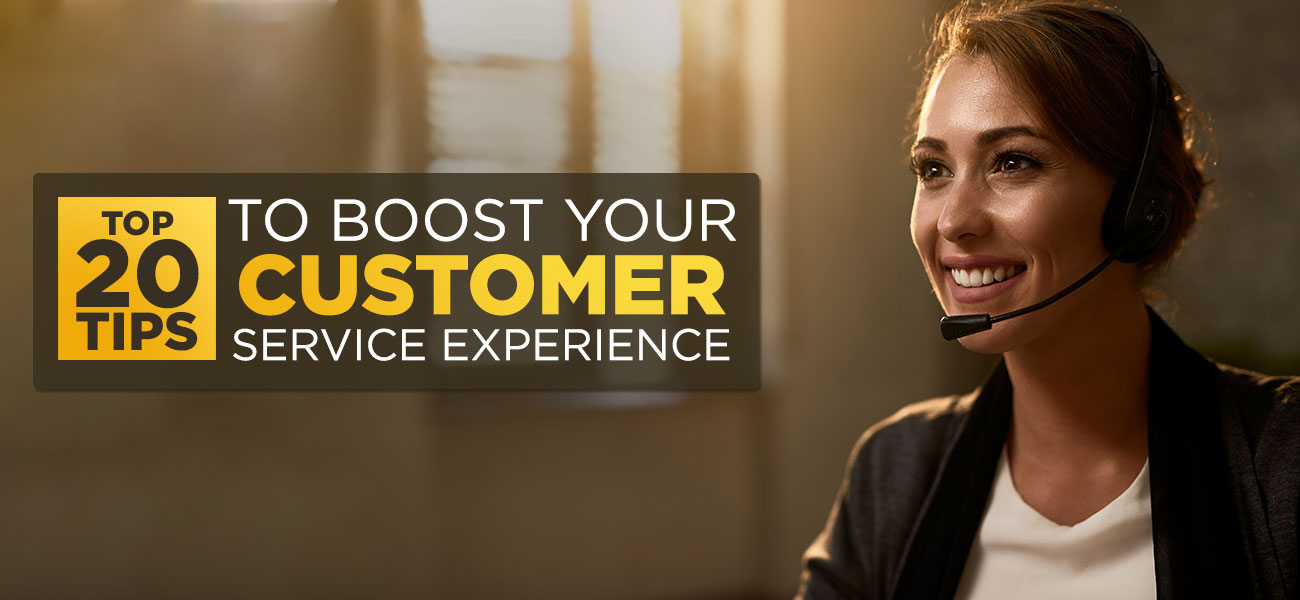 Tips to Improve Customer Service
The customer service improvement plan includes a 360-degree solution to all the customer service-related needs and will help your business reach new heights.
Here are a few practical tips to boost your customer service standard and to create a strong relationship with your clients:
Engage in Active Listening

Your customers contact you because they have issues or concerns that need to be addressed. You should practice active listening to understand what your customers want. Let the customer speak first and then ask questions to clarify your doubts. Then summarize your conversations so that you both stay on the same boat. Through active listening, you will ensure that you make your customers feel heard.

Show Empathy

Empathize with your customers and try to understand how they feel and what's bothering them so much. Some people have empathy as their natural traits, but this is a skill that can be acquired. Your customers should feel that you understand them rightly. This may actually make your customers enjoy a more fulfilling interaction with you.

Your Language should be Positive

When you use positive language to address a customer's issue, you can actually reduce tension and make the situation more positive. You can use appropriate words to create powerful impact on your customers and to build strong relationships. For instance, you may say, "pressing the green button is the best option" instead of saying, "don't press the red button". If you don't have answers to a customer's query, assure him/ her by saying, "I will get back to you with the response". You should sound authentic throughout the conversation and this would help you gain the confidence of your customers.

Work on Your Technical Skills

Make sure that you know the technical aspects of problem solving. Your customers may come to you with varied requests and so you should make sure that you have the required technical skills to solve their issues. If you don't know how to implement a service ticket, for example, you will end up wasting your customers' time. You should type fast and have proper knowledge of live chat and ticketing systems.

Have In-Depth Knowledge About Your Products and Services

As a customer support executive, you should be completely aware of the features of the products that your company sells. You should ideally discuss about a product with a product specialist to gain an in-depth idea about the product-features. This would allow you offer better troubleshooting support whenever your customers approach you. You should be in a position to help your customers with useful tips that would allow them to use a product with ease.

Communicate with Clarity

Communication is a key parameter in determining the effectiveness of a customer support team. Both verbal and written communication matter especially if you need to interact with customers having different native languages. Your responses should be concise and clear and they should have a natural flow. You may not choose to share all details because your customers want explanations.

However, you may share details if your customer demands, but what you should understand is that your customers want their issues resolved as fast as possible. Before closing a conversation, you should check with your customer if they have other issues to be addressed. This would give them another opportunity to approach you and they are going to appreciate your gesture.

You would also feel relaxed knowing that you have made your customer happy. Additionally, you should let your customers know if you are putting them on hold while getting a query clarified by your manager. If you are communicating through live chat, you should ensure that you don't keep it on idle mode for a long time. It is a wise decision to hire a multilingual call center that can provide you with uninterrupted customer support in your customers' native or preferred languages.

Analyze Customer Feedback Properly

How can you ensure that your customer service standard is up to the mark? You can directly check with your customers how they feel about the quality of your customer service. You can ask your customers to fill up customer service surveys. Such surveys may contain questions about individual agents and how they dealt with a situation. These surveys would allow you to monitor key customer service metrics. You can ask specific questions such as "Do you think our customer service agent had proper knowledge to answer your queries?" and " Did our representative have proper communication skills?". The answers to these questions would help you identify the areas of improvement and the areas where you excel. This would allow you to devise specific strategies to target important areas.

Make Constant Learning Your Motto

Customer service is a field that demands patience and practice. Communication skills and the skills to handle customers develop over a period of time and with varied experiences that employees face throughout their course of work. Handling customers is a skill that people continue to develop with time. An agent needs to undergo multiple experiences and learn from their mistakes in order to become a world-class customer representative. All members of your team should make it a point to learn continuously from their past experiences and this would make you build a team that excels.

Build Outstanding Customer Experiences

When you deliver memorable customer experiences, you will make people to believe in your brand and to make positive purchase decisions. According to a case study conducted by Wunderman Thompson, around 79 percent of respondents would buy from a brand that they think really cares about them. Additionally, it was revealed that price and product would no longer remain as the major brand differentiators and that customer satisfaction would emerge as one of the sole determinants of success. This translates into the fact that you should take customer service seriously and look for innovative ways to deliver unique customer experiences.

Address Customers by their Names

Use of personalized approaches is your key to develop strong relationship with your existing clients and prospects. Whenever you communicate with your customers and whatever medium of communication you choose, you should always use your customers' names. This would make you sound friendlier to the other party and would add a 'human' touch to your interactions. Research indicates that people feel happy when they are addressed by their names.

Team bonding is essential

Friendship between employees is a real motivating factor to improve productivity. Improved trust can help provide a better customer service experience.

Create opportunities for employees to understand each other by implementing programs of recognition. Team building exercises can also maintain a consistent relationship between teammates. Internal social media groups help in improving the interaction between them. This will help them learn more from their peers and improve customer service skills.

Creating a service tree

A document to show the relationship between different teams, departments and positions. It will give a clear idea about the responsibilities of each person and who will be responsible for what. This will also help set the future goals of the people involved in the team.

High-class training

A typical training process is carried out to improve multilingual support to make the employees best at providing high-quality services. It can be online references, coaching, mentoring, and other approaches to make them understand how to do their jobs well.

Give Rewards for Customer Loyalty

Today's consumers look for personalized support and this is what contributes to customer loyalty. You may consider organizing a loyalty program through which you can deliver personalized experience and get access to critical data. You should adopt appropriate measures to design customer experiences that would appeal to your customers and would stay in their minds for a long time.

For example, if you are running a winery, you may choose to reward your customers with a free bottle of wine that you can deliver to their homes. Alternatively, you may offer them a tour of your winery of vineyards. They are going to love this experience and treasure this memory for life. You can create a rather powerful impact by using a customer's photos, name, or other interesting information on the label.

Your customers will be happy with this thoughtful approach and they would contribute to your brand promotion initiatives by posting positive reviews online and through word-of-mouth advertising. This is one idea; you may think of other interesting ways to surprise your customers.

Deliver Timely Support

Your customers want you to deliver prompt assistance so that they can get their issues resolved as early as possible. Make sure that you provide them with appropriate responses in a prompt manner. Today, people are pressed for time and so if they have to spend a long time while getting their enquires answered by a company's customer support executive, they are most likely to feel stressed out and this may cause a serious impact on the overall reputation of your company. As per the findings of a Forrester study, 73 percent of US-based netizens view "value for time" as one of the key parameters for a great customer service.

Offer Assistance through Multiple Channels

So you should embrace an omnichannel support ideology to make sure that your customers are able to contact you through multiple channels and get timely responses from your side. For instance, if you own multiple retail stores, you should establish communication methods such as personal interactions with your employees, social media assistance, and phone, email, and live chat capabilities

This would ensure that your customers have a smooth experience irrespective of the channel they choose. Research indicates that 64 percent of consumers expect businesses to deliver real-time support through all communication channels. Another study indicates that 90 percent of consumers desire for seamless communication with a brand through any channel of their choice during holidays. Omnichannel and multichannel support can improve your profitability to a significant extent.

If you are delivering live support, you should let your customers know the time when you would remain available. If you are delivering support through email and there are time zone differences, you should let them know when they can expect a response from you. Fortunately, most people will accept a slower response provided you let them know when they should hear back from you beforehand. Focus on making your processes more transparent; this would make your customers rely on you.

Remain Active on Social Media

When consumers contact you through your social media accounts, they actually look for fast response and find it convenient to contact you through social media. You will be surprised to note that 72 percent of consumers who post complaints on Twitter want their queries solved within just an hour. When you fail to respond on time, your customers would convey their negative experiences with other social media members. You should be alert because in social media platforms like Facebook, the average response time can be easily noted.

Deliver 24/7 Customer Assistance

If you have to serve a large customer base, it is better to employ a dedicated customer support team that would remain live 24/7. This team should consist of several executives who would work in different shifts so that they can cater to the needs of customers staying in different geographies and time zones. If you have a limited budget to hire in-house staff, you may consider outsourcing call center services. This way, you can save money on resources and infrastructure. Make sure that your FAQ sections have adequate information so that your customers can get responses to their common queries very easily.

Play Around with Discounts

You can offer discounts from time to time and on different occasions to encourage people to buy from you. According to a study conducted by Shopify, businesses that offer discounts are 8 times more likely to register sales.  Dedicate a page on your website to display discount codes or you may send the codes to your existing customers via email as well. You may use giveaway campaigns to drive awareness through social media. This may include one month of free service or subscription for the entire family. Offering free shipping is another way to create a loyal consumer base given the fact that 90 percent of consumers view free shipping as a very important incentive to make online purchases.

Make Feedback A Part of Your Improvement Strategy

You should take feedbacks seriously. Customer feedback gives you the opportunity to identify the areas of improvement and to understand if your customers are happy with your products and services and the additional things that you should do to make them happy. Your customers would also feel that you really care about their opinions, which would, in turn, make them rely on your business more. Customers often feel happier when they get responses from the top management and this is definitely a great way to show them that you really care to provide them with quality support.
At the end of the day, your customer is the king and they are always right. So customer care representatives should practise being more patient and tolerant and should adopt gentle approaches to deal with angry or irritated customers. They should be capable of handling negative situations and should stay calm and positive so as to find real, workable solutions that would accurately address their customers' issues.