Contact center and call center are two different modes of business communication. The terms are often perceived to be the same but differ from one another. In simpler terms, it can be said that call support departments let consumers only connect via phone. However, contact support departments help them contact them through multiple customer service channels.
In this article, we will take a broader look at the differences between the contact center and the call center. Understanding the differences will help you to choose the right one to cover your business needs. You will also get to know the different experiences it can offer a customer.
What is Contact Center?
A contact center is a type of office setting that handles both inbound and outbound calls from customers. Aside from that, it also offers customer service over digital channels. Here, the customer may either use cloud services or VoIP (Voice over Internet Protocol) to communicate with the contact center representatives.
The different digital service channels used in contact center solutions are text, email, webchat, video chat, social media, etc. In this case, all the channels belong to the same integrated system. It enables customers to engage as per their preferences. Besides, they can also switch to a different channel without disturbing the service.
With contact center services, gaining a consistent brand image is easy. Since today's consumers are looking for digital contact options instead of the phone, the contact center as a service is in higher demand.
What is a Call Center?
A call center is a type of office setting where the agents mostly handle calls for taking orders or offering customer service.  These calls may be inbound customer support, outbound customer support, or blended. Apart from handling customer inquiries, a call center company may also include other services like billing, debt collection, telemarketing, etc.
The call center operations may be either present inside the organization or outsourced to an external organization. Initially, the setting used on-premises hardware, which will be coupled with the telecommunication infrastructure. However, today, ACD, or Automatic Call Distribution systems are utilized. These systems directly allocate agents or representatives depending on their expertise or availability.
Nowadays, most call center companies use advanced technology to cut down on the cost of hiring representatives. They use IVR, or Interactive Voice Response, systems. It also enables them to answer more calls per day. However, it has a demerit. It refrains customers from conversing with an actual person, thereby resulting in a poor customer experience.
Contact Center vs. Call Center: 7 Main Differences between Both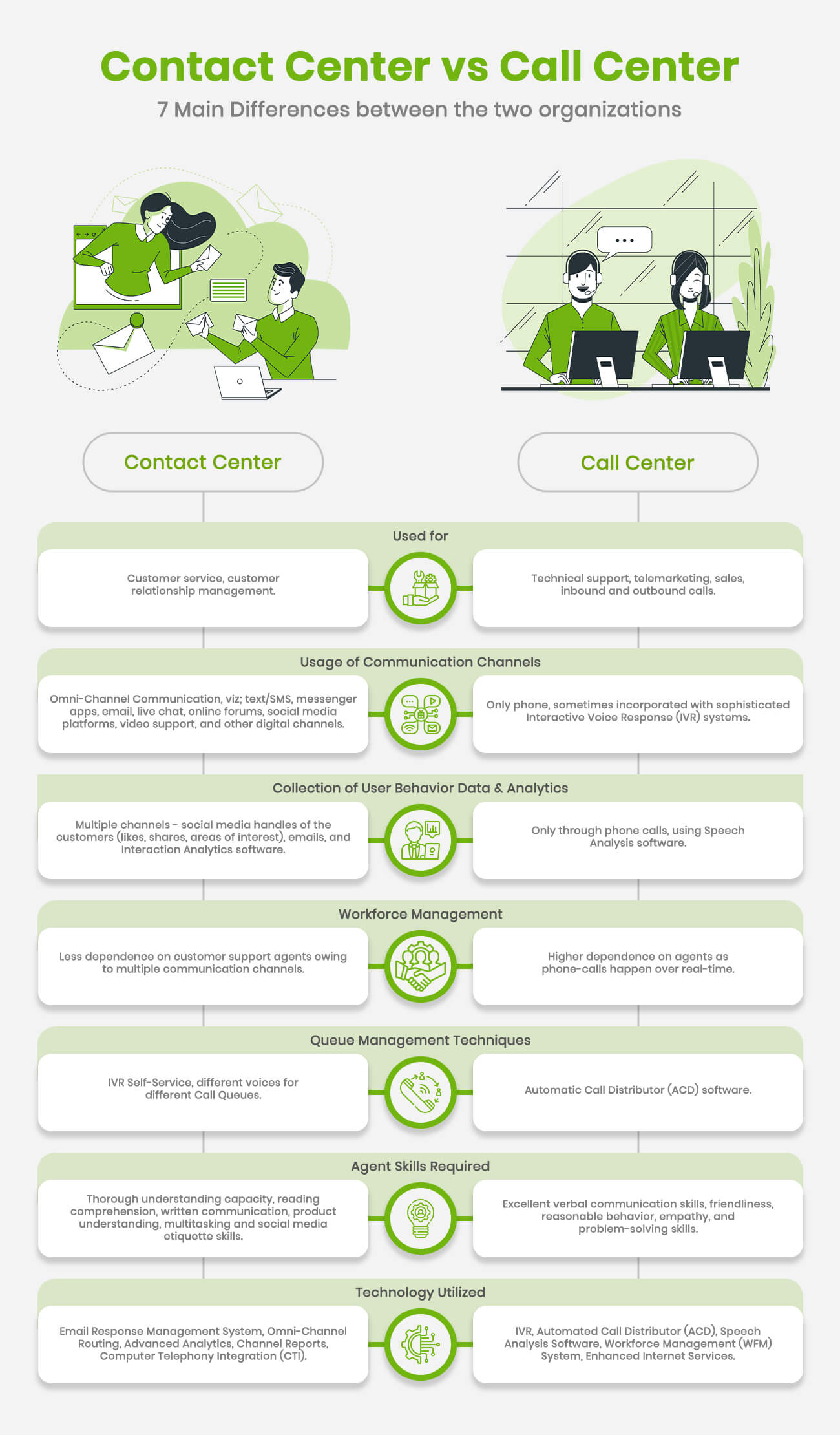 Download contact center and call center difference in PDF format.
Check out the major differences between the contact and call support department. Learning their differences will help you to improve customer experience and satisfaction.
Difference of service channels

Contact center solutions are offered over multiple channels but call center solutions are offered only via phone. Each of the service channels is operated through the agent's desktop and supported with advanced technology.

Difference in customer service type

A call center customer service is predictive. Here, outbound messages are sent to clients over the phone. The outbound calls also turn out ineffective as people are more cautious to answer unknown calls. But, in a contact support department, customers get to decide how to remain in contact. This proactive way of customer service is more effective and increases loyalty while reducing cost.

Difference in self-service management

Both the services use IVR for automation. IVR is basically a digital assistant which operates through phone, keypad entries, or vocal prompts. In a call support department, the IVR makes it difficult for customers to connect with a live agent. However, contact support IVRs are designed, keeping the company's brand and the customer experience in mind. It predicts the intent of callers and connects them to the best agent who can resolve their needs.

Difference in customer engagement

In a call support department, the customer shares his personal information preferences, etc. over the phone. So, it is quite difficult for the call center agents to keep a track of the consumer data. However, in the contact support department, it becomes easier. This is because the interaction takes over the digital channels.

Difference in terms of routing

Having the customer data on hand, contact support departments can easily route the consumers to the best customer service agent or representative. The work is facilitated with the help of software that retrieves information from multiple digital channels. The call support department can also retrieve data, but it takes more time as compared to the contact center.

Difference in queue management

Contact centers employ omnichannel queue management for managing customer communication. It enables you to view the incoming request from a single platform and distribute work across the agents. However, the same does not apply to a call support department as it uses virtual queuing for managing communication.

Difference in terms of consistency

With contact center software, you can retrieve data of a particular consumer from a channel. Even if the person chooses another channel, it is still easy to retrieve the data. This offers more freedom to customers, which isn't possible with that of a call support department.
From the above, it is quite clear that both contact and call support departments serve the same purpose, i.e. communication. But, the primary difference lies in the method of communication and experience of consumers.
So, if you want to upgrade your organization with a contact center or call center, both are beneficial in their own ways. However, while choosing one, learn about the communication channels your customers prefer to use. Based on that, you can decide which will be better for your business.