If you are in any way related to photography, you must be interested in knowing the difference between diverse image file types. Well, a number of image file formats like JPG, TIFF, PNG, among others, are widely used in photography. These image file formats have their own attributes, advantages, and disadvantages.
You should know the right format to be used in a particular place to enhance the visual impact of an image. Even when you retouch a photo, it is necessary to know the format in which you should save it.
This is determined according to the purpose for which the image will be used. Before mastering the art of photography or photo editing, you should gain a comprehensive idea about different photo formats.
It is important to know about the highest quality image format that is ideal for photos of different genres, especially when it comes to the provision of photo post-production services.
In the professional world of photo editing and photo retouching, formats like JPG, PNG, and TIFF are the most extensively used file formats. These are used for printing, photo retouching and other manipulations of digital photos.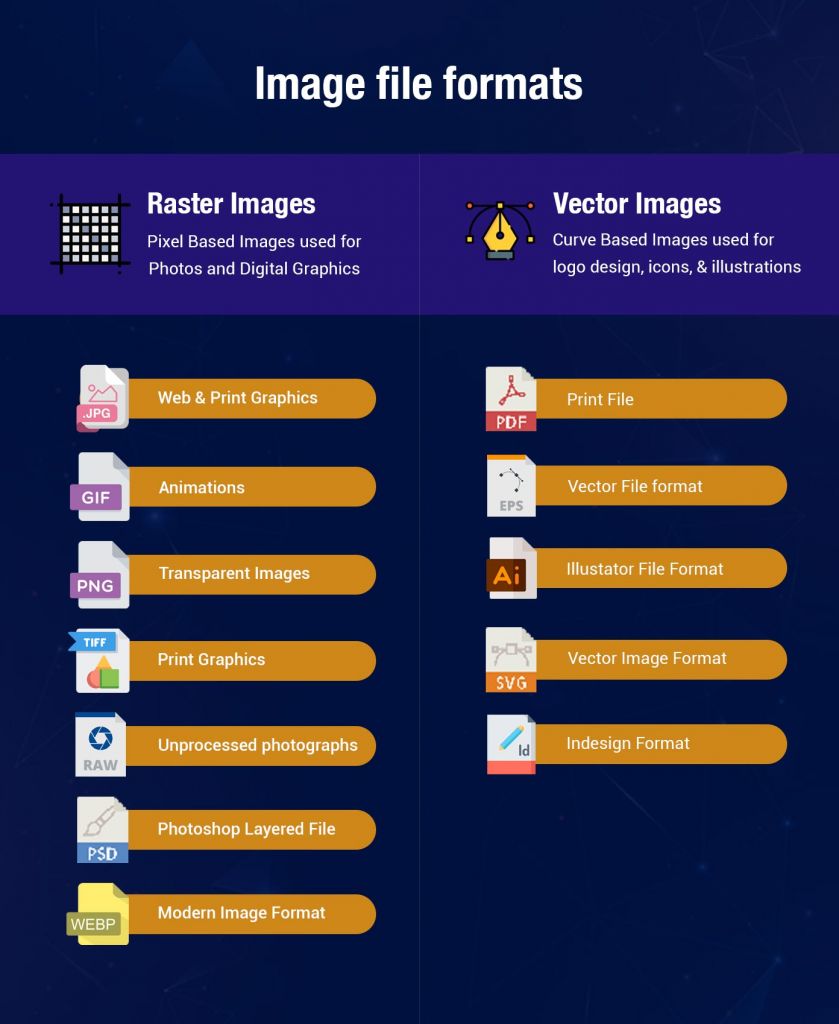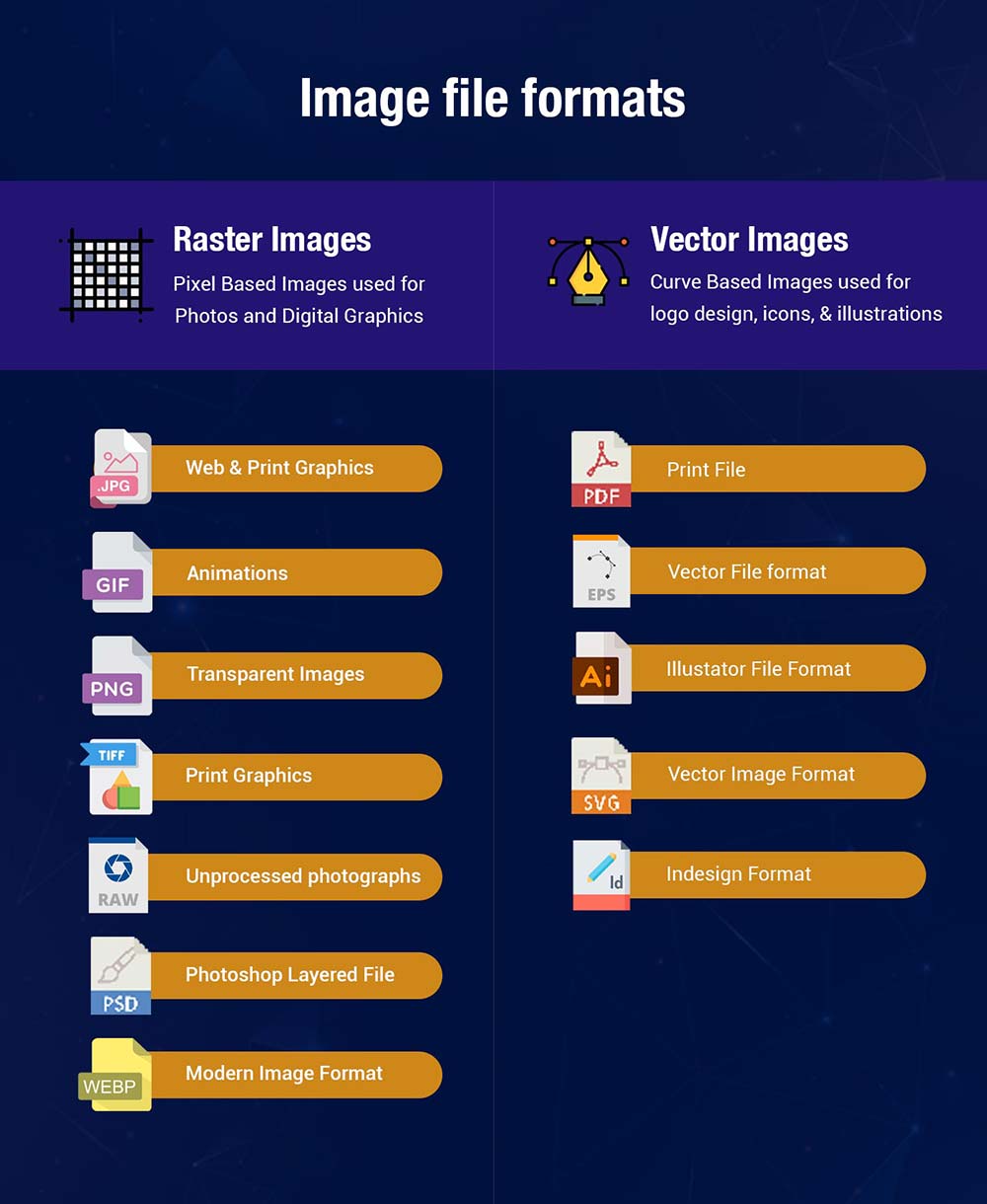 Overview of Image File Formats and Image File Extensions List
Read on to know the differences among different image file formats used in photos.
JPG (.jpg)

JPG file format is one of the most popular file formats when you consider image retouching. Whether you deal with headshot retouching or general image retouching, photos are saved in this particular format.

A large number of websites also use JPG format in the images. Besides, photos captured in digital cameras are stored in this format. The key reason for the popularity of this format is that the size of files is not too large and they can be stored easily.

It is also possible to make the date appear smaller so that the attention lies primarily in the image. Pages in websites load faster if the images are small in size.

Heavy images make the website slow. Due to the small storage size of these images, these are widely used in websites. Evidently, the JPG format is used when the minimum size of the image is required.

Another reason behind the extensive use of the JPG image format is that it can be compressed without causing any loss to the image quality. This property is immensely helpful in many cases.

Generally, when images are minimized in size, they suffer from a qualitative loss while uncompressed image formats have a high standard of quality. However, images in JPG format can be compressed as and when required. This will not deteriorate the quality of the image.

TIFF (.tiff)

TIFF is another widely used photo format and has the ability to retain its quality even when the file size is minimized. In fact, it caters to the requirements of various commercial segments. However, a major drawback of TIFF format is that it cannot be used on websites. It is for this reason websites have images in JPG format. Comparing the two, TIFF has a broader ground of utility. The only limitation of the format is its incompatibility with websites. The quality of the image remains intact when it is compressed. This format is extensively used in the fashion industry and portrait retouching. This format provides all the features required by a photographer.

GIF (.gif)

GIF is one of the oldest photo formats. It was designed much before JPG and TIFF. This format came into inception at a time when 8-bit videos became popular and served the video purposes much effectively. GIF was unique in a number of ways.

However, this format has its own limitations too. It is not suitable for printing which is the main drawback. The number of colors that can be used in GIF format is limited to 256. Although all variants of colors cannot be incorporated in this photo format, it is sufficient for a graphic purpose.

It is for this limitation that photo editors avoid using indexed colors to enhance images in GIF format; also for photo color correction services, this format suits the least. Unlike other formats, modern GIF files offer more transparency and animation.

Today, this format is widely used in web graphics, where people do not look out for the variety of colors. GIF is also known for its pure color shades and smaller sizes of files.

PNG (.png)

This file format has been the latest inclusion in the list. It has most of the attributes of TIFF and is a very useful format. A key advantage of PNG over TIFF is that it can be used in websites and most web developers are really comfortable using it.

The purpose of designing this format was to bypass the inconveniences owing to the loss of quality of other photo formats. GIF format is likely to be replaced by PNG. Both these formats are supported by browsers, but PNG provides more benefits than GIF.

As the format has been designed lately, it is powered with the latest features. PNG files occupy lesser space when images are converted from other formats. However, a disadvantage of PNG files is that websites are slow in reading images in this format.

This is the reason why it is not as popular as JPG and TIFF. However, it is widely being used by contemporary photographers. The format does not lose its quality during photo retouching and hence ideal for photo manipulation.

PSD (.psd)

This is a layered image file format, which is the default format when using Adobe Photoshop to save images. Photoshop Document, abbreviated as PSD supports multiple layers of image and numerous imaging options.

This is very helpful in case, the editor has to resume the work for a later time and also if one wants to make changes in a particular layer without disturbing other layers.

It saves an image all-inclusive of its clipping paths, shapes, layer masks, adjustment layers, styles and even blending modes and helps to preserve its transparency.

Also, know the reason why most of the photo retouching agency provides final output in PSD format.

But they are only read or opened with Photoshop or other Adobe products and selected graphics applications and also the image cannot be displayed on the web if saved in this file format.

As there are many layers, the PSDs will be of larger sizes and hence require a high storage space provision while dealing with a huge volume of PSD files. Also for these images to get printed, they need to be saved in an appropriate file format after all the editing and manipulations. This is but, the highest quality image format for Photoshop edited images, which is commonly created and shared among graphics professionals.

PDF – Portable Document Format (.pdf)

This format was invented by Adobe with an objective to acquire and review rich content from different applications and to share it with others using any computer and from any location in the world. If a vector logo is saved in PDF format, you can see it readily without having to download any other design editing program other than the Acrobat Reader software that comes for free.

Additionally, you can make modifications to the design easily when you use this file format. The PDF format is recognized as one of the best and most easy-to-use tools to share graphics.

EPS – Encapsulated Postscript (.eps)

This is a vector-format file that is specifically meant to generate high-resolution print-media graphics. You can create this format using any type of design program.

This is a sort of a universal file format similar to the PDF format and you can use it to open vector image file types or vector-based graphics in different types of graphics editing software that may or may not be Adobe products.

This format proves to be specifically useful for professionals who may not be using Adobe products at the present moment but maybe using other programs such as QuarkXPress or CorelDraw.

AI Format (.ai)

The Adobe Illustrator-format is very popular among designers because it is one of the most reliable file-formats that can be used in images for diverse categories of design projects for both print-media and web-based platforms.

This software is widely used to generate artwork from scratch and there are chances that your designer used this software to create your company's logo for the first time.

This program generates vector artwork, which can be manipulated very easily. In fact, you can use this software to create diverse types of files. You may regard it as one of the best design tools in a graphic designer's toolkit.

INDD Format (.indd)

InDesign Document (INDDs) is a format that gets generated and saved in Adobe's InDesign software. This program is generally used to generate large-sized publications such as magazines, newspapers, eBooks, etc.

Most importantly, you can combine the files from Adobe Photoshop and Illustrator in InDesign so as to generate designs having richer, classier content that would feature formatting information, advanced typography, implanted graphics, and several advanced layout-related features.

RAW Image Format

A RAW image is a file that has been processed to a negligible extent. In fact, it is the preliminary format that an image takes over at the time of its creation. When you use your camera to click a photo, the photo gets saved in the RAW format.

Your image would get a new file format when you get it uploaded to a new device and refine it by using a photo editing program. You will find RAW images to be very detailed because they capture all elements and finer visual details that remain unprocessed.

This format would eventually get converted into a vector or raster format that can now be shared through other devices or resized for diverse purposes. Notably, there are several RAW image file formats that you can use to save your images. In fact, some formats are native to some camera models.

Here are the four main types of RAW files that we commonly come across:

CR2: CR2 or Canon RAW 2 is a Canon-specific file format that is commonly found in photos that ate clicked through Canon's digital cameras. These are images of superior quality as they are primarily based on the TIFF format.
CRW: The CRW file extension was introduced by Canon before it introduced the CR2 extension in the market.
NEF: The Nikon Electric Format image extension is a type of RAW file that was introduced by Nikon. Images of these formats can be edited extensively without having to change the file-type only if you use a Nikon Photoshop plug-in or a Nikon device to edit the files.
PEF: The Pentax Electronic Format is a RAW image format that is native to Pentax Digital Cameras.

SVG

SVG or Scalable Vector Graphics is an image format for vector images and is based on XML. This format typically represents 2D graphics. You can easily search index, scale, and shrink images in this format so as to create small-sized images that can be readily used in online platforms.

Files in this format can be refined using graphic design programs and text editors alike. You should use this format if you have to create computer-generated imagery for online use. This image format is not suitable for use in print outcomes.

Raster

These types of images consist of a fixed number of called pixels and every pixel has its own color. These images are based on resolution, which means that you can find them only in one size. So when photo editors make an attempt to edit these images, the pixels get stretched and this can lead to blurry images.

These images are commonly used in the form of photographs, digital graphics and web media graphics such as social media graphics, banner graphics, and graphics used in email.

With Adobe Photoshop, it is easy to generate, design and refine raster images and to incorporate effects, textures, and shadows in designs. All raster images get saved in RGB and CMYK color models.

CMYK is a printing process consisting of four colors namely, magenta, cyan, black, and yellow. These shades denote the four colors that get combined during printing. Files having this format need to be optimized before being used in the print media.

RGB includes the shades red, blue, and green. These three colors are the primary shades of light, which generate other colors through combinations. Files having this format are used for web-based platforms, films, mobile phones, and videos. So these are basically web image formats.

WebP

This is a modern image format that facilitates efficient lossy as well as lossless image compression online. The use of WebP allows web developers to create high-quality yet small-sized images, which in turn boosts website speed. The lossless and lossy images produced in this format are smaller in size than the PNG and JPEG images. Lossless images in this format take just an additional 22 percent bytes in order to support transparency. WebP is supported by numerous software libraries as well as by Google, Opera, Edge, and Firefox. The lossy compression is performed through the use of predictive coding whereas the lossless compression process makes use of existing image remains to build new pixels. It comes with tools to view, mix, and animate WebP images.
Lossy vs Lossless image formats
Lossless image files are those that get reproduced while retaining the quality of the original files. Such files have a high-resolution. When lossless files get decompressed, they get converted into exact replicas of downloaded digital images.
The raw format is a lossless format as it retains the data of the original file. Commonly, the  JPEG format is called as the lossy format because a portion of the data always gets lost  during its conversion to the JPEG format. These are a few lossy and lossless formats that we come across with commonly:
GIF and JPEG images are lossy whereas PNG, Raw, and BMP are lossless formats.
OGG, MP4 and MP3 are lossy audio files whereas FLAC, ALAC, and WAV are lossless formats.
It is a good idea to convert lossy files into lossless image formats to generate big-sized files that will retain all data. However, it is not a good idea to convert one lossy file format into another lossy file format that will have lesser data. This is similar to generating a photocopy from another photocopy and getting outcomes of inferior quality.
To conclude about image file formats
The problem with most of the amateurs is that they start editing without knowing the features of each of these formats. Even if they study a few formats and go through various photo editing tips for them online, the knowledge remains insufficient to support them in their career.
However, professional photographers and image retouching experts determine the formats to be used after assessing their needs.
When you work with images, you may need to address several complex requirements at times. Image editing is not an easy task, but continuous learning and practice would make things perfect.
Frequently Asked Questions
The common formats in which one can save the photoshop work include-
For Layered Files
.PSD: Photoshop Document, abbreviated as PSD, is the most common format and every creator who uses the platform is familiar with it. It is the standard format to save the work within Photoshop as it saves the work in multilayers and is most suited for the web.
PSB: It is identical to PSD but related to the large docs file formats. In short, this format is basically for the images of the large size or such documents that contain a lot of information.
.TIFF: Tag Image File Format or TIFF is a universally accepted file format best suited for raster images. It is compatible with all the image viewer and editor programs like CorelDraw, MS Paint, etc.
Standard Files used for Website
JPG/JPEG Format: This is the most common image file format, and in this, the format is flattened (does not contain layered information) and compressed (have some loss in the information).
.PNG: These are the exported files with transparent backgrounds and are considered ideal for text, graphics, and icons. Mostly used to display a logo or a CTA on the website.
GIF: These are the small portions or snippets of the videos used on the website to display some information or generate curiosity.
The 5 most common image file formats are-
JPEG & TIF/TIFF
GIF
PNG
EPS
RAW
In total, there are 10 types of image formats Adobe Lightroom can support-
Camera Raw Formats
HEIF/HEIC (High-Efficiency Image File)
DNG (Digital Negative Format)
TIFF (Tag Image File Format)
JPEG/JPG Format
PSD (Photoshop Format)
PSB (Large Documents File Format)
CMYK Format
PNG
Video Files
TIFF (Tag Image File Format) is considered the highest quality image format for commercial purposes. The photographers and graphic designers consider it, and it is widely accepted worldwide.
When you want to print an image of the highest quality, it is advisable to use the TIFF format. And the second choice for printing can be PNG.
TIFF is a universally accepted image format widely used by photographers and designers. Due to its compatibility with all types of image viewers and best suited for raster images, this is considered the best image format for printing high-quality images.
We hope that this article has provided you with important information about the standard image file formats, which may help you to decide which file-type is most relevant for your ongoing on an upcoming project.