Do you own a business and want to augment its brand awareness among the global masses? Or are you an amateur vlogger or influencer trying to solidify your mark online? Whoever you are, TikTok can offer you enormous opportunities to connect and interact with millions of people and showcase your credibility.
With its quirky short-form video format, diverse and all-inclusive content, more than 1.5 billion active users, and a lot of engaging features – TikTok is the ideal marketing tool that you need in 2023. So, jump on the TikTok bandwagon and learn more about TikTok video length to prepare yourself!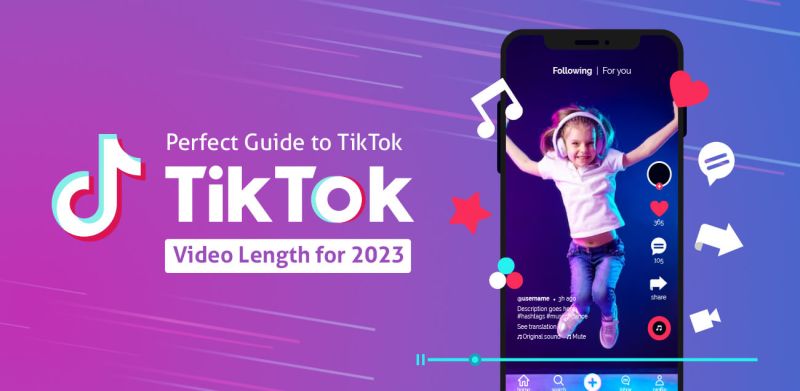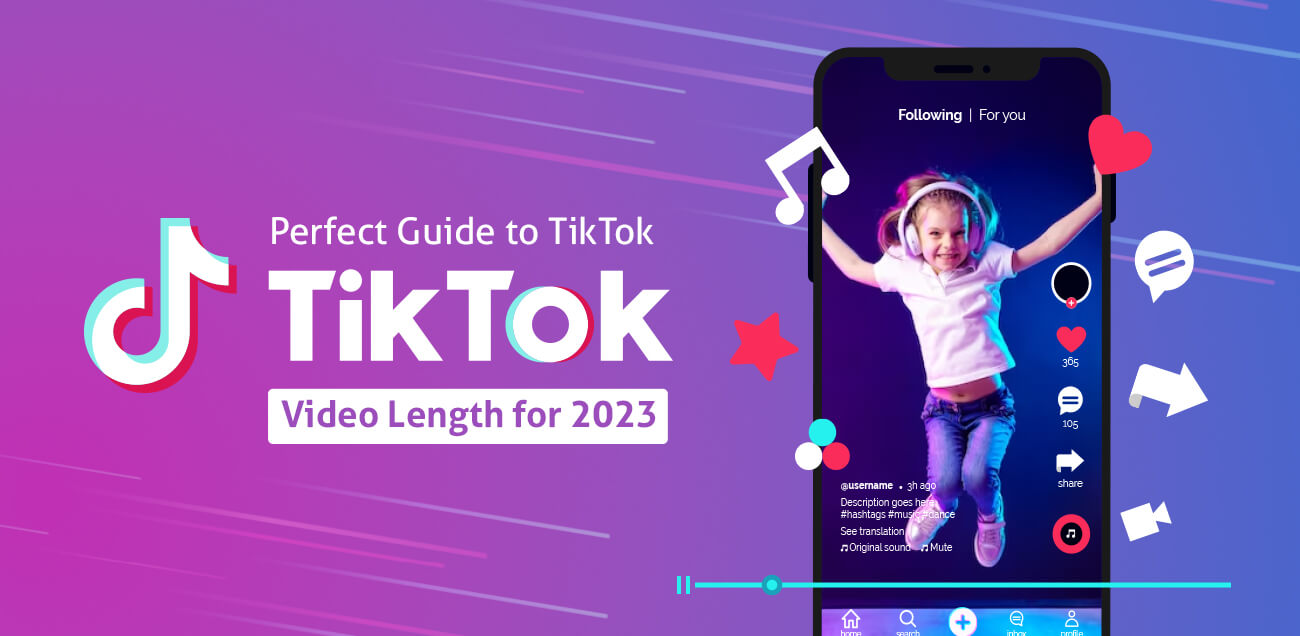 What is the ideal length for a video on TikTok in 2023?
Since its launch in 2016, TikTok has become a hub for quick online entertainment, self-expression, and creativity. If you are recording within the app, you can choose either 15-seconds, or 60-seconds to make a video. If you are uploading already recorded video the allowed maximum video length is 3 minutes long.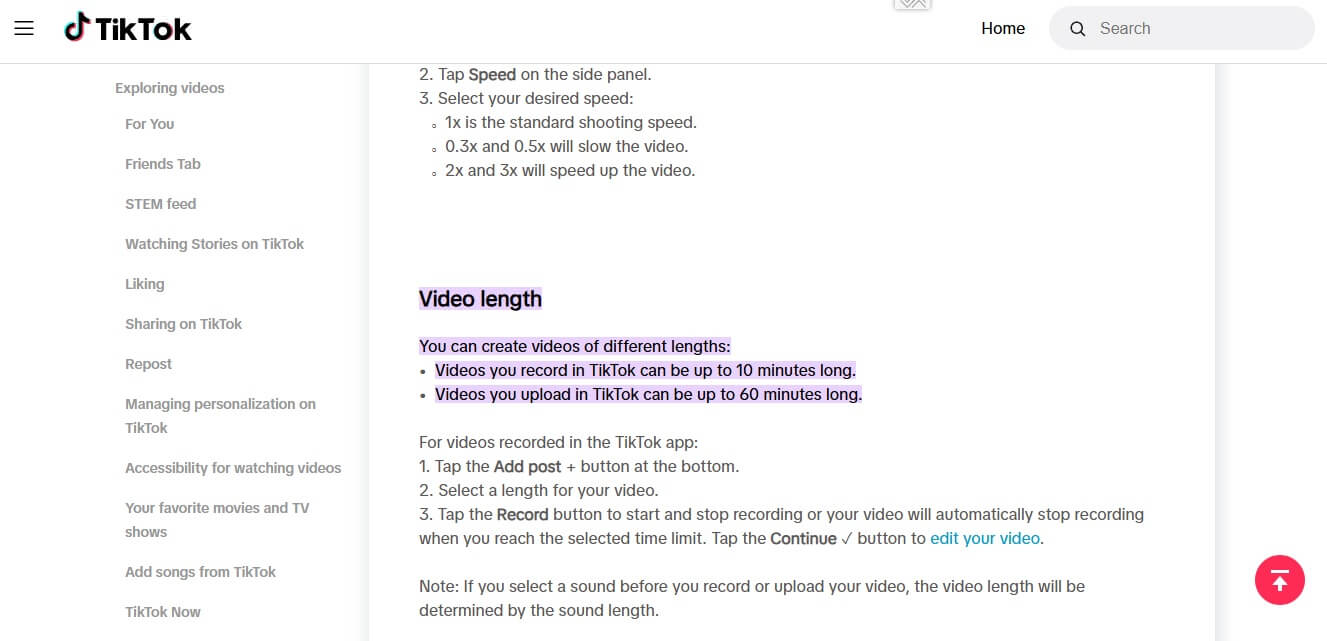 The platform initially had a video length limit of 15 to 60 seconds. Eventually, as time passed and the platform gained massive popularity across the globe, the limit increased to 10 minutes. However, the duration was quietly rolled back to a maximum of 3 minutes in April 2023, although users can still upload 10-minute-long (maximum) videos.
Regardless of the video length history, considering this is the era of short-length content, keeping your content short and sweet for maximum audience engagement is always recommended.
So, how long can TikTok videos be these days? eCommerce marketers and start-ups must know the length limit for TikTok videos in 2023. As recommended by the most famous TikTokers, the ideal length or duration should be somewhere between 10-17 seconds. This is not only for easy consumption but also to retain viewers' attention.
The platform has never been quite vocal about an "ideal" video length, given its current business model, content creators, especially brands, are encouraged to publish longer videos for more advertising revenue. Interestingly, WIRED reported that TikTok shared data with some creators in early 2022 that showed that 1 out of 4 of the "highest performing" videos were between 21 and 34 seconds long.
However, users are never quite comfortable with videos longer than 1 minute, so it's safe to say keeping the average length between 10-15 seconds is the best! Since its introduction, the platform has been known for its short-form content, so you don't want people to scroll past your content due to its longer duration.
 If you still aren't convinced that short videos do well with audiences, consider why YouTube, Instagram, and Snapchat have introduced segments for really short videos.
How to find the right TikTok length?
If you are searching for an answer to how long a TikTok video should take to go viral, you are at the right place. We can help you identify the minimum and maximum video lengths for TikTok's algorithm as well as the audience's consumption.
Start by considering a few vital aspects, such as your target audience, user behavior and preferences, the factors and content you are trying to convey, etc. The more organic content you share, the higher the chance of your success; short organic content such as memes, reaction or review videos, daily routine videos, teasers, etc.
Keep this content under 60 seconds for perfect traction. If you are a brand, have collaborated with an influencer, or want to upload a glimpse of a significant interview, you may aim for over 60 seconds. But be very genuine and authentic in terms of dealing with the themes. Upload Q&A videos, tutorials and how-tos, video highlights, behind-the-scenes footage, or even bloopers to attract more viewers.
Simply put, it is not just the length to be considered but also the quality of the video, and its parity with other videos. Ensure your videos are adequately optimized for the "For You" feed and consistent with other featured videos. With some in-depth knowledge and practice, one can attain such precision.
Usually, high-end video editing service providers have a team of ace video editors who can flawlessly edit and optimize videos to perform wonderfully on TikTok. They have the exact expertise, domain knowledge, and access to the latest approaches.
Is there a minimum and maximum TikTok video length?
Yes, there is an ideal video length for the TikTok platform. Let's take a sneak peek at the minimum and maximum video length requirements. 3 seconds is the minimum video length, and 10 minutes is the maximum the platform has set. For the TikTok platform, the maximum length will be 90 seconds. TikTokers won't be able to upload anything less than this mark.
Although it's fair to note that in so few seconds, nothing can be conveyed to the audience, they won't have enough time to attract attention and deliver the story. Hence, content creators must strike a perfect balance between brevity and meaningful messaging. This is a handy video editing tip applicable to any videos made for online consumption.
Do longer videos get more views on TikTok?
The question that most brand owners, novice video content creators, and vloggers wonder about – whether it is good to upload longer videos for greater visibility. Well, the answer is neither a yes nor a no. Despite the popular recommendation of keeping TikTok videos short and sweet, several longer videos also perform substantially on the platform.
For example, one of the videos by "Refy Beauty", a fashion makeup brand, garnered more than a million views, likes, and 500+ comments. In that, the main hook was how Jess Hunt, the founder, bonded with her co-founder over an eyebrow care routine and thus founded the company, the odds she had, the challenges she faced and overcame, and so on.
This proves that if you have credible content about your brand values, company culture, UVPs, and a bona fide product to highlight- go for longer duration, no issues with that! The only thing is to open the video with a strong hook.
As a recent survey by the platform says, more than 63% of videos with a high CTR have a strong hook or highlight a key message or product within the first three seconds.
Do shorter TikTok's get more views?
In June 2021, TikTok admitted that its users have short attention spans. According to the report by WIRED, TikTok's internal survey showed that social media users are being "flooded with large amounts of video content," affecting their ability to concentrate. The survey also found that 50% of the respondents found videos longer than 1 minute "stressful."
Regardless, TikTok has been experimenting with longer video formats, which is why it increased the maximum length to 10 minutes. However, the fact that the platform has now reduced the maximum limit back to 3 minutes might suggest that this is the sweet spot to retain users and earn sufficient ad revenue.
As you can see whether or not TikTok's do well depends entirely on the content and the viewer, the latter of which is very unpredictable. The length of the video is not always the deciding factor.
How long does it take for a TikTok to go viral?
There's no set formula for this. One cannot say with conviction how fast a video will go viral just after being posted. The indexing process of the platform's algorithm varies from that of Instagram Reels or YouTube Shorts, and it doesn't happen overnight. Although some videos do go viral in a relatively shorter time, that cannot be counted as a benchmark. It can take days or even weeks for a video to appear on the "For You" feeds.
Large brands or popular influencers usually get more engagement from their fixed subscriber base; that's what makes them go viral shortly. This can be an inspiration for first-timers or beginners to upload consistently over a certain period of time without losing patience. Also, never delete your old videos just because they are not performing today. Who knows, tomorrow they might!
If you have reached this point in the blog, you have got a fair idea of the best-performing video length on TikTok, how to identify the ideal duration, and whether longer content gets more views or not. Follow these tips, and your videos will see a visible boost. Also, you may reach out to professionals for flawless TikTok video editing that can make your videos all the more presentable, engaging, quirky, and unique!
Summing up!
To sum up, creating perfectly optimized videos for TikTok may initially seem daunting. But with enough practice, analyzing user behavior, and a consistent posting frequency, one can create the best videos that stand out in the crowd. You just need to create a perfect balance between brevity and creativity and edit your clips most engagingly.
You can either take a DIY approach and do the job yourself or take help from professional video editing companies with diverse editing prowess. Moreover, your videos must be optimized for multiple devices and compressed to perfection for faster loading times.
Either way, short-form videos are here to stay, and to reap the utmost benefit from them, one must be thoroughly aware of the TikTok video lengths. So, grab your camera and the right tools, think of an out-of-the-box content, and start making your TikTok's! Let's capture the attention of billions of online video consumers! Good luck!
FAQ's
What does ratio mean on TikTok?
The ratio in TikTok is a calculation of various user engagements like likes, dislikes, and comments for the post. If the post is ratioed, that means the comment is more in number than the likes.
How long do TikTok videos stay up?
TikTok stories stay active for 24 hours after uploading, and they will disappear from the public feed since new videos overtake that place. Your uploaded video has a life of 90 days to get likes and comments to attract new followers based on their interests. TikTok will stop recommending your videos after 90 days.