Are you a video editor or a professional videographer? Whatever you are, it is quite natural that you will realize the significance of color grading and what kind of cinematic appeal it lends to any video content, setting its tone and mood.
You might also feel the need for the best video color grading software in your arsenal to deliver the utmost quality to your clients while conveying the intended message rightly.
So, if you are keen on knowing the best tools you may leverage for your workflow, stick with us till the end. This informative blog lists ten color grading tools and software programs for windows and macOS.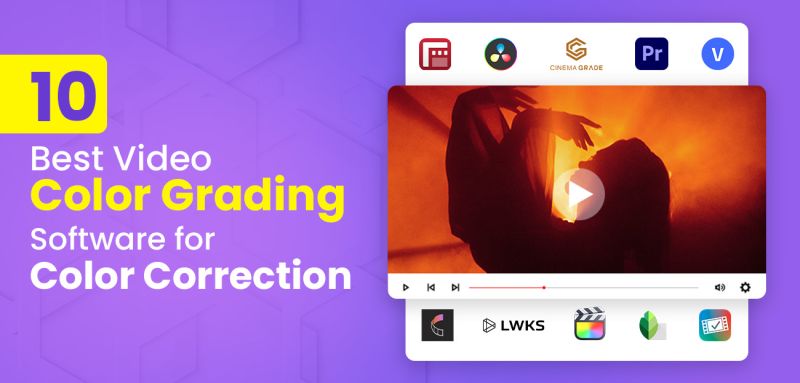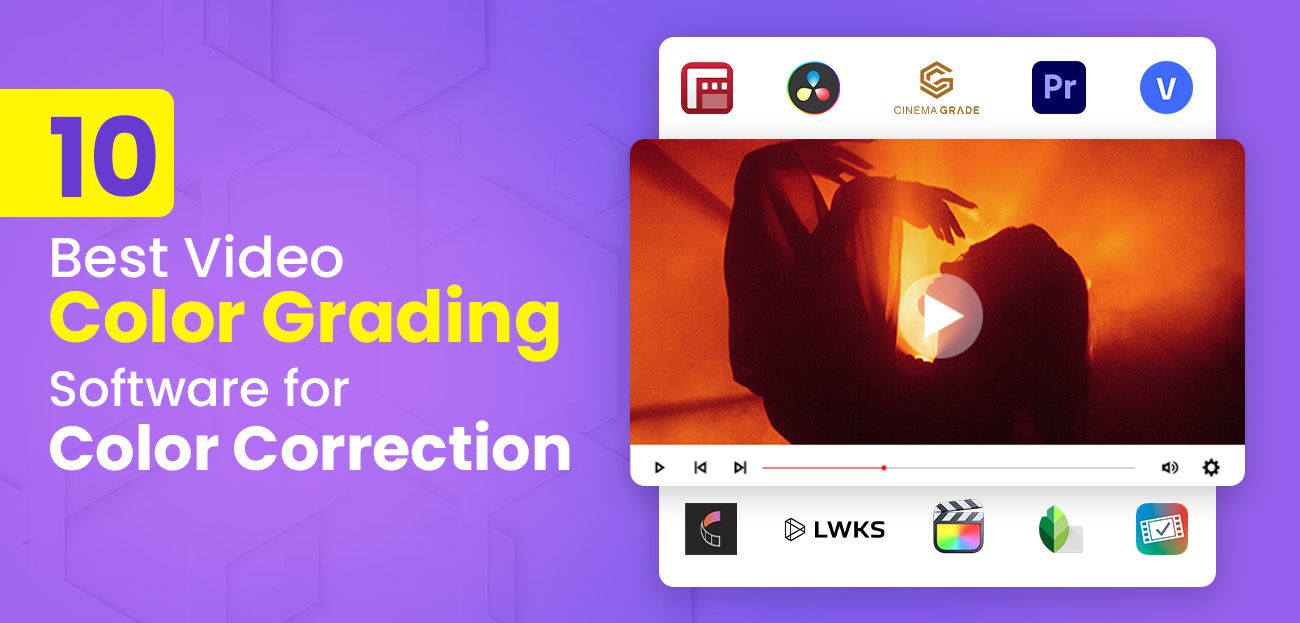 What is color grading in video post-processing?
Color grading is a digital post-production process of applying a certain color scheme to any video content in order to set the tone and mood of the same. Several crucial attributes like saturation, white balance, color, black level, contrast, and so on are digitally altered with the help of a computer program. This advanced grading of color is done for any kind of digital video, motion pictures, and even still images.
However, color grading is not similar to color correction in films or videos. Correcting the colors in a video is more about applying the right shade to a certain object that seems to have the wrong color.  This can happen due to white balance issues, error in the exposure, or may be due to an unwanted shadow. At such times, the video editor digitally corrects the shade of the specific element.
Video color grading is on a more artistic, as well as aesthetic level.
Top 12 video color grading software and apps
Often, the main challenge that video post-processors mostly face is leveraging the right tool or software program for the color grading process. Whether you are a beginner, an intermediate, or an expert video editing professional, knowing the best software definitely helps.
Besides, most automatic color grading software has a complex learning curve making it all the more important to select the right intuitive tool.
To make this task a bit easier, we have curated and compiled a list of the best video color editors and grading software that can make any editing workflow flawless. Let's dig in!
How is color grading so important for movies and videos?
You might have watched a lot of zombie apocalypse, futuristic techno-punk movies, as well as lively rom-coms. Hope you have deciphered a difference in the color tone of these films.
Animated comedy movies like "The Minions" or the "Madagascar" series, live actions like "Bruce Almighty", "The 40-Year-old-Virgin" and so on – all have a bright orangish-yellowish tint. Romantic comedies such as "Notting Hill", "Love Actually", "Crazy Rich Asians" etc., – also tend to have a bright orangish or reddish tinge.
However, sombre movies like Christopher Nolan's "Batman" series, or the more recent "A Quiet Place", "Peaky Blinders", or "The Twilight" series – have a darker-bluish tint, giving a feeling of mystery, coldness, and antiquity.
For all these movies to have a distinct color tone and mood, applying color grading is essential. It helps usher the audience towards a certain mood or feeling, enabling them to connect on a deeper level with what's happening onscreen.
5 practical tips for video editors to select the best color grading software
Implementing color grading effects within videos not only takes them to the next level, but also ensures the mood of the video or the film lingers with the color.  Professional video editing service providers mandatorily include grading the color palette during the post-production stage to make the footage look more in tune with the video's subject.
However, the main challenge is to identify the best tool for the purpose and leverage it. Whether you are a professional expert, an intermediate hobbyist, or a novice, you should be aware of the best practices while selecting your best pick. Choosing the right tool can simplify your grading process, and make the time more manageable and the efforts worthwhile.
Let's look at some of the best tips for selecting the best color grading tool.
Keep your skills in mind

Think about your skill set, and then check whether the tool matches it or not. Don't go for a software that doesn't adhere to your knowledge and will likely be a bad investment.

Consider your budget

Do you have the budget for a software costing over 200 bucks? If you don't, check out some alternatives. With so many color grading and correction tools around us, you will surely find something close to an expensive one.

Think about your purpose

What purpose do you want the software to meet? Do you only need a software to grade the colors on videos, or do you need a multi-purpose tool that will help you with other chores as well, such as sound mixing, captions/subtitles integration, noise removal, HDR merging, and so on?

Check the in-built features of the software you currently use

Most often, software programs introduce new plugins, tools, and features with each upgrade. So, before selecting a new tool, check the tools you already use for any upgrades.

You never know you might get just the right feature for your purpose without the need to invest in another tool.

Always take a free trial

Never forget to take the free trials offered by any software you select. Also, make sure the software offers trials, else move on to the next one. Taking trials will give you a better understanding of the software interface, to what extent the tools can perform, whether you get any tech support from the team, etc.

All these aspects are very much needed to identify the best-performing software program.
Wrapping up, finally!
All said and done, hope by now you have got a fair idea about the color grading basics, what is its importance in video production and editing, the leading tools, as well as how to identify the best one. Color grading is undoubtedly a significant imperative for any kind of movie or video production and is a must-have in any professional video editor's workflow.
The tools in the aforementioned list are each distinct from the others in their own merits. Some offer highly intuitive and advanced tools to grade the colors, and some enable AI video colorization. Most high-end video post-production services companies use and recommend at least 2-3 software from the list we compiled.
No matter which one you select, if you ever require an expert professional touch to enhance the appearance of your video, think of contacting a third-party agency that offers stellar video editing services at affordable rates.
It goes without saying that paying an agency will be way less than buying an expensive software license. Good luck!