Many people who initially found photography as a rewarding pastime now are ready to take the professional way. Most of them however don't have enough time to sit and go through the tiring process of image editing. This trend is the major reason for the emergence of various photo retouching services providers that you can find in the market today.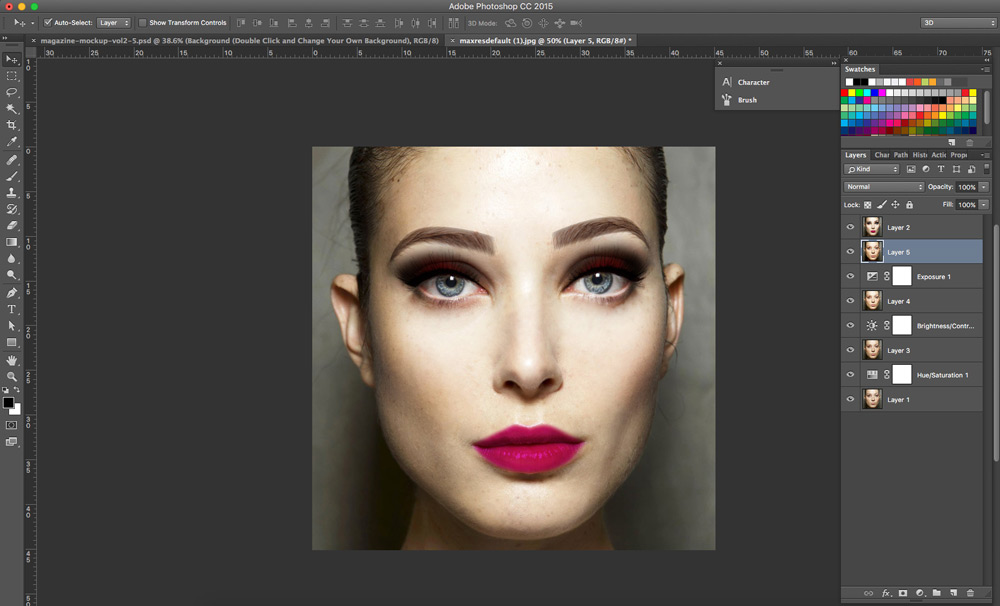 The photography world is in full of exceptionally talented experts keen to provide exceptional professional photo retouching in Photoshop and all other relevant software programs.  When it comes to a professional photo retouching agency, they would have all the necessary technical and staff infrastructure to carry out entire retouching tasks. In the meanwhile you can take care of more important aspects of your business or life. You can free yourself from sitting in front of your computer and spending hours carrying out various retouching activities. It is so encouraging for many photography art professionals to find image retouching services that can carry out all the uninteresting and exhausting retouching works.
As most of the photo retouching services that you can find online use Photoshop as their primary tool for editing, it is clear that they would give you the PSD file in layered form, once they finish the work assigned to them.
Let us take a deeper look at the same as why these agencies prefer this so much to work with.
What is a PSD format file?
In a nutshell, a PSD file is a layered image format which is the default file format of the documents processed in Photoshop. It is the abbreviated format for Photoshop Document.
What are the advantages of such a format?
There are countless advantages of PSD file format. It offers a structure for all the layers in an image that is processed through this software for photo editing.Each layer can be accessed easily to carry out editing if there are any changes to be made. If each layer if independent of each other, which gives the photo editor the additional room to not affect any other layer while working on fixing a particular layer.
Most of the best image editing services providers in the industry would agree that it is much more profitable and less time-consuming to work on the PSD format than any other ones.
As you may know, there are various other types of image formats such as TIFF, GIF, JPG and JPEG along many others. The layers of the PSD format for Photoshop can be easily converted to any such format for convenience. But the reverse is not possible as you may already know. When in PSD format, it provided the ability to retouch each element of the image as much as you want, but once the format is converted to any of the aforementioned formats, it becomes impossible.
Also read about the differences between various popular photography file formats before proceeding to edit.
Are PSD layers necessary or are they just for the image editing companies?
You might even think; what you would probably do with the layers after getting a work done the way you have desired. While it is genuine way of thinking, there is another aspect to consider as well. Even when you have gotten the image you have always wanted the way you wanted it, there are chances you might want to make it a little bit better. At such a time, if the image in not in the PSD layered format, it can be problem to the one doing the retouching process. Since there are many layers or steps in photo retouching to which you can subject your image, if you need to apply a better level of editing, you need to have the image in the PSD layered format to make the process of editing easier, faster and more effective.
As mentioned previously, PSD formats help you individually retouch the elements of the image without affecting the adjacent layers carrying different aesthetical and stylistic elements of the image. This provides exceptional room and freedom for the person carrying out the process of retouching to make the desired changes in the elements in most effective way without damaging or disturbing the other elements of the image. If you still are skeptical about the PSD format, it is time that you have done away with your doubts and embrace the greater utilities that this format can unveil in helping you make your image all the better without giving you a lot of troubles unlike many other formats that you may come across.
When you are in need of making a good image, excellent and stunning, all you need to do is to hire the professional companies offering high-end photo retouching services. Though you may not be able to find many photo editing services that are affordable, there are services that are remarkably affordable and adhere to international quality standards unfailingly.
Professional companies always ensure that the services delivered conform to all the industry standards without charging prices that might burn your pockets. Whether you need to give a greater look to your product images or retouch an old image or remove some elements from your image of make your real estate image clearer and exceptional, rely on a trusted company offering professional photo retouching services.
With the experience and unmatched image editing capabilities, the right photo editing outsourcing company can seamlessly assist you.