Brands get their identities from their logos. No wonder why you will ever see a brand that has no logo! A logo shapes people's perception about a brand. So, if you are a business owner who's looking to create brand awareness, you will definitely need to logo design seriously. In this article, we have jotted down some really useful logo design tips, which will help you get a perfect logo designed to represent your brand in the best possible way. This article covers every minute detail, right from defining brand identity to identifying the right logo for your brand to moving through the design journey.
We have divided the logo design process into various steps, which makes this piece of content detailed and easy-to-understand.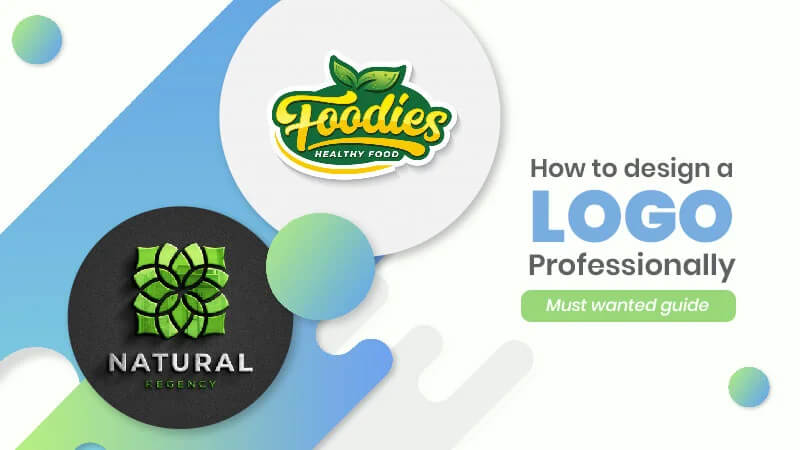 Let's go through each step:
Think why a logo is essential

Your business logo functions in the same way as your profile picture in a dating site. It generates the first impression about your business. A well-designed brand has the power to pull prospects towards your business and to develop interest to know about your brand to a greater extent. Your logo creates an initial impression about the brand and lets your customers know if your brand is the right choice for them. Your brand's logo is one of the most critical branding elements. Your marketing collateral such as your business card, letter pad, packaging, and website would bear your logo. So, you should make sure that the logo tells your brand's story in an expressive manner while helping you in beating your competitors.

Decide on the identity of your brand

Your logo should communicate the character of your brand. So you should take time to find out what your brand's real personality is. You must develop a thorough idea about the unique selling points of your brand and what sets your brand apart. This will help you select an appropriate logo design.

You can get an idea about your brand's identity if you answer the following questions:

Why did I launch this venture?
What values and beliefs do I have regard for?
How are we better than others?
What sets us apart?
How can you describe your brand in a few words?
What three words should our customers use for brand description?

Get some design inspirations

Finding some good designs that you can get inspired from may prove to be a real challenge. We are sharing a few tips that would help you in finding inspiration for your logo's design:

Do brainstorming
With a brainstorming process, you will be able to explore a lot of ideas and develop a concept in your mind. These are the steps by which you can engage in a productive brainstorming session so as to be able to come up with cool design ideas:

Adhere to the brainstorming rules: Brainstorming can help you discover the best ideas, some of which may be really impractical. You may write the ideas down for future reference. You may never know- even the most impractical idea may lead to a ground-breaking solution.
Consider what your audience thinks: What words represent your brand? How do you want your customers to perceive your brand? Think like your target customers and try to understand what things might please them.
Engage other people in your team: Brainstorming gives best results when many people brainstorm together. Involve people from other teams or ask your friends to join you to create a design concept. This will give you access to more perspectives. Consider giving more importance to offbeat ideas; this would help you create an original logo and beat your competitors.

Create a mood board

A mood board can keep you inspired if you are an artistic person. You can get an original board created by collecting all images that you like. These images may be graphics, logos of other companies, illustrations, and color combinations. Your personal mood board would reflect your design and style preferences. Give a thought on how your logo can represent your business. If you are looking for a vintage-styled logo, you should include organic colors and shapes, handmade artwork, and vintage logos in your mood board. By looking at images on a mood board, you will be able to understand what you want to create.

Gain an idea about the competition

Your competitors are the best resources to help you develop logo design ideas. Review the logos that exist in the market. This will let you know what exactly works and what should be avoided. Study how these businesses are unique and what you can do to showcase uniqueness in the design. If your competitors have opted for monochrome logo, you should adopt a unique style by adding a few colors to the design. If your competitors have gone for traditionally styled logos, you may opt for a contemporary design. Again, this will depend on your brand's character and how you want it to be perceived.

Decide on the style of your design

If you are ready with a concept and aware of your brand's character, you should now focus on the actual design part. You should consider a number of design elements such as colors, graphics, shapes, and typography. You may consider thinking about each component one after the other. This would help you in dealing with the entire design in a more efficient manner. Your chosen style may not please everyone, but your style should appropriately describe your brand.

Classic

Trendy designs add an element of excitement and fun, but they may soon become obsolete. A traditional style will remain valid for a longer period of time and would appeal to a larger section of your target customers. Such styles do not feature bold colors, fonts, or graphics. A classic logo sends out a message of dependency and simplicity.

Vintage

Vintage logos are commonly used today because they remind people about the glorious retro era. It sends out a message that you value history and that you produced your goods in the rightful manner. Vintage designs include a palette beige and brown and may include hand-drawn or worn-out logos.

Minimalist

Companies sometimes prefer minimalist designs to let their audiences know that they are very modern. This style features considerable whitespace, lesser detailing and uncomplicated shapes. By using this type of logos, you can make your target customers perceive you as a cool and stylish and modern brand.

Fun

Funky logos are ideal for customers who are young or who have a youthful bent of mind. These styles boast multiple colors, illustrations, and symbols that generate a friendly and youthful gesture. Such logos may feature mascots too.

Handmade

Handmade logo designs deliver a simple message- your brand has an individualistic appeal and that it represents the value of handcrafted quality. This style can be paired with the vintage style to create a strong appeal. It can also be combined with fun as well as minimalist designs so as to create a youthful and vibrant look.

Finding it to be a Problem?

There's no hard and fast rule that you need to stick to one particular style. You can combine multiple styles to create a logo that would ideally represent your business. For example, your logo can be a combination of fun and vintage styles.

Identify the right type of logo

There are normally seven different kinds of logos
Apart from the major styles, there are 7 kinds of logos that you can review while making a selection. You can combine two designs or choose a design that best describes your branding philosophy.

Monogram

Also called Lettermarks, these logos may be used to represent the initials of your brand's name in a much simplistic way. These are minimalist styles, but these cannot reflect your brand's values. Examples of such logos are HP, H&M, etc.

Wordmarks

With Wordmarks, you can represent your brand's name in a straightforward manner. This logo is actually represented with great typography. So if your brand has an attractive name, you can play with typography to create an impressive design.

Pictorial marks

Pictorial marks get commonly associated with the word 'logo'. These logos are basically iconographic photos that can be complex as well as simplistic. The symbol you select should reflect a strong connection with your brand. You may pair this up with wordmark to include your brand's name too.

Abstracts

Abstract designs are geometric shapes that do not necessarily convey any meaning or connect directly with your business philosophy. An abstract design may just be a symbol that's unique for your brand. Abstract designs may instill a unique personality in your brand.

Mascots

With mascots, you can add an element of fun in your brand's logo. Using cartoonish, fun, and colorful characters, you can depict your brand as a family-friendly icon.

Combination Mark

A combination mark brings together a word mark and a symbol. It may also be incorporated in a graphic component. You may either use them together or separately depending upon your taste and preferences.

Emblem

Similar to combination marks, these kinds of logos also feature typography as well as pictorial components. These logos are used in seals and badges and they feature

Pay attention to color


Colors convey different meanings. The color psychology is complicated, but if understood well, it can be applied to create effective logos.

Red
Red stands for excitement, passion and anger. It's a great choice if your brand is loud, youthful and wants to stand out.
Orange
Orange has the same energy, vibrancy, and playfulness as red.
Yellow
Yellow is the perfect choice if you are looking to instill a cheerful and youthful feel.
Green
Green is noted for its versatility and can be a part of different kinds of logos. Green helps people to relate to nature.
Blue
Blue is a classic color. It's calm and cool appeal stands for trustworthiness.
Purple
Purple denotes luxury. Purple appears in various shades with each shade telling a different message. It may stand for mystery, feminine appeal, and eclecticism.
Pink
Pink is a feminine color. Pink has various shades such as pastel rose, neon, and fuchsia. You can add a glorious and youthful touch to your logo by using any of these shades with other striking colors.
Brown
Brown is the best choice to create hardy and vintage logos. You can use brown to give your logo a dated and masculine look.
Black
Black is your most preferred option if you want a modern, sleek look. You can create a simplistic logo through a classic combination of black and white.
White
White makes your logo appear modern, clean, and minimalistic? White, being a neutral shade, goes well with other colors while adding youthful, modern, and clean look to your logo.
Gray
Gray is an excellent option if you are looking to instill a sense of maturity, classiness, and seriousness. Darker colors appear mysterious whereas lighter shades are noted for their accessibility.

Select the appropriate typography

You should select fonts that complement your logo in a perfect way. These are the 4 main types of fonts that you can choose to incorporate in your logo:

Serif

Using Serif fonts, you can add a classic and timeless look to your logo. In fact, you can use Serifs with any font as these fonts are noted for their versatility. These fonts can create magic, if used with classic or vintage designs.
Sans Serif

These fonts are your options if you are looking to instill a clean look in your logo. These fonts have simple and sleek looks. These designs can be used to represent chic brands.
Script

Script fonts reflect the feel of handwriting. Script fonts appear in multiple varieties ranging from stylish calligraphic formats to more simplistic styles. You can use script fonts to let your logo appear more unique.
Display

Display fonts are stylish fonts that can easily grab people's attention. These fonts can be used well with retro-themed logo designs. Logo designs assume a new level when different fonts are combined together and when different elements are brought together in a harmonious manner.
Bring your design elements together
Once you decide on the elements that your logo should have, you should ensure that the elements create magic with each other. Good designers have an eye for detail and they know how they can combine these elements very well so as to create captivating logo designs.

Talk to your designer

After you have considered all the important factors, it would now be the time for you to understand which style would justify your brand the most. There are several ways by which you can get a logo designed. For example, you may hire an agency, organize a contest, or use a logo maker tool. Every option has its own set of pros and cons and so you should understand which option suits you the most. You may consider outsourcing your logo design requirements to a trusted logo design company that employs experienced designers. You may also launch a logo design contest to find the best designs. Whatever option you may choose, you should communicate clearly with your designer. Educate your designer about your brand's philosophy. Thus would help him/her deliver outcomes as per your expectations. Give him/her your detailed feedback. Proper collaboration between you and your designer would contribute to the generation of desired outcomes.

Review your choices

Involve your teammates, friends, and even target customers in your decision-making processes. You should understand what creates a good logo. A good logo is one that makes your brand stand out from the crowd and helps to convey your brand's philosophy clearly to your customers. A good logo is noted for its distinctiveness, suitability for being used across diverse media and marketing collateral, clarity in communicating the brand's message clearly, and timelessness. Your logo should immediately remind people about your brand and make them remember what your business does.

The Don'ts

These are some points that you should take into consideration while getting a logo designed:

Don't follow stereotypes. You do not need to abide by the norms of your industry.
Don't go for a complicated design.
Don't follow the trend. Your design will become backdated soon,
Don't base on decision on pricing. Cheaper services may not be the best option for you.

Incorporate your style in your brand

After you are done deciding on the color, tone, and the overall look and feel of your logo, you should check how you can incorporate your logo across multiple marketing collateral including business cards, website, letter pads, etc. Once you complete placing your logos across diverse media, your brand is ready to create an impact on the minds of your target audience.

Logo design is a combination of art and knowledge of marketing and branding. It is also about patience; designers need to perform a number of iterations to make sure that their designs resonate with the brands' philosophy in the best possible way.