No matter how beautifully a picture is captured by cameras or mobile devices, it's professional editing that adds magic to these images. What assists image editors in the process are the various professional photo editing software.
The need for photo retouching increased in this digital era, especially with the introduction of social media, where professionals and businesses are trying to build a popular presence with what they post. Hence this technique of beautifying the photos came into the picture.


Whether it's for commercial photos like portraits, e-commerce product photos, real estate listings, or personal photos like wedding images, baby photoshoots, etc., photo retouching is used for all.
As a beginner, if you're wondering where to start your career as a photo retoucher, this blog will be your guidebook.
What is photo retouching?
Retouching is a photo manipulation technique done by photo editing software and tools to enhance the photograph's appearance by removing flaws and implementing diverse editing techniques.
Now, do you think photo retouching is the same as photo editing? Keep scrolling to uncover the answer and be able to choose the right image retouching technique for different photo editing needs.
Difference between photo editing and retouching
Photo retouching and photo editing are similar but not the same technique, and here's why:
Photo editing is focused on performing basic adjustments to edit images into clear base images. On the other hand, retouching is about enhancing photos for the final output through flaw removal, color adjustments, and much more. The former is only a 15-minute task, but the latter takes up to an hour or so, based on the requirement.
Photo editing is referred to as a basic method that involves simple procedures like color correction, light modification, etc. Whereas image retouching includes teeth whitening, object addition or deletion, background replacement, and more.
It's great that the confusion between the two image manipulation services has been cleared.
Types of photo retouching
Moving on, let's explore the most common retouching types that are used by photo editors and companies for different industries.
E-commerce products image retouching


E-commerce products are those items that need to be put up on online shops like Amazon, Etsy, Flipkart, etc. Whether it's for apparel, food items, furniture, or jewelry, product photo retouching involves background removal, light adjustment, and resizing, etc.

Apparel: Perfecting a dress through the ghost mannequin effect, straightening the image, removing the strains and creases, and balancing colors.
Furniture: Editing the size, shade, texture, and reflections of products. Also, virtually staging missing furniture elements and adding special effects.
Jewelry: Involves color adjustment and alteration, brightening, dust and dark spot removal, background editing, and the addition of realistic reflections and shadows.

Real estate image retouching


Real estate photo retouching focuses on enhancing the key interior and exterior features of any property that's for sale. Actions like sky alteration, light adjustment, perspective correction, removal of background, color cast, and much more are included in this service.

Automobile image retouching

Automobile image retouching is the enhancement of cars, bikes, and other vehicles for better digital appeal. From adjusting the picture's contrasts to adding missing elements like lights, photo retouchers do it all for your business.

Stock photo retouching


Stock photos are pre-edited photos that are created and made available for licensing to various graphic designers, photo editors, etc. Services like noise reduction, curve adjustments, photo masking, removal of logos or watermarks, prepress services, etc., are used for photo retouching.

Fashion photo retouching


Fashion portraits aim to capture the personality of the artist-in-focus through various photo retouching techniques. Widely used by photographers and models, this service includes eye color and exposure correction, dark circle removal, digital cutting, white balance adjustment, background alteration, etc.

Wedding image retouching


Wedding photo retouching render cropping and resizing, noise reduction, color adjustments, blur removal, and so on. This helps to create a mesmerizing wedding album.

Newborn photo retouching

Newborn photo retouching includes cropping, masking, skin smoothening, tone correction, pageant beauty retouching, etc. As babies are difficult to handle while shooting, this service helps photographers perfect the images they've shot.
Importance of photo retouching
"What meets the eyes of consumers is what sells."
Only when product photos are enhanced to their fullest can they be attractive to customers. Similarly, personal photos like wedding albums and baby photoshoots also need retouching to highlight the magic in them.
Benefits of photo retouching
Removes wrinkles and other blemishes
Changes background
Assists in body shaping
Applies digital make-up
Adds or removes extra pop-ups or people
Enhances eyes
Brightens teeth
Smoothens skin
Corrects color and tone for pleasing overall appeal
Removes under-eye circles
Pros and cons of photo retouching
Let's now analyze the merits and demerits of retouching for commercial purposes:
| Pros | Cons |
| --- | --- |
| Helps boost brand credibility and sales | Reduces sales when false features of a product are added |
| Removes blemishes and unwanted objects to highlight the main product | Laborious and expensive process |
| Uplifts the visual appeal through filters and effects | Harder for beginners |
| Minimizes product returns with accurate product specifications | Lacks authenticity when overused |
For personal uses like wedding photos, baby images, modeling portfolios, and so on:
| Pros | Cons |
| --- | --- |
| Sets appropriate mood and tone | Improper editing hampers the original feel of the photos |
| Edits noisy background | Time-consuming bulk edits |
| Improves lighting, color, and sharpness | Reduces pixels when edited using low-rated software |
| Removes imperfections from faces and backgrounds | Costly when outsourced to experts |
To eliminate the disadvantages of photo retouching, it's important to know how to do it right. As the first step, understand the two main types of photo retouching: basic and high-end.
Basic vs high-end photo retouching difference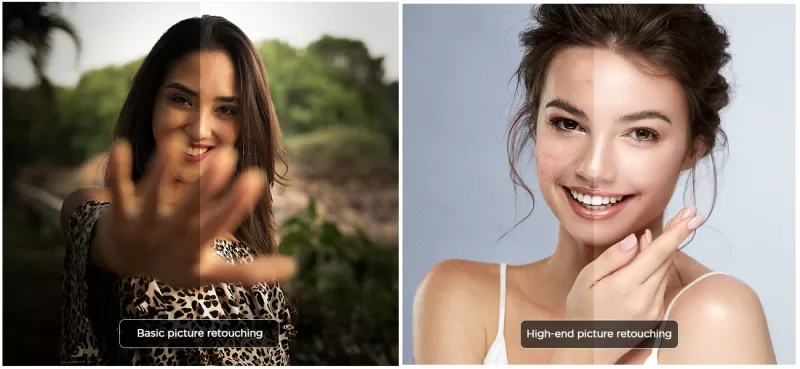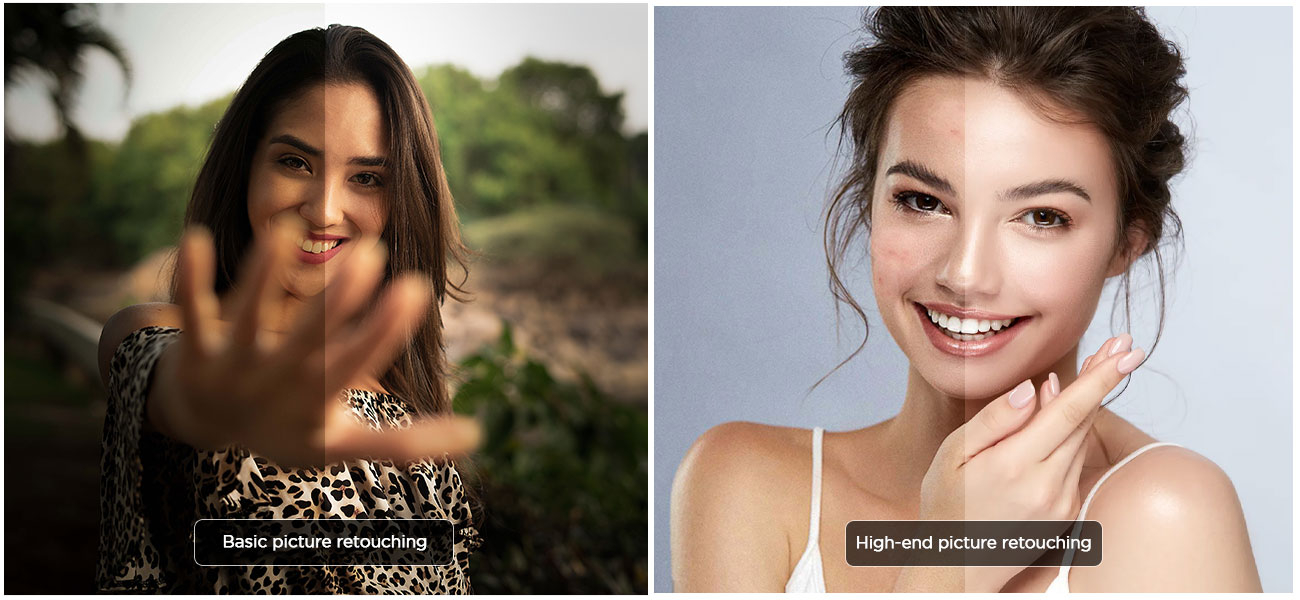 | Basic picture retouching | High-end picture retouching |
| --- | --- |
| Includes teeth whitening, color correction, resizing, framing, blemish removal, and sharpening to correct images | Contours body shape, enhances skin and eyes, erases imperfections, smoothens textures to improve images |
| Edits can sometimes be inappropriate to use | Invisible process with no traces |
| Easy for all | Harder for beginners |
| Mostly used for commercial and personal images | Best suited for wedding shots, real estate photos, fashion photoshoots, magazine ads, etc. |
Common photo retouching terms, techniques, and tools
Having known the photo retouching basics, it's time to learn the jargon, methods, and tools to become a pro photo retoucher.
Basic retouching terms
Contrast


Adjusts the amount of white and black color to brighten or darken images.

Exposure


Can be reduced or increased to set the right level of brightness in an image.

Highlights and shadows


Highlights are a photo's lighter sections, while shadows are darker sections. Helps balance exposure, contrast, and overall color.

Vibrance and saturation


Vibrance increases the intensity of muted colors, while saturation makes all colors strong in an image.

Noise


Inappropriate color variation that makes a photo blurry. Removing it sharpens the image.

White balance


Indicates the color accuracy of an image. Can be edited to warm (orange/yellow) or cold (blue) shades.
10 common photo retouching techniques
RAW photo conversion: Changing image formats from RAW to JPEG or vice-versa, for retaining photo quality before and after editing.
Spot healing and blemish removal: Erasing dust, spots, and other unwanted objects for a clean image.
Airbrushing and skin tone adjustment: Beautifying an image, especially headshots, by adjusting textures and skin tone.
Frequency separation: Segregating high-frequency details like skin, textures, etc., and low-frequency details like shadows, colors, etc., into 2 different layers for precise retouching.
Dodging and burning: Dodging reduces brightness, while burning darkens an area to manage exposure.
Resizing: Altering the pixel dimensions of photos for easy sharing, storage, and use.
Toning, color balance, and hue and saturation adjustment: Adding or reducing certain shades to enhance the color of photos in certain areas or overall.
Eye retouching, changing eye color, and eye bag removal: Elevating the appearance of eyes by resizing, reshaping, sharpening, and brightening the key features.
Shadow creation and lighting adjustment: Inserting artificial shadows for creating a realistic appeal and adjusting the brightness for a pleasant view.
Highlights and use of curves: Highlights are the brighter parts of pictures, and curves help adjust them along with color tones and shadows.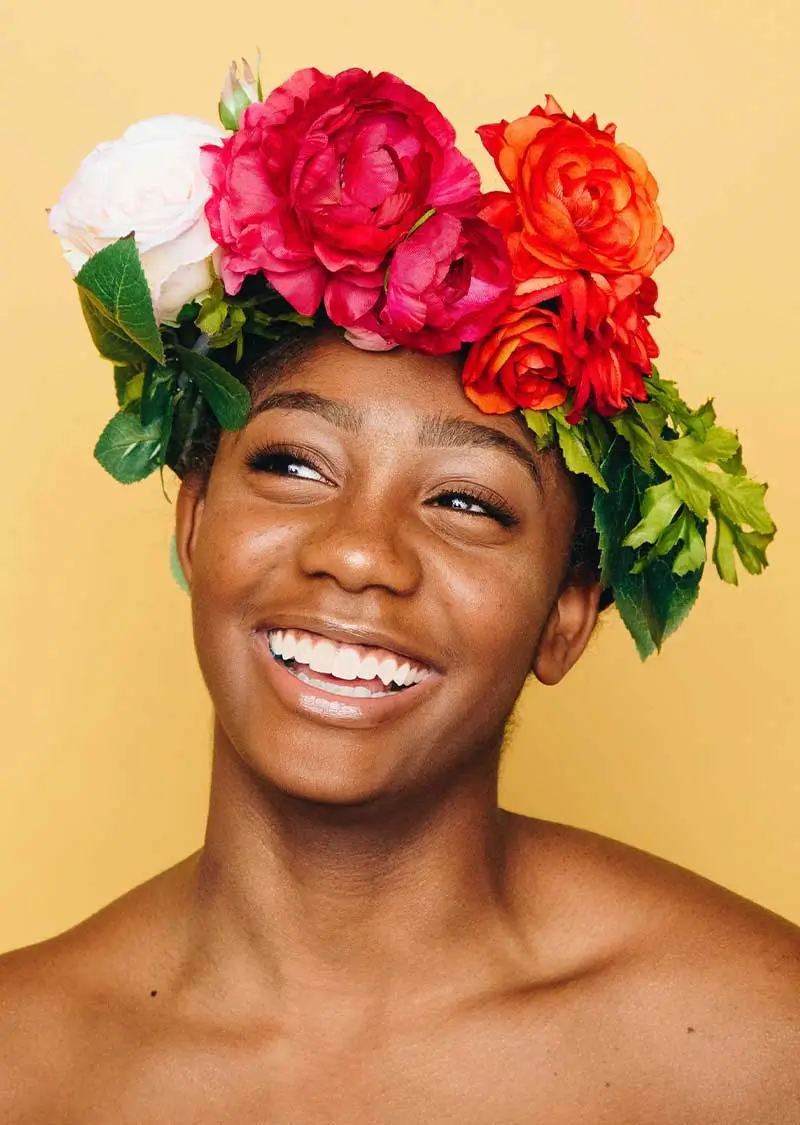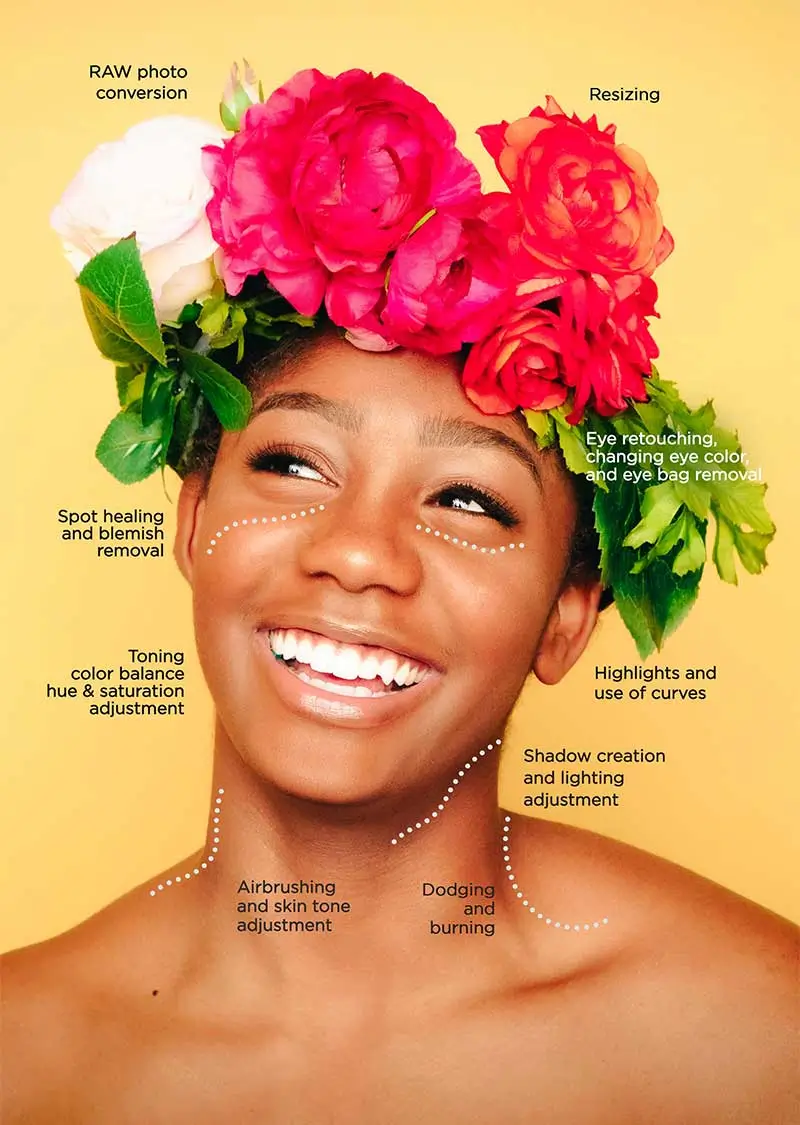 Dos and don'ts in photo retouching
Learn the 6 most important tips to follow and mistakes to avoid while retouching.
Try incorporating natural lighting
Focus more on editing colors, saturation, etc.
Experiment with a range of tools
Editing in new layers to not lose original image
Use healing brush tool to remove dust and noise
Have negative spaces for clean editing
Over-editing
Practicing selective coloring
Using only one or two fixed tools every time
Dumping edits into one layer or wrong layers
Not removing personal details or people
Overcrowding image with effects
Looking for a step-by-step guide to retouching images? Here's your guidebook.
Best photo retouching software for beginners and professionals — free and paid
The quality of retouching depends equally on the editor and the editing software that's used. So, choose from the list of the best photo editing software for Windows, Mac, Android, and iOS.
For beginners
Take your initial steps with any of these top 6 free photo retouching software programs to avoid spending too much on an application you'll find hard to work with.
SOFTWARE
PROS
CONS
COMPATIBILITY
RATINGS
Adobe Photoshop Express

Easy navigation
2 GB storage
No in-app purchases

Only 5 major tool sets
Upload photo sizes limited to 16 MP
No RAW files

Windows, Mac, Android, iOS
4.3
NX Studio

Completely free
Supports various image formats
Easy data browsing

Ideal mostly for Nikon camera photos
Slow retouch brush tool
No undo option

Windows, Mac, Android
5.0
Fotografix

Simple UI
Easy tracking to older edited files
Fast operations

Supports only a few Photoshop shortcuts
Works only on Windows
No local adjustments

Windows 10 or higher
4.0
Peachy – Face & Body Editor

Handy
Has AI effects
Has unique text stickers

Advanced tools need subscription
Works only on iPhone
Privacy issues

iOS
5.0
Remini – AI Photo Enhancer

Uses movie-grade AI technology
Multilingual app
Best for HDR conversion

Has costly in-app purchases
Default color adjustments
No history option

Android, iOS
4.6
Retouch Remove Objects Editor

Can add multiple backgrounds
Simple to use
Has unique editing effects

Reduces pixels
Free for only 3 days
Poor editing clarity

Android
4.5
For professionals
If you're an expert photo retoucher who's planning to use new software for a change, here are the top 6 paid photo retouching software that you can choose from
SOFTWARE
PROS
CONS
COMPATIBILITY
RATINGS
PRICE
Adobe Lightroom

Best photo library management
Simple cloud platform syncing
Endless plugin choices

No auto-edit feature
Occupies more storage space
Time-consuming uploads from app to PC

Windows, Mac, Android, iOS
4.4
$9.99/M
Luminar AI

Can be used as Photoshop plug-ins too
Quick editing process
One-click AI solutions

Premium package limited to one device
No digital asset management
No before-and-after feature in batch editing

Windows, Mac
4.7
$67.67 (lifetime)
Movavi Photo Editor

Quick services
Uses user-friendly brush system
Built-in tutorials

Unsuitable for big images
Manual tweaks are required
Not the best AI features

Windows, Mac
4.4
$27.38 (lifetime)
inPixio Photo Studio Ultimate

Advanced UI
Powerful zoom function
Top-quality graphics

Difficult erase tool
Confusing navigation for first-time users
Basic text options

Windows, Mac, Android, iOS
4.2
$99.99/Y
Capture One Pro

Supports high-end editing
Best post-production controls
Includes keyword tagging

Expensive
Complex interface
Unsuitable for panoramas

Windows, Mac
4.4
$29.87/M
Xara Photo and Graphic Designer  

Numerous royalty-free and stock photos
Cross-process photo effects
Accepts various file formats

No batch and HDR processing
Difficult UI
Supports only few graphic formats

Windows
3.5
$6.99/M
Reach us for professional assistance!
Though there are numerous image retouching software and applications for beginners and professionals, an expert touch will always ensure quality service.
Before you choose a professional photo retouching company, analyze their efficiency based on their services, experience, client records, portfolio, pricing, reviews, turnaround time, and trustworthiness.
Save your time looking for one as ProGlobalBusinessSolutions is right here. We have over five major picture retouching services, years of experience, a worldwide clientele, affordable rates, faster delivery, and promised privacy and security of data. If these do not promise first-rate services, then what will?