When we look at a perfect picture, we don't really understand the level of effort that goes towards achieving this level of perfection. All images that are generated for commercial purposes undergo rounds of retouching before they are published on print or digital media. Businesses and professionals hire professional photo retouching services in order to generate superior image versions that can be used for commercial purposes. In this regard, a key question that comes in our mind is: how much does photo editing cost? And the answer to be this question would be: photo retouching cost depends on several factors including the quality expectations of clients and the degree of corrections that need to be made.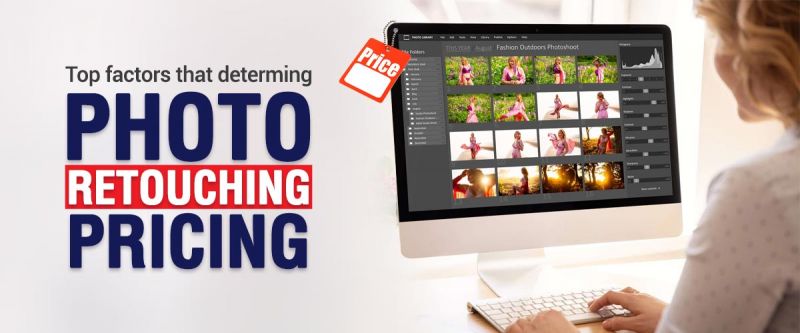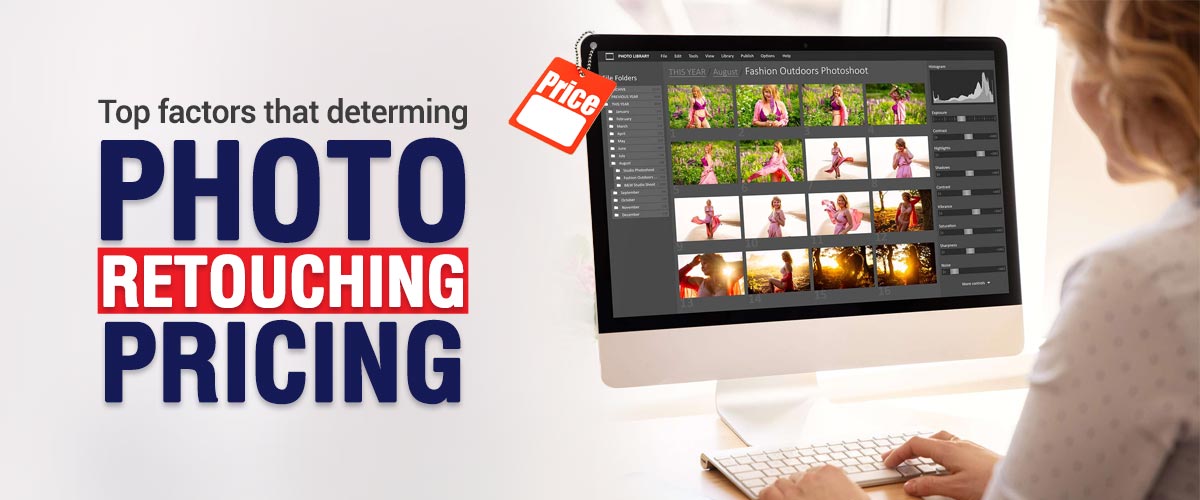 Before we discuss more on this topic, let us understand what photo retouching actually is and what you can expect as outcomes.
Defining Photo Retouching
Photo retouching is actually photo editing that involves the use of specialized photo editing tools to get raw images retouched as per specific requests. You can try out retouching images yourself, but if you need in-depth retouching and a professional outcome, then you should hire the services of a skilled and experienced photo retoucher. Photos that are retouched by professionals look perfect and can drive results.
Photo Retouching Vs. Photo Editing
Basic photo editing is a simpler process compared to photo retouching. Photo editing involves making certain straightforward changes to an image and these may include making light modifications and color correction. Photo editing is a less time-consuming process compared to photo retouching.
Photo retouching, on the other hand, is an art that is applied to bring a special appeal in an image. Some image retouching activities include teeth whitening, replacing the background, deleting or adding objects, and smoothening skin. You can use image retouching techniques to instill various effects in an image.
What Type Of Retouching Technique Does Your Image Demand?
Retouching procedures can be classified as simple, advanced, and comprehensive. And the treatment that your images need would determine the level of retouching that you have to go for. Here are the activities that are included under the three levels of retouching
Simple Retouching

Your image needs a basic retouching if you need to make just a few adjustments in terms of changes in lighting, color, blemish removal, stray hair removal, and teeth whitening.

Advanced Retouching

Your image needs an advanced retouching if you are looking to get the background replaced or change certain details. This type of photo editing treatment is appropriate for refining portraits or images of events and products.

Comprehensive Retouching

Certain projects would demand you to pay a high rate for high-end retouching. This type of retouching is manly applied to wedding and fashion images to ensure that the images have a great appeal that can wow the audience. Some of the treatments included under comprehensive retouching include color correction, background compositing, skin tone modification, light adjustment, blemish removal, etc.
What's Included in a Retouching Quote?
The cost of retouching typically depends on the type of retouching techniques that you are looking for. Here's a list of various retouching techniques that involve varied levels of monetary investments
Color Correction

You may need expert color correction support if you need to rectify discoloration issues. With this technique, you can get the contrast, saturation, hue, and tone improved.

Addition/ Removal of People/ Objects

Experienced photo retouchers can add or remove people or objects from images as per their clients' requests. They can even change the background, if required.  They often use techniques such as clipping and clone stamping to remove objects.

High-End Beauty Retouching

If you are a fashion photographer or a business owner, you may need high-end image retouching support to make your photos look awesome and result-oriented. Photo editors may use layering, masking, and stamping techniques to make fashion models look perfect in images. You may also opt for an adjustment of lighting, exposure, and face-highlighting corrections.

Old Photo Restoration

You can create an image having balanced composition, perform exposure corrections, whiten teeth, and highlight faces. You can even get damaged photos restored to their original glory.

Light Level Adjustment

Adding color to old images is a tough job compared to color adjustment as a historical researcher needs to be consulted for this purpose.

Compositing Photos

By getting a clipping path created, a photo editor can composite an entire image by using one image. This task can be handled by experienced retouchers and so you may charged on a higher side.
So How are Photo Retouching Rates decided?
Every image retoucher may quote a different pricing based on the number of projects or images to be retouched and the number of hours that he/ she needs to work for. You may even be offered a discount for a bulk order.
Commonly Used Image Retouching Pricing Models
Image-based Pricing

Some service providers would quote you on a per-image basis. And the price would typically depend on the intensity of the retouching required. With this approach, a service provider can determine the photo retouching price more accurately. The pricing starts from $0.30 – $2 based on the image complexity.

Project-Based Pricing

You may be quoted a ballpark figure for an entire project. This works well with photographers specializing in fashion, product, and wedding photography. Since photographers have a lot of images to handle, they find this type of pricing model to be economic. The pricing range will be $100 – $200 based on the project complexity.
Other Important Factors Affecting the Retouching Rate
There are certain other factors that influence image retouching costs. These include the number of revisions, damaged photo restoration requests, stylizations, image usage, turnaround times, immediate project completion request, and the need to get high-quality images printed.
Hire PGBS to Benefit from Affordable Photo Retouching and Editing Solutions
PGBS is a reputed name in the photo editing domain on a global scale. As a renowned photo retouching services company, we work with some of the industry's most experienced image editors who can deliver exceptional results within very short turnaround time, even within 24 hours, depending on the project size and volume. We can edit as many as 3000 images per day, thereby processing bulk orders competently within a very short time. We offer the best and affordable photo retouching rates in the industry, allowing our clients to overcome budget issues and capitalize on our customized packages. If you have a project that demands expert retouching support, call us for a quote now. We are ready to support you.