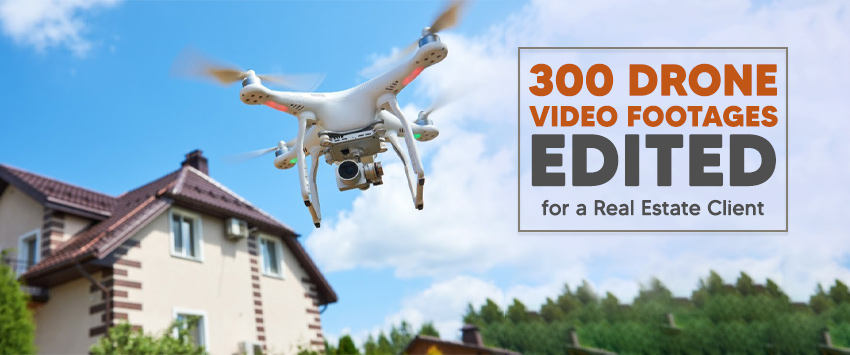 About the Client
The PGBS video editing team was hired by a reputed real estate business from West Virginia. The owner of the firm was looking for professional video editing services and handed us over 300 drone videos of properties that were shot from different angles. The client wanted us to create ten15-minute video by using the best drone footages from his collection. The client expected us to create a highly professional outcome that could boost the reputation of his business while improving the effectiveness of his marketing campaigns as well.
The Constraints
Editing drone footages was not an easy task. We faced several challenges including the poor quality of original footages, tight deadlines, and the budgetary issues of the client. The drone video footages that the client gave us were of poor quality; they were shaky and there were lighting errors. We had to fix all these issues before we could actually start our work on cutting out the best parts of footages and editing them further. The client allowed us just 10 days to handle all these activities and he was not even ready to stretch his drone video budget as well.
Solutions
After we offered him the best video editing sample and customized pricing, we initiated the project by fixing the shaky real estate drone videos and getting them approved by the client. We then identified the best footages and cut out the best parts from them. We organized all the selected parts into a perfect flow and then added special effects, performed color corrections, added transitions, animations, appropriate sound effects, and text captions while exercising our creativity to an optimal extent. We kept on sending updates to the client regularly, allowing the client to let us know if we were doing what he wanted. This allowed us to adhere to our predetermined project completion timeline. Before passing on the interim deliverables to the client, our quality control team had thoroughly checked the output and ensured that deliverables were as expected.
Impact
The client was highly impressed with the drone video editing outcomes. He admitted that he never expected such a high quality of service at such a competitive pricing from our video editing company. He could successfully use the real estate drone videos to pitch his latest projects to his clients and could sell 50 percent of his projects within a span of just 2 months. After this, the client gave us a few more real estate video editing projects to handle. And today, he is one of our loyal clients who regularly consult us for all his aerial drone footage editing requirements for a monthly subscription video editing package.
Reliable Drone Video Editing Company – PGBS
PGBS is a reputed video editing service provider that serves the needs of businesses, professionals, and individuals, helping them to boost their identities with impactful and professionally-edited videos. We help business entities boost their video marketing initiatives by giving them finetuned videos that can wow the target audience. We have the industry's best drone video editors working with us and we offer reasonably-priced packages that help our clients get high returns on their investments.
Contact Us
Have any requirements related to drone video editing? Don't hesitate to get in touch with us.
Contact Us