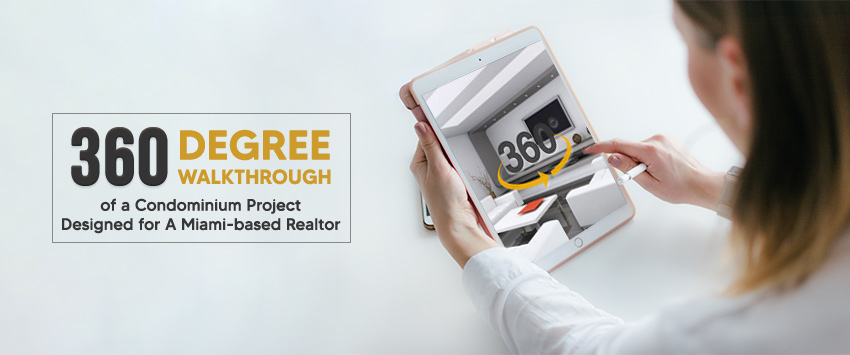 Requirement
The client was a Miami-based real estate business owner who was looking to market his latest high-end condominium project to high net worth clients. The condos had several details in terms of features, landscapes, and textures, which needed to be covered. The client was already an established entity when he met us and we knew that we had great opportunity to work with him for a long-term if we could satisfy him in terms of both quality and timelines.
Constraints
The client demanded high quality work. The client had hired other services before and had bitter issues with the service providers that failed to deliver outcomes as per his and his marketing team's expectations. He was not exactly particular about timelines, but had a major obsession for quality, which he defined as per strict standards of evaluation. We did have some really experienced professionals working with us, but we knew that the client was a difficult person to handle.
Solution
We created a project team that consisted of 3 most experienced professionals who were team leaders as well. These professionals had excellent track record of project success and they even trained new joinees as well. The project was started with an initial, in-depth briefing call with the client and the project team could gain a clear idea about what the client was actually looking for. They now knew what needed to be done in order to meet the client's quality parameters. Applying their strong sense of aesthetics and deep knowledge of handling 3D designing technologies, the professionals created mind-blowing 3D walkthrough animations that showcased the condo project in the best light. A perfect combination of lighting, textures, colors, and décor, each property stood as a synonym for creative excellence.
Impact
The client was utterly overjoyed to see the outcomes. Perhaps, he never expected an India-based company to do wonders to that level. The customized portrayal of property features inspired his creative design team to rethink their interior designing and landscaping plans. Within a short period of time following the launch of the walkthrough campaigns, the client's sales team registered 30 percent growth in their property sales. This further encouraged the client to do business with us again. And today, he is one of our most loyal clients, who have played a major role in enhancing our brand's reputation through his testimonials and word-of-mouth referrals.