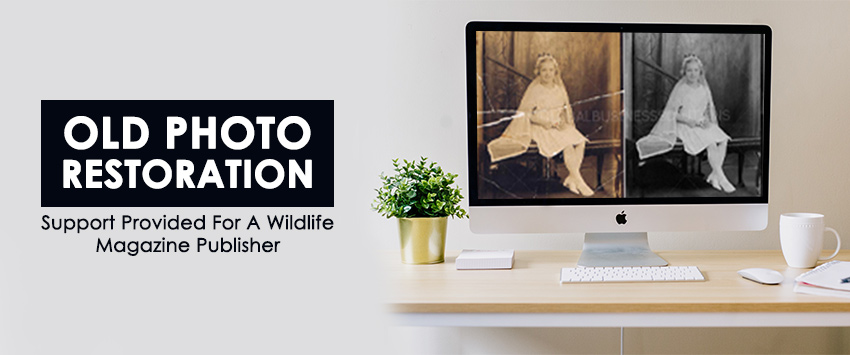 Client:
A prestigious wildlife magazine publisher operating from Australia
Requirement:
The client regularly receives large volumes of amateur wildlife pictures from patron, subscribers and enthusiasts who wish them to be published in the magazine. Based on the picture clarity, relevance, and availability of space; the pictures find place in the magazine. Most of the pictures are snapped in poor or insufficient light and require extensive restoration and retouching to scale them up to professional levels.
Challenges:
The client's magazine has cult status among followers. As such, he would not tolerate any compromise on picture quality nor he will relent on the deadlines. For each issue, published fortnightly, an enormous amount of restoration and retouching needs to be done painstakingly. Further, cost-efficiency is also an issue.
Solution:
We assembled a team of proficient professionals who are well versed with high-end photo editing software, Adobe Photoshop. This software figures first in the list of other programs which are preferred by leading studios to come up with stunning outcomes. Next, we instituted strict quality control procedures to meticulously treat each photo. 
Once the first set of images was edited, we invited the client to have a glance at the work. After getting the go-ahead signal from him, we discussed the client's recommendations with our team and also updated them about the style of image retouching preferred by clients. The pictures were sorted based on the amount of restoration required. A number of sub-teams were constituted which were provided with the images based on the various degrees of retouching needed. This hastened the pace of the work. About three hundred images were processed within a week and were sent to the client. 
The client was extremely pleased with the quality of the work and the turnaround time of our team. We have verily set another benchmark in image editing, restoration and retouching segments.
 Outcome achieved
After project accomplishment, the client entered into 2 years of contract with us. Not only that, they also endorsed our works to few other businesses.