When it comes to professional portrait photo retouching services, two software programs are used mostly- Photoshop and Lightroom. The former is somewhat daunting but latter one on the other hand is relatively intuitive and this is a boon for the beginners.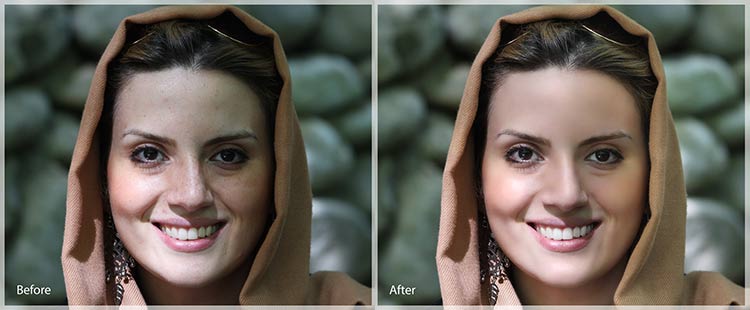 There are certain steps that are normally followed when portrait photo retouching is carried out using Lightroom.
In the very first step, mixology and local area adjustments are done. This is what almost every companies to which you outsource portrait enhancement services start with.

Checking for the dust is then done. In case if LR5 is there, you can make use of slider option. By this screen will become funky and spots will be displayed which you can remove with the help of spot removal tool.

You can also soften, harden or brighten if needed using different pre-sets.

You can paint on the teeth using 32 de-saturate brush, mask on by pressing 'O' and for removal, hold the down option.

Remaining issues to be fixed are eyes brightening, addition of depth for hair and adding of colour if needed.

You can then highlight different parts of the hair. Prefer feathered brush so that the face remains untouched.

You can conclude by doing the final touch-ups.
You can always go ahead to stylize the images and give them any effect you need. But the issue is that the feel of realism will wane and portraits will look like paintings which is never preferred. It is therefore recommended to go for just poignant and minor adjustments. But you must do it right.
Though Lightroom doesn't give features like pixel bending, it will help you to a great extent. However if you lack confidence, you can always outsource portrait retouching services.
PGBS has emerged as a synonym for quality photo editing services. A fleet of experts having considerable experience in the concerned niche work here to achieve excellent outcomes for our esteemed clients. Making an optimal use of the mix of right software tools, projects are delivered with perfection and within the stipulated timeframe.
Moreover as a customer friendly photo retouching company, we always try to keep our services highly cost-effective. Multiple packages are there and you can select the most appropriate one that completely suits your actual and exact needs. To know details, get in touch with us, at your convenience. We have a 24/7 customer support team.