Producing error-free videos for on-point branding and marketing strategy requires serious elbow grease and is time-consuming!
But, how about hiring a virtual assistant who is a subject matter expert, who shares the burden and delivers quality output? Sounds like a plan, right?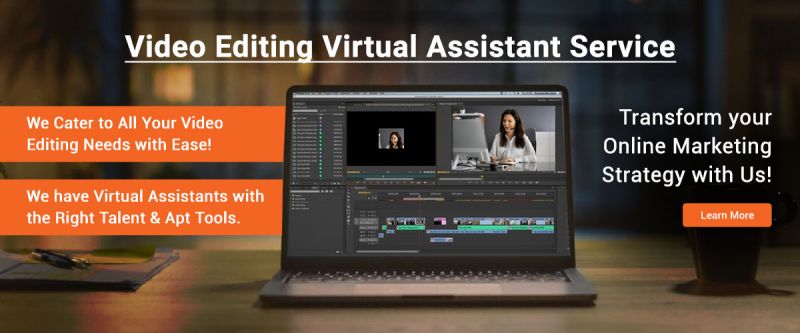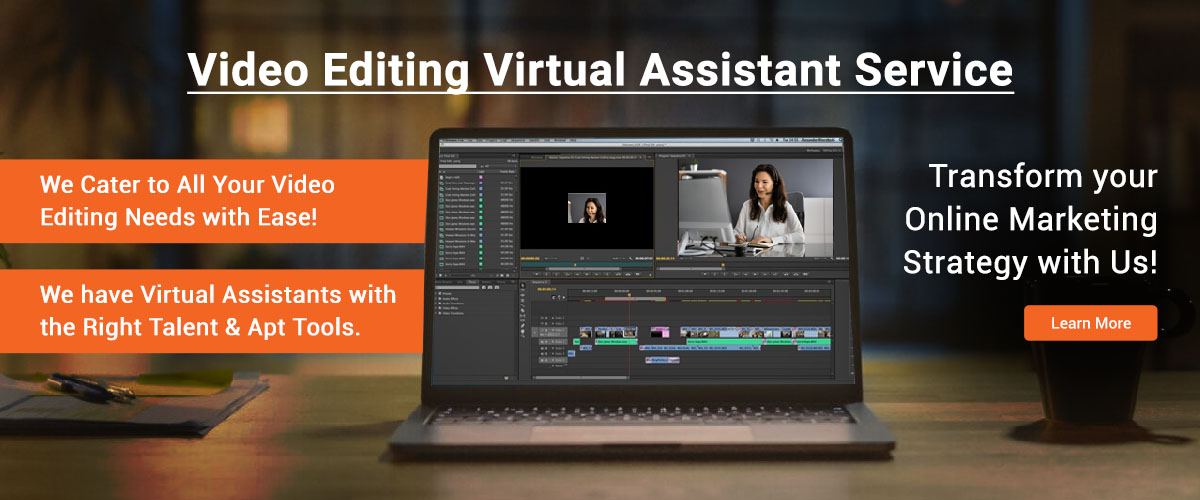 ProGlobalBusinessSolutions is a professional business solution provider for various requirements, including the need for a video editing virtual assistant. We have a pool of talented and experienced virtual assistants who have delivered numerous successful projects and are still in the process of providing the utmost satisfaction to our clients.
Talking about the clients, we have served 9000+ happy clients and are still counting. With 10+ years of experience in the industry, we have created an image as one of the most trusted virtual assistant service providers.
Video Editing Virtual Assistant Services At PGBS
Our virtual assistants take in raw footage and transform them into the most eye-catchy video content. Here is the list of services we provide to cater to the unique requirements of our clients.
Sequencing of Video Clips

Our virtual assistants are professional video editors with sound knowledge of the subject and the most updated editing tools that bring out the most satisfying footage.

They help arrange the sequence of the raw footage to make it deliver the message it possesses. They keep a keen eye while arranging the clips in order. Sometimes, they use their creative string to rearrange the sequence completely, bringing out the essence of the footage and delivering the most satisfactory results.

Editing to Meet Viewer's Standard

Hiring a video editing VA from PGBS is like working with a core researcher. Our virtual assistants also read the market trends and research for the viewers' interest during the post-production process to meet the audience's standards.

From improving the basic quality standards to adding quality color grading to enhance the look and feel, our VAs touches every bit while reworking to make the output look professional.

Provides Seamless Transitions

The video production and post-production process encounter many transition-related issues, including bloopers that make raw footage look unprofessional.

Our editors are masters in making the post-production work look seamless by eradicating these bloopers affecting certain sections of the footage to make the whole experience smooth and error-free.

Adding Subtitles & Transcripts

Suppose you are up to creating explainer videos. In that case, there is a need to add subtitles to them for various reasons, such as ease of understanding the content without language barriers, reaching a larger audience, and more.

This process is quite cumbersome and requires a special content strategy around it. This is where a business with multiple tasks needs a helping hand, in terms of video editing services like PGBS.

Inserting Voice-overs & Background Music

Talking about the explainer videos and others with a message requires voiceovers to convey what the brand or a business wants to convey.

Our virtual assistants use state-of-the-art technology to add these voiceovers, and they blend them with background music to make the video look seamless.

Adding Sound Effects

A video without any sound effects looks unprofessional. The use of various types of music depending on the message type in the video is the need of the hour!

This is also included in our service portfolio to add the right sound effect for touching the right string of the audience. Our editors are pros in understanding the tone of the videos, and they use the correct sound effect to enhance the feel.

Engaging Intros and Outros

Most branding videos, especially those created for YouTube, must have correct and engaging introductory content to generate curiosity and call-to-action content to increase conversions.

Apart from the above reasons, it also adds a touch of professionalism to the videos.

Our video editors add perfect intros to your post-production work to enhance the quality and give it a whole new look and feel that matches industrial standards.

Precision Distortion Correction

Many cameras have a built-in autofocus mode, especially wide-angle cameras with a fish-eye lens. This sometimes increases the distortion of the image. This issue deteriorates the accuracy, which leads to an unprofessional clip, and it requires a very different type of approach, known as the Field of View (FOV) correction.

Our creative VAs uses state-of-the-art technology and help a visual look highly professional by correcting distortion issues.
Other Renowned Video Editing Services At PGBS
Apart from the services mentioned above, we have a huge portfolio of video editing services including-
Commercial Videos Editing
Short Films Video Editing
Product Video Editing
We Cater to
Product-Related Companies
Social Media Related Agencies
Real Estate Companies
Corporates
Entertainment Sector
eCommerce Companies
Youtube VLOGS Creators
And more
Reasons to Choose Virtual Assistants from PGBS For Video Editing Services
Professional virtual assistants with a dedicated approach.
We offer competitive prices & customized plans.
A unique approach & action plan for different business requirements.
Access to the most innovative tools and technologies.
The shortest turnaround time is taken for deliverables.
We retain your brand style and guidelines.
ProGlobalBusinessSolutions is a leading-edge virtual assistant services provider for video editing. Our editors are specialists in post-production work who have delivered numerous successful deliveries up till now. They strive to deliver the best to our clients, and such a service has earned us the trust of global customers.
Our virtual assistants provide uber-class video editing solutions as they understand the subject from the core and provide professional outputs suiting various industry verticals.
With a client base in almost every part of the world, we serve with our most refined services meeting international standards.