Companies offering call center inbound services are fortified with the innate skill of gaining more sales and revenue for the businesses to which they serve by making use of several cross-selling and upselling tricks.
Upselling and cross-selling in fact are the processes by which a customer support agent tactically offers additional products to the customer or similar product of more value in which the concerned customer is likely to be interested. Most of the call centers train their resources regularly on various techniques including upselling and cross-selling. So, for a typical agent, it comes naturally while interacting with the customers.
Inbound call center providers have always encouraged and appreciated cross-selling and upselling as they get more business to their clients and this adds more value to the service being provided.
Putting forward a recommendation to buy more or buy products of more value is something to be planned shrewdly. In between the conversations, there will always be some instances where call center upselling techniques or cross-selling can be tried. The representatives should maintain consistency in a pleasant manner and in all the interactions no opportunity should be missed. Call centers should also plan some incentives or prizes for agents who fetch more businesses.
The agent should in fact not blindly follow the sales call center script. Every customer is unique and their scenarios and issues vary significantly. Staying unflinchingly adhered to the script presents the agent as a robotic element representing the company and people hate speaking to machines. Moreover, chances of upselling and cross-selling are lost when the agent revolves around the script. The company offering inbound call center service in India should also provide agents with enough flexibility and freedom to do things creatively and smartly while maintaining the expected level of professionalism.
Now let us see some of the most effective practices for upselling and cross-selling. Underlying are some popular ones, there are many and based on the innovativeness and resourcefulness companies can plan their own exclusive strategies.  Agents should keep the following things in mind
1) You should aim for availing more value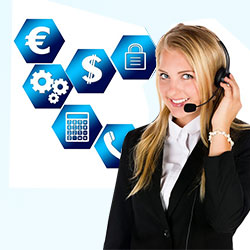 Nowadays, customers are more inclined towards products that offer them maximum value for the money they spend. So, agents have to demonstrate the value of additional or more costly products they are intending to pitch. For the same, the agent should convince the customer to see the wider perspective. It has to be made palpable that the worth of product is not always testified by the price tag but via its longevity, reliability and usefulness.
2) Timing and the context are vital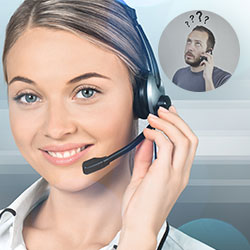 You have to give the immediate needs and requirements of customers' highest priority. A frustrated customer calling with a complaint would never appreciate if you try to upsell or cross-sell. When it comes to serving customers, alleviate or eliminate their issues first. After the problems are resolved, if you can sense some pleasantness in their tone, you can attempt but again be careful.  This is among that crucial call center cross-selling techniques that if ignored, can cause disaster.
3) Credibility is of huge importance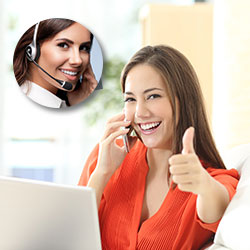 Trust matters the most. While trying to sell more, you can cite some recommendations of professionals or industry experts. This increases the comfort of customers in a dilemma and they are more likely to place orders. Above all, you should also gain the faith of customers by emphatically listing to their needs and suggesting them viable solutions.
4) Being relevant benefits in long run
Never try to cross-sell or upsell products that are of no use for customers. This is one of the basic call center sales techniques.Even if you succeed in getting sales, sooner or later the customer will feel deceived when he sees the product. Thus you lose your credibility and may even lose the customer permanently to other smarter businesses. When it comes to running a business, long term things should be kept in mind. Doing something unethical for immediate profits is the most unwise thing to do, for sure.
5) Know your limits and exercise restraint
Bombarding customers with recommendations and suggestions, again and again, makes them confused and irritated. It may do harm than good. Never suggest a really long list of items as the attention span of customer may not be supportive enough.  They may forget the first few suggestions when you finally conclude your list.
6) Give offers to loyal customers and make them feel special
This is perhaps one of the best and most operative techniques. Loyal customers already trust you and are more likely to buy from you again and again. Offering something like customer pre-sales, family and friend vouchers or early bird offers exclusively for them can work well. This keeps your loyal customers happier and not only that by such gestures you are motivating your loyal customers to refer your brand to others as well.
7) Make festive season a celebration
People spend more money during festive seasons and this is a point that every businesses keep in mind. You should come up with some great discounts or offers to sell more products through upselling or cross-selling techniques. Through smart tricks, try to get personal details of customers and send them special offers on occasions such as birthdays, anniversaries etc.
8) Bundled discounts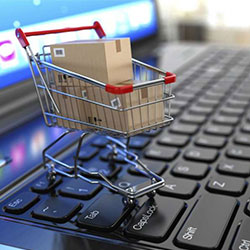 With bundled discounts, you can sell more. On complimentary items, bundled discounts can work wonders.  You should take care of providing all needed information on the items. Customers should also have the provision to compare before they buy. Make sure that you keep related items in a bundle. However, there are exceptions in some cases.
Conclusion
If you are looking towards outsourcing inbound call center services in India, inquire in detail regarding the strategies the concerned service providers are planning to implement for fetching you maximum sales. This will guide you properly in selecting the right partner for your business. While they manage lead generation and conversion, you can focus completely on your main business activities.