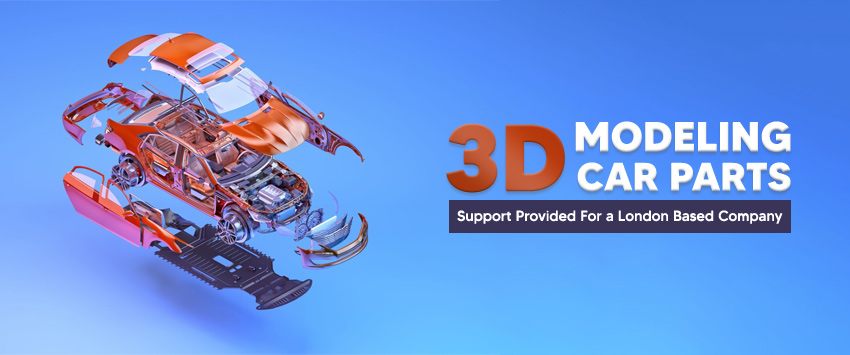 Client
One of the leading companies in London indulged in developing custom engineered and inventive products for communication solutions contacted us. Our reputation as a reliable 3d modeling company made us the first choice for client.
Requirement
The client was in need a 3d modeling services provider who could help them in redesigning and manufacturing few parts of their company car products. They had only 30 days to a lot and wanted to engineer a professional design with accuracy within their budget.
Challenges
Some serious challenges pertaining to the project were there. Firstly, the specifications regarding parts to be redesigned were missing. Internal grooves were also not available. These were very important to carry out the work. Above all, the timeframe was really limited.
Solutions
Providing impeccable product 3d modeling service takes time and it's not that easy as well. It needs really talented and trained experts with extensive work experience. We started off by providing a trail sample and sent the work done for review to the client. He liked the work and was extremely satisfied. We were finally selected, and the client requested us to continue.
PGBS then called an internal meeting and formed a team of best professionals with proven track record in the provision of 3d model designs. For each product, 2 resources were assigned. The whole team was managed by a project manager.
Client sent 7 samples to our team with the specifications as well as measurements of products. Following this, team at PGBS scanned the products using a 3D scanner and collected the needed details. Our QA team kept keen eyes throughout the project proceedings to assure that accuracy and quality is maintained to apex levels. Client approved the final designs without any serious modification demands.
Results
PGBS completed the work with great precision and excellent quality. We met the deadline and stayed adhered to client guidelines. Project manager served as the contact point for client and support was provided 24/7.
Client was satisfied with quality, timeliness and accuracy. He even recommended our 3d modeling services to many of his business partners.
If you need any further information related to the 3d design outsourcing services we offer, contact us anytime.