Are you a professional ebook cover designer who has been helping publishers and authors with custom ebook covers for years? If your answer is, " I am new to ebook cover design", then this article would prove to be the right guide for you to understand design aspects in a greater detail and from multiple perspectives. This article would also be useful for you if you are a self-published author who is looking to try his hands on designing the cover of his own ebook. Creativity does not come for free and it is an outcome of your efforts to combine your expectations with your clients' expectations while keeping in mind the overall theme of the book.
So before we proceed discussing about some major as well as minor design considerations, let us explain the significance of ebook covers and the role that they play in book promotions.
eBook Cover Design – Quick Overview
The Significance of eBook Covers
ebook covers play a significant role in generating interest about the book's content in the readers' minds. Covers tell a lot about the book's theme and mood before a reader engages into actual reading.It is quite surprising to note that ebooks did not have proper covers a few years back. What was used as a cover was just a text cover or nothing at all. However, as ebook continued to emerge as one of the most popular formats for readers and as devices and platforms continued becoming more and more sophisticated, the publishing industry felt the need to make ebooks appear equally attractive as traditional paperbacks. This was what triggered the development of the ebook cover design domain, which is now undergoing a massive evolution with cover designers doing their best to explore innovative concepts. One has to admit the fact that an ebook's cover is its gateway to its inner content and that it creates the first impression about the book. So if an ebook does not have an appropriate cover, chances are that it would fail to spark interest in the minds of the prospective readers.
This article would guide you on:
Five important steps to create appealing book covers
Places that you can find some references from
Dimension parameters that the cover should adhere to
Do-it-yourself (DIY) tools
How you can find out which group of customers would like what type of covers
But before you move on to the comprehensive book cover designing process, you should do some groundwork so that you can be accurate in your approach and create desired outcomes.
Begin By
Discussing about the requirement with your client
You should not assume that you already know what your client needs or expects from you because you cannot really make out what your client desires if you don't talk to him directly. Every publisher will have its own size requirements and so you should check what your client wants from you.
Ask your client the following questions:
What type of cover are you looking for?
Check if your client is looking for both print-media and web-media formats.
What genre does your Ebook fall under?
Motivational books or sci-fi books have markedly different covers. So you should make sure that you know what the genre of the book is.
What's the core message that you want to communicate?
Ask your client if he/she has a key message that should define the concept of the cover.
What do you want to include in the design?
Check if your client wants you to include elements such as awards, reviews, or biographies in the Ebook cover.
What are the online publishing platforms that you are looking to publish your Ebook in?
The most common eBook publishing platforms include Amazon Kindle, Smashwords, Apple iBooks, Barnes & Noble, Google Books, and Book Baby. Each platform will have their own design criteria, which should determine your specifications.
Five important steps to create appealing book covers
1. Finding Ideas
Fiction works appeal to the heart while non-fiction works appeal to the brain. You may consider tying up the appeal of fiction covers with an emotional outlook while you must ensure that you instill a witty look and feel in the cover of a non-fiction Ebook. Check the title of the book; the title would reveal the message that the author is looking to convey. Base your design on this message.
You must adhere to the design norms that are prevalent in other Ebooks of the same genre. Check out the bestsellers in the same genre and identify the common design norms. You may not want your design to be a close replica of these designs, but you would definitely want it to belong to the genre while still having its own distinct impact. This would prevent your book from ending up in the hands of the wrong target audience.
You may consider scrolling through book listings on Amazon to find inspiration. Consider saving the covers that you like the most as image files on your computer for future reference. These covers may not appear to be relevant with the theme of the cover that you need to design; however, you can still maintain a repository just in case you need them in the future. Alternatively, you may search through Pinterest as well and save the designs in your profile. Even Kindlepreneur has an entire board dedicated for book cover design tactics and tools and you may consider referring to the same to get some ideas.

Useful Read
2. Platforms and Tools
There are certain tools and platforms that you can use to create cover designs for free and paid:
Canva: Canva is a platform featuring effective design tools that you can use not only to design Ebook covers, but practically anything. It comes with customizable design templates that can be used for diverse purposes. Canva is an easy-to-use platform; however, your options are limited.
Word: You already have access to a free design tool in the form of the Word processor that's installed on your computer. Word has all the necessary templates and design features that you need to design engaging book covers.
Adobe Photoshop: While Photoshop is definitely not a free design tool, but in case you already have either Photoshop or Indesign installed in your system, you may exploit them to a considerable extent to create advanced designs.
PosterMyWall: This platform features a number of templates that can be customized very easily. Additionally, it is connected to Flickr, Pixabay, and Getty Images, which means that you will get access to multiple free images with just a click.
Placeit: Like Canva, Placeit features a number of design templates that can be customized to create genre-specific Ebook covers. It also features a library of textures, prefab photos, illustrations, and graphics, which you can use readily to create custom covers.
GIMP: GIMP offers simplistic template-type book cover designs that you can customize based on your requirements. However, it is not linked with image repositories that you can use to select images. You have to find and select images from other resources, but that shouldn't be much of a trouble.

CoverFactory: This software easy to use and can create stunning eBook covers within a few clicks. It can help with creating both eBooks as well as virtual software boxes in 3D.CoverFactory is specifically designed for use in desktop computers. It is most compatible with Windows but can also run on other operating systems. It is available in both free and paid versions.
EbookMaker: The eBook compiler software will help you to compile HTML files into standalone EXE. Other files including images, videos, Flash, JavaScript, MP3, etc. can be also compiled into .exe files. You do not have to worry about installing any other software to access the eBooks. These are readable on the software itself. It is because the HTML pages are displayed on Internet Explorer.
Insofta: This tool will let you create a 3D image for your eBooks or printed books free of cost. You only need to select the camera angle and load pictures for the front, back, and spine. Finally, you can click the render button to create the 3D book cover. Aside from that, the tool also allows you to add varied mockups and features. The images loaded can be a maximum of 7 MB and present in different formats like .jpg, .png, .tif, .gif, .webp, .bmp, etc.
Mediamodifier: It is an online book cover mockup generator with the drag and drop feature. With this tool, you can create 3D cover books that look completely photorealistic. Its visual editor is refined and can help to create 3D mockup images quickly. The tool also offers a collection of professional book templates that can be used for kindle books, audiobooks, hardcover, and paperback. So, you do not have to use Photoshop or any other photo editing tools.
If you are an author yourself and want a more professional design approach, you may consider hiring an experienced graphic designer from a reputed company for high quality ebook cover design. This way, you will be getting highly-personalized design options that would make your book stand out from the competition. However, you should complete step 1 before you appoint a graphic designer to assist you. You need to make sure that you communicate your ideas clearly to your designer so that he is able to implement your suggestions properly and give your ideas a practical shape.
3. Select the appropriate book cover size
When you start conceptualizing the book cover design, you must ensure that the book's size is at par with the platform-specific requirements. You should define the accurate width-to-height ratio so that you create a design that fits well with the chosen book cover dimension.
If you are looking to publish your Ebook on Barnes and Noble, your file should be in JPG or PNG format. Your cover should have at least 750 pixels for width and height. Kobo recommends Ebook covers to have sizes of 1600 X 2400 pixels. For Amazon Kindle Direct Publishing, you would need to make sure that the cover size varies between 1,000 x 625 pixels and 10,000 x 10,000 pixels with one side compulsorily having a minimum of 1000 pixels. This way, Amazon allows for greater flexibility to choose different cover-to-width ratios. As per Amazon's recommendations, a cover should ideally have height to width dimensions in 1.6:1 ratio. Pay adequate attention to select the right book cover dimensions because it would have a profound impact on the shopper's buying motives.

4. The Ebook Cover Design Process: Adding life to your ideas
Let's admit this simple fact- the process of book cover design is not just about art, but a complex and complicated combination of science and psychological science as well.
Here's a summary of some design tips that you may find to be really useful:
Select an appropriate font for your eBook cover
In most cases, cover designers and authors who adopt the DIY approach choose to put more emphasis on the image compared to what they would put on the fonts and the overall presentation and appearance of the title. What you should know is that the book's title serves as the logo and gives the cover a distinct identity. The typography on your book cover sparks emotion. The most commonly used fonts are:
Modern or script: Modern fonts are stylish and have a bold appeal whereas Script fonts are elegant and can be applied creatively in elaborately designed book covers.

Serif or sans serif: Serif fonts are noted for their traditional appeal and can add life to the design. Sans serif fonts are noted for their minimalistic appeal.

Monospaced: Monospaced fonts are 'monotonous', which means that they lack 'individualism'.

Each type of font tells a certain story, and you need to identify the right font that would relate well to the story or the overall theme of the book. For example, simple fonts carry a feel of reliability, and you may consider using them for self-help or non-fiction books. Text layout is equally important in determining the overall appearance of the design. A layout that looks congested and cluttered is most likely to generate negative reactions.
So how would you select the best book cover font?
Well, begin by understanding the book's genre and choose a font that would give readers an idea about what the story is about. Secondly, choose a font that can be easily understood and aesthetically appealing at the same time. What emotions do you want to generate among the target readers? You will be surprised to know that serifs, line thickness, or scripts can be used strategically to establish a connection with readers' emotions.
Certain fonts spark certain emotions.
Here's a list of fonts that you can use for books of different genres:
Horror
Romance
Twilight
Butter Scotch
Amaze
Sci-Fi
Star Jedi
Deadspace
Roboto
Non-fiction
Classical Garamond
FF Nexas Sans
Top 3 websites to download free eBook cover fonts
DaFont: This website comes with a font repository that features font styles for a number of moods and feels such as 'Holiday', "Retro", "Fancy", "Brush", "Graphiti", "Dingbats", etc. The user interface is pretty simple and users would need to sign up at the website to be able to download the fonts for free.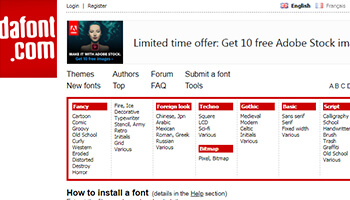 1,001 Free Fonts: The website lists fonts in two categories- New Fonts and Top Fonts, thereby allowing the users to choose from "what's new" and "what's in trend". Designers are also asked to submit their fonts so that the design community gets benefited as a whole.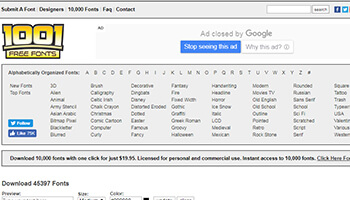 Font Squirrel: A specialty of this website is that it features a webfont generator that allows users to upload fonts and get customized versions of the fonts downloaded. This option is offered in three levels- basic, optimal, and expert.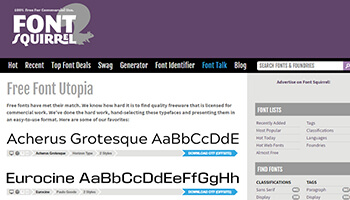 Selecting the right colors
Use of the right colors is important to set the mood of the book and to convey the book's message to its target audience. Complimentary colors have their own chemistry whereas analogous colors create an aura of their own, if used in appropriate dark and light shades. A combination of black, red, and white is as strong as a combination of blue and yellow. Experiment with different combinations to find out what actually works.
Plain or off-white covers portray simplicity whereas blue, black or dark covers, in general, convey a feel of suspense or seriousness. Book covers with a combination of bright green and pale-yellow shades may be used for lighthearted stories. Normally, bold and bright colors symbolize vibrancy whereas soft colors denote fineness.

Here's a list of colors and what they represent:
Red: Vigor, power, passion
Blue: Dependability, calmness
Black: Mystery, suspense, authority
Green: Nature, vitality, environment
White: Simplicity, clarity, straightforwardness
Light Purple: Harmony, creativity, spirituality
Dark Purple: Fantasy, depth, mystery
Pink: Innocence, youth
Orange: Optimism, confidence, dynamism
Deep Yellow: Creativity, ambition
Pale Yellow: Warmth, friendliness, accessibility
Grey: Prestige, sophistication, wisdom
Selecting the right images
Simplicity is the key to designing an awesome cover. The design on your cover should not look too much complicated or busy; avoid using too many colors. The image on the cover should generate the desired emotions and feelings in the minds of the readers.
There are a number of free as well as paid websites where you can browse images and shortlist the most relevant ones. You may then experiment with each image to see how it fits with the color and typography selections.
Websites to download free images
If you are looking for free stuff at the moment, we have prepared a list of resources for you. However, you are allowed to use these images free of cost if you give credit to the artist. Check the guidelines properly to understand where exactly you would need to place the artist credit.
Here's a list of websites that provide free access to images:
Wikimedia Commons: This is an online repository of free-to-use images, Javascript Object Notation (JSON), sounds, and other media files. The repository features as many as 55 million free media files, which are managed by registered volunteers.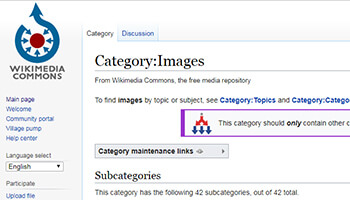 Flickr: This is an image hosting and video hosting service that reported 87 million registered members and over 3.5 million new image uploads in 2013. Users do not need to create accounts in order to be able to download photos and videos, but they would  need to set up accounts if they wish to upload content. This way, users can create a profile page displaying all their contributions and establish contact with other users.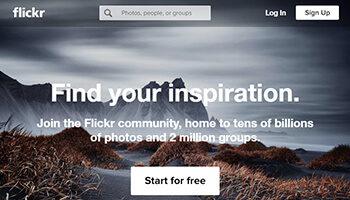 Pexels: Pexels allow users access to thousands of free stock photos that are licensed under the Pexels license. The platform's photo repository includes free images that are sourced from sources such as Little Visuals, Gratisography, and Pixabay. Users can also upload photos on Pexels and share them with the community of the creatives.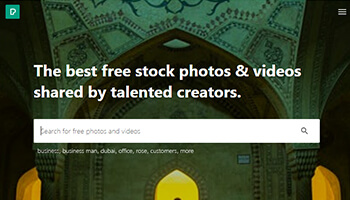 Pixabay: Pixabay is a platform offering people free access to resources including vectors, graphics, photos, and illustrations. Pixabay has a library of as many as 1,188,454 free resources. Users can freely use the resources even for commercial purposes and without having to comply with any attribution requirement.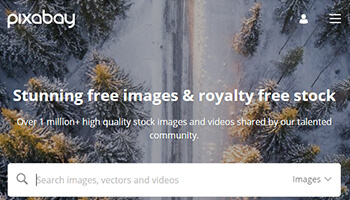 Unsplash: Unsplash allows users access to stock photography under the Unsplash license. The website features a library containing more than 8,10,000 photos and records 9 billion photo impressions on a monthly basis.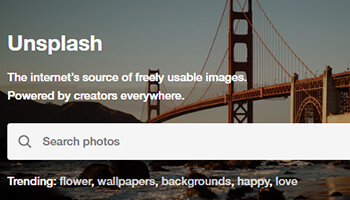 eBook cover design software that you may consider trying out
While creating Ebook covers in a personalized way is the best approach, you may consider using online eBook cover maker if you are new to the designing field.
Here's a list of top 3 free book cover makers:  
MyEcoverMaker: You can get professional 3D ecovers created using this easy-to-use, free tool. It comes with a point and click functionality that allows you to create beautiful covers in just a few minutes.
CoverFactory: You would need to download CoverFactory to your system in order to be able to use it. This graphic design software would allow you to create an awesome 3D Ebook cover without any hassle.
 Adazing: This is a free Ebook cover creator that makes cover design just a simple three-step process. Begin by choosing "Product", uploading Image, and selecting the background. That's it. The tool will deliver the finishing touches.
eBook cover file formats
 eBook covers may appear in diverse image file formats including .TIF, .PNG, .JPG, etc. However, you must check if the online publishing platform that you are planning to publish your book in has any specific guideline.
5. Test the effectiveness of the cover that you have designed
If you have designed multiple versions of the same cover and are not sure which one will be accepted more by your prospective customers, you may consider setting up a poll using the Pickfu platform to find out what will sell readily.
Once you identify the most effective cover, you may consider creating a 3D image of the cover. By transforming a 2D image into a 3D cover design, you will move a step ahead to fuel your advertisement campaigns.
Summing it Up All
Even a small change in the design of a book's cover can go a long way to promote its sales potential and popularity. It goes without saying, a book is definitely evaluated in terms of its cover. Even a well-written book may fail if its cover does not appeal to the target readers. Make sure that you design genre-specific covers with the ideal combination of colors, fonts, dimensions, and images.
Do let us know your thoughts and if you are facing any challenge with respect to book design, we would be happy to guide you further on how to develop effective book designs and book cover designs.