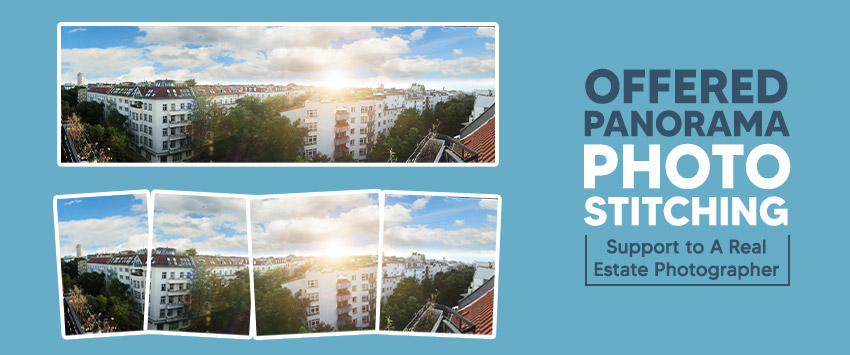 Requirements
A renowned professional photographer in the US approached the PGBS photo editing team for panorama photo stitching support. The photographer had many projects to handle and so he decided to outsource some of his tasks to offshore companies that specialize in delivering advanced real estate photo editing services. After trying out several service providers across the world, he finally found PGBS and took a decision to do business with us only after a free trial that assured him of quality outcomes. He initially sent us 100 sets of photo stitching tasks with each set including at least 5 real estate photographs that needed to be stitched and combined into a 360 degree panorama.
Constraints
A vast majority of the images provided by the client had flaws in terms of perspectives, colors and contrast and most importantly they lacked continuity. While stitching multiple photos together, we found that some parts were missing between two photos, which in turn impacted the overall flow and continuity of the panorama. The situation became more critical as the client's clients started pressurizing him for quicker turnarounds. The client requested us to deliver outcomes within a period of 15 days as this would positively impact his career.
Solution
We had senior employees onboard and they were expert photo editors who specialized in panorama photo stitching as well. That time, we had hired a few new employees as well and we chose to include them as well in the project team. Our main purpose was to make their junior employees assist the senior ones with basic photo editing support so that they could complete their work faster. The team included 10 members. The junior members retouched individual photos of a particular series in order to make the necessary enhancement in terms of color, perspective, brightness-contrast balance, etc. The senior members of the team, on the other hand, focused on the actual photo stitching operation and made sure that they create seamless 360 degree real estate panoramas that would have smoother appearances and that would seem to flow perfectly in a 360 degree view.
Impact
The team was able to create perfectly detailed panoramas that presented a magnificent 360 view of properties and allowed viewers to get a holistic idea about the overall feel and appeal of a property from all angles. The photographer was amazed to see the outcomes and he identified PGBS to be one of the best real estate panorama photo stitching service providers in the world. He was able to impress real estate businesses that hired him for this assignment and was able to preserve his reputation in the market. After the successful completion of this project, the client involved us in many other projects including the creation of 3D real estate walkthroughs, flythroughs, 360 degree image enhancement, virtual staging, etc. He has been regularly working with since then and has referred our services to others in multiple forums.