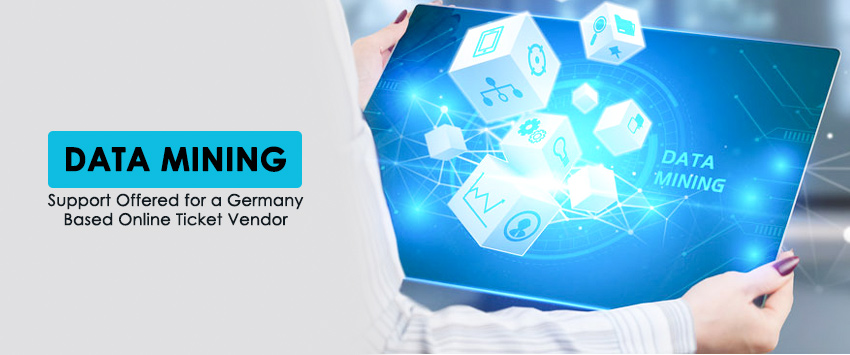 PGBS is an India-based company driven by technology housing exceptionally talented professionals equipped with urbane tools and technologies. Businesses from across the world outsource data mining services and all related requirements to the Indian hub. The level of commitment showcased at all times and project completion assurance with quality within swift turnaround time has made the company's first choice among vendors worldwide.
Client
An online ticket vendor based in Germany approached us. He was in the business of selling tickets for events, entertainment and, sports.
Requirement
The client was planning to expand further by leveraging our potential in the domain of online data mining services. He wanted to win the trust of his new customers and increase the loyalty of already existing ones. For the same, he needed adequate support to regard of data mining and web research-related solutions. The client wanted to populate his portal with extensive details on arts, theatrical events, music, sports and, a lot more. Data had to be mined from a huge website. We were provided the back-end CMS access for enabling us to post upcoming event details.
Challenges
There were several challenges associated with the project and numerous steps of data mining were involved. First of all, we were demanded to submit the project in a very swift manner. Another thing was that the client was on a minimal budget. Above all, a lot of tasks were involved. A few of them were:
Choosing the right category for reaching the correct website event sub-page.
Selecting details furnished on sub-pages including band name, venue, time and photos, etc.
Creating templates based on the name of band and event category.
Finding out relevant images as per categories and names of bands.
Logging into website of client and creating events.
Genre updating for different categories, band names, info, time, locations, ages, genders, tags, etc.
Suitable image uploading for events and ensuring appropriateness and accuracy of data entered.
Uploading the appropriate image for each event, and verifying the accuracy of all data entered
Solutions
For this particular project, every point had to be carefully attended. After understanding client requirements and preferences, we selected some of the most veteran and vibrant professionals with us who had a comprehensive vision regarding various concepts and techniques to carry out the project. They were detailed the client history, business and exact requirements he had. Along with that a two hours of brainstorming and training session was conducted internally for framing the optimum strategy for executing the work impeccably. Soon after the work plan was in place, we meticulously executed each and every step involved with great level of professionalism, precision and perfection.
We checked every category for ensuring details accuracy. Our experts renowned for offering global standards of web data mining services in India also assured that the band name, time, location and tags etc. are completely updated. We also verified the understand ability and orderly arrangement of information.
Results
All the records on needed websites were updated and checked. Entire changes as demanded by clients were implemented. The client was satisfied and he extended the contract period initially to a period of 2 months and then we signed a complete one year contract with him.
The successful accomplishment of this project was yet another feather on the cap of our data mining services India based company. If you too have any requirements to discuss, feel free to contact. We don't charge heftily; our rates are reasonable and there are more than a few packages to choose from.