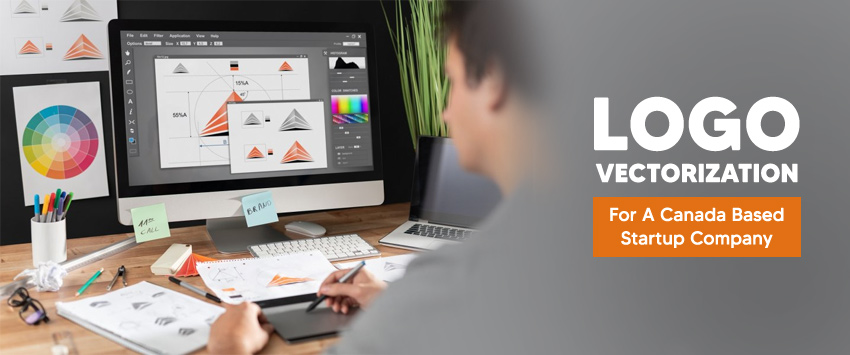 Client
A start-up company based in Canada providing web development, branding and complete marketing services approached us with the unique logo design request of converting the raster logo into a vector logo format.
Requirements
PGBS was contacted by them as they needed an experienced partner, who could provide them a professional logo design along with design for the business card, letterhead, and banner designs. Also, they needed the logo to be vectored.
Project challenges
The time we had for all the work was a mere 24 hours. Being a start-up they had too many concerns and alleviating them itself was a time-consuming task; they were too skeptical and in dilemma regarding their suggestions and even expectations. Besides, to create a logo, letterhead, and banners, etc., it was crucial to completely understand the values and vision of the company which was again arduous.   Also, as the matter was closely related to the initial business branding, we had to allocate the right people with relevant experience in designing custom logos and illustrations to assure the best results for the client.
Solution
We soon arranged a meeting of creative heads and they suggested three experienced professionals form a team exclusively for this project.  The team after a brainstorming session quickly crafted 3 sample logos and submitted them to mark the start of the project. It was during this trial period that we understood the exact business nature, products, and services offered, their USPs, client requirements, and expectations. Thus, we precisely visualized a professional and impressive logo representing complete company provisions perfectly. Post-approval of the logo, we made use of Adobe Photoshop and Illustrator for vectoring the logo and designing banners and letterheads.
Our quality control and assurance team did multiple rounds of checking for ensuring that the guidelines from the client were faultlessly met. We sent the final files in both PDF and JPEG for review. Some minor alterations were suggested and our team quickly did the needful editing. 
Results
PGBS swiftly and accurately completed the project while adhering to the specific guidelines of the client. The accuracy level was 100% and we submitted the whole work within 18 hours of commitment.
This made the client extremely satisfied and delighted. Soon after this, he assigned a new project to our team and in fact, a new business relationship started. They initiated outsourcing a king part of their graphic designing services related requirements to us and the relationship still continues.
PGBS – A Best Logo Design Company
We have solid experience in developing unique company logos in vector format and we can be your most trusted partner in your branding operations. We also have raster logo design expertise and can meet your unique needs. We have helped several businesses with professional logo designs, reflecting their unique brand philosophies.
We do not just apply high levels of creativity during the design process, but we also pay utmost attention to understand a company's branding goals. If you are looking for vector logos that specifically convey your brand's story, we help you address your specific requirements. When you choose to do business with us, we would discuss in detail, understanding your design expectations, and having a proper idea about your brand's character.
We would then offer you a customized quote that would typically depend on the complexity as well as the timeline of completion. Right from the conceptualization stage to the execution and delivery stage, we will stay in touch with you, ensuring that we proceed as per your expectations and deliver outcomes that meet your objectives. Have a corporate logo designing requirement or want to know more about our designing expertise? Reach us anytime.