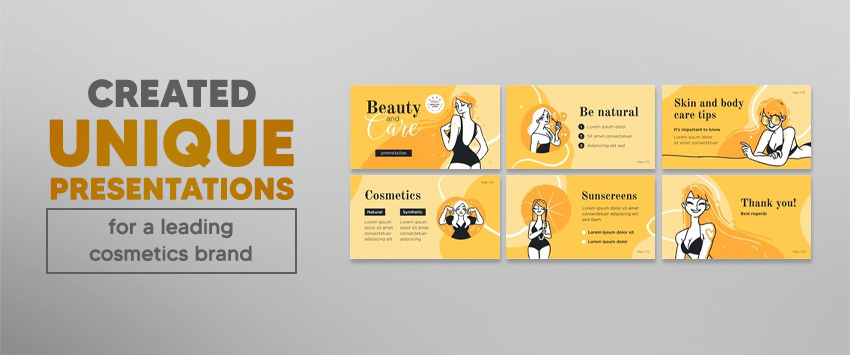 Developed MS-PowerPoint Presentations and a Keynote Presentation for the marketing team of a leading cosmetics brand.
Requirement
A leading Sweden-based cosmetics brand that grew from being a startup to a large enterprise within a period of 5 years contacted the PGBS team to create a type of product demonstrations, one through MS-PowerPoint and the other through the Keynote software.
The presentations needed to be clear, concise, and aesthetically-appealing and were expected to contain a number of multimedia files.
Constraints
All the presentations that contained the same information about the same products had to be unique both in terms of design, content, and in how the content needed to be presented from the beginning to the end.
We were asked to add video and audio files to the slides. The company was very particular about the quality of the presentations and wanted them to deliver returns in terms of improved target audience responses and increase in sales and brand reputation.
Solution
We formed a think tank that consisted of senior employees as well as fresh candidates who had joined our institution recently. The team members first discussed the concepts for every presentation in order to ensure uniqueness of every presentation.
They then divided themselves into small multiple groups with each group consisting of one senior and one junior member. They created extraordinary MS-PowerPoint presentations that showcased the details of the new launches with a high level of detailing and aesthetics.
The slides included rich-quality graphics, seamless transition effects, animated texts as well as imageries, and audio and video files that were embedded at the right places in order to maintain a smooth content flow. The Keynote presentation was developed only by the senior members who had prior experience in handling the Keynote software.
The senior graphic designers developed a captivating presentation using Keynote, which was compatible across Apple and Mac platforms. The presentation had several multimedia files and it told the brand's story in a compelling way.
Impact
The company was extremely impressed with all the presentations that the team developed. It used the presentations in several webinars, seminars, events, and tradeshows and was overjoyed with the response.
The presentations created a buzz in the market and this improved brand reputation and awareness. The company was able to boost its overall sales by 30 percent that year and the sales of the new launches contributed to 50 percent of that year's overall sales.
The company often comes back to us for diverse graphic designing support including business card designing, brochure designing, and overall revamping of various types of marketing collateral.