PGBS is always setting new benchmarks in customer support by offering comprehensive and innovative solutions to the requirements of clients in the time efficient and cost-competitive manner. This case study dwells upon the telemarketing services and supports extended to an Australian hardware manufacturing firm which wanted to cater to the Chinese market but lacked linguistic experts who can interact with prospects.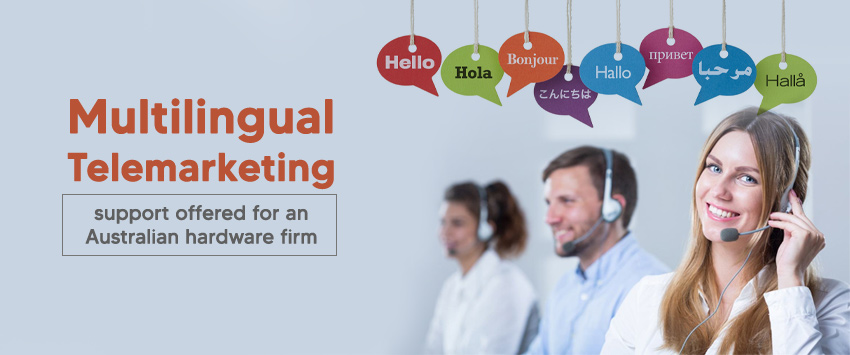 Problem statement
An Australian hardware developer company wanted to penetrate the Chinese markets as vast unchartered business territories beckoned it. The agency wanted to set up a telemarketing station whose representatives would interact with Chinese prospects in their native tongue and convince them to subscribe to company's services through its proprietary website. Further, the company was interested in establishing links to potential market stakeholders who had a connection with eager to convert leads for the given hardware products. These stakeholders in China's mainstream market had to be scoured and then had to be convinced to work for the company. Each successful set of leads motivated to subscribe on the company's website would fetch commissions to the stakeholders who were instrumental in driving the leads.
Potential Requirements
The Australian firm wanted to outsource these activities to a multilingual telemarketing expert agency that can successfully search the Chinese market for stakeholders who were willing to work for a commission. These prospective stakeholders would have to be convinced about the lucrativeness of the hardware business so that they can share names of leads who could be contacted for inspiring subscriptions on the company's site. The requirement was twofold. First, our representatives had to communicate with Chinese prospects and send transcripts of the dialogues to the Australian firm to demonstrate the progress of the project. Secondly, we had to launch an intensive search into the Chinese markets to seek out those influential people who can promote the hardware among their acquaintance and convince them to subscribe to Hardware Company's site.
Our Successful Strategic Approach
We at PGBS are always committed to offer our clients the competitive edge they seek through our alliance with an unimpeachable multilingual call center. We chalked out a strategic roadmap to accomplish this challenge. First, we established contact with our agents in China to list out those hardware agencies whose owners or managers can have the potential impact on the decisions of buyers. The stakeholders prominently ran their own hardware business or imported them for sourcing. Next, we set up our telemarketing unit with Chinese native speakers at the helm. They were assigned specific centers and a list of probable stakeholders, which we have gathered from our sources. Each prospect on the list was contacted over the phone or through email.
Our affable, professionally toned, well trained, and discerning telemarketers were able to successfully convince the majority of leads to register on the hardware manufacturer's site or motivate others to source their products from the company. Within a remarkably short period, the client's site was overwhelmed with registration requests and hardware inquiries from across the mainland China. The leads had a high conversion rate and the company received numerous orders for hardware export. Such phenomenal success within such low turnaround time delighted the client. The client was able to register an incredible profit at a fraction of the promotional cost. In turn, it awarded PGBS with an annual contract for telemarketing and also recommended our name to one of their partners for German-speaking call center solutions.
PGBS exerts significant leverage in the telemarketing domain with its expert and experienced professionals and state of the art infrastructure underpinned by huge resource base. We cater to needs of industries from various backdrops and hinge their business success and growth in our efficient services and networking.