For any company, it is important that each and every document provided by it reflects its professionalism. For the documents to appear neat and tidy, there are certain professional typesetting tips that can help.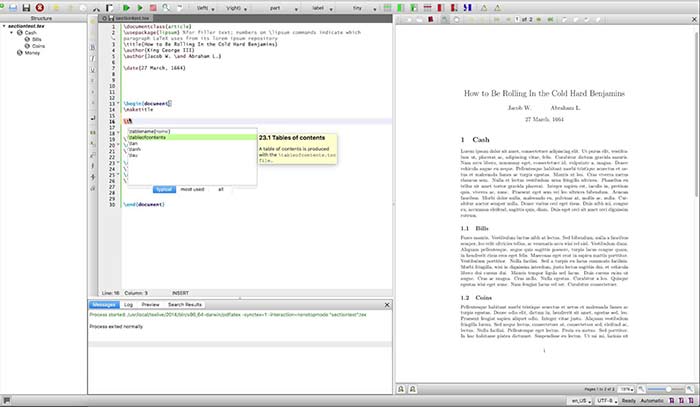 Font selection has to be done carefully
Be very careful with your font selection. There are many fonts that you can choose but Sans Serif and Serif are the most recommended ones. In Serif, the letters finish with a tail and it's pleasing. For short text and crisp headings, San Serif is ideal. Each letter gets visually separated from each other. Though the size is same as that of Times New Roman, this font appears to look larger.
Fonts should complement the document's purpose
Too many fonts can ruin the entire pleasantness and communication of the document. The tone is determined by the font selected. Ask yourself- what is the way your documents needs to be observed? Creative, personal or official? It's up to you; there are not strict rules for this.
Before selecting, scrutinize typeface
Some of the typefaces are devoid of lower case letters and accents etc. So, before selecting a typeface, check whether it has all the required characters. Assure that it looks appealing both in lower and upper cases.  Also make sure about the legibility of the numbers.
Some other fundamentals of typesetting
In case if you want to photocopy the document, stay away from using fonts having thin hairlines; it's hard to copy or read them. Size of large headings can be reduced by opting for any of the condensed fonts. Balance can be provided by placing white space around long bodies and headings.
Importance of proofreading
There is nothing more unprofessional than a document with lot of spelling mistakes, sentence construction issues and typos. The whole meaning changes with a simple spelling mistake. Let that never happen. Proof read and copyedit every document before you send it.
Formatting
The format or interior designing done plays a critical role in determining the appeal and professionalism of your book. Without proper formatting, even the most valuable ideas won't be appreciated and when you are the author, you don't want this to happen.
There are some authors who carry out typesetting by themselves and in such cases certain mistakes can happen. Most common among them are:
Huge indents
In place of apostrophes, footmarks are used
After periods inch mark tow spaces are used in [place of quote marks
Text with double spacing
If proper programs are not used for formatting the book, it can lead to orphans and widows; these are single lines and found towards the end or at the starting of a paragraph. Chapters are meant to be started at the page at right hand side. However, fiction is an exception to this rule.
Editing
There are still a lot of authors who underestimate the significance of proper editing. This makes their book full of logical inconsistencies, sentence construction issues and schoolboy grammatical errors etc. This leads to bad reviews owing to poor reading experience and lack of professional feel.
Few more fresh rules
It has now become obsolete to emphasise using the technique of underlining

After the sentences, double spacing is now not mandatory.

Using fonts of near sizes is not recommended. Font sizes 10 and 11 placed close to each other will not be apparent enough and hence they will make no difference.

Never clutter. If you want to make use of graphic elements, use them thinly round the text.
Books should be excellently published
How your book cover matters a lot. The appeal and pattern of your book cover should fall in line with the nature and feel of your book content. Lack of connection between cover and actual content makes the whole thing look unprofessional. Graphics as well as text fonts of cover should be kept in mind while typesetting the internal pages. This leads to credibility and overall professionalism.
With us, you will be able to excellently communicate through your books. Starting from layout and design to typesetting to cover design, we take care of everything.
Time is crucial for any business and hence it is advisable to outsource your requirements to any of the best companies offering typesetting services.