eBooks were formally introduced back in 2010; ever since the world witnessed these accessible, handy digital assets and the several benefits they bring, there has been no stop in the popularity of eBooks. The pandemic in 2020 and the resulting lockdowns saw more and more adoptions of eBooks across multiple sectors, especially the education industry.
Besides, multiple publication houses have turned towards converting traditional paperbacks into more convenient and portable digital books. As per Statista, there will be more than 1.2 billion worldwide eBook readers by 2027.
That said, investing in eBooks is probably the best idea for marketers, authors, and publishers alike. But there's a small catch! eBooks are not compatible with eReaders unless they are created in the exact format. To make the matter worse, there are a plethora of eBook formats with distinct properties.
To make a manuscript ideal for selling and reading electronically, book retailers and eBook creators need to convert Word, PDF, or any other plain text document into specific formats optimized for digital viewing.
Quite a lot of eBook file formats are there, amongst them the most popular is the ePUB format that allows users to integrate a lot of interactivities and multimedia elements within the content. Also, it is the most commonly supported format by popular ereaders like Kindle, Boox, Nook, etc.
Confused? Don't be. For the less tech-savvy readers and beginners, this article breaks down the top ten most popularly used eBook formats supported by the leading electronic readers. Let's dig in!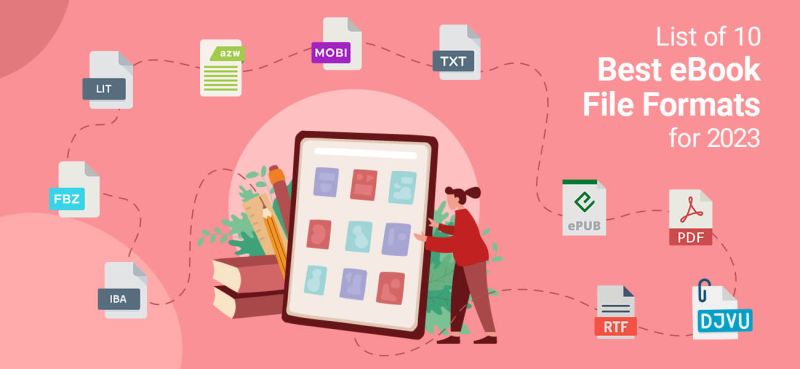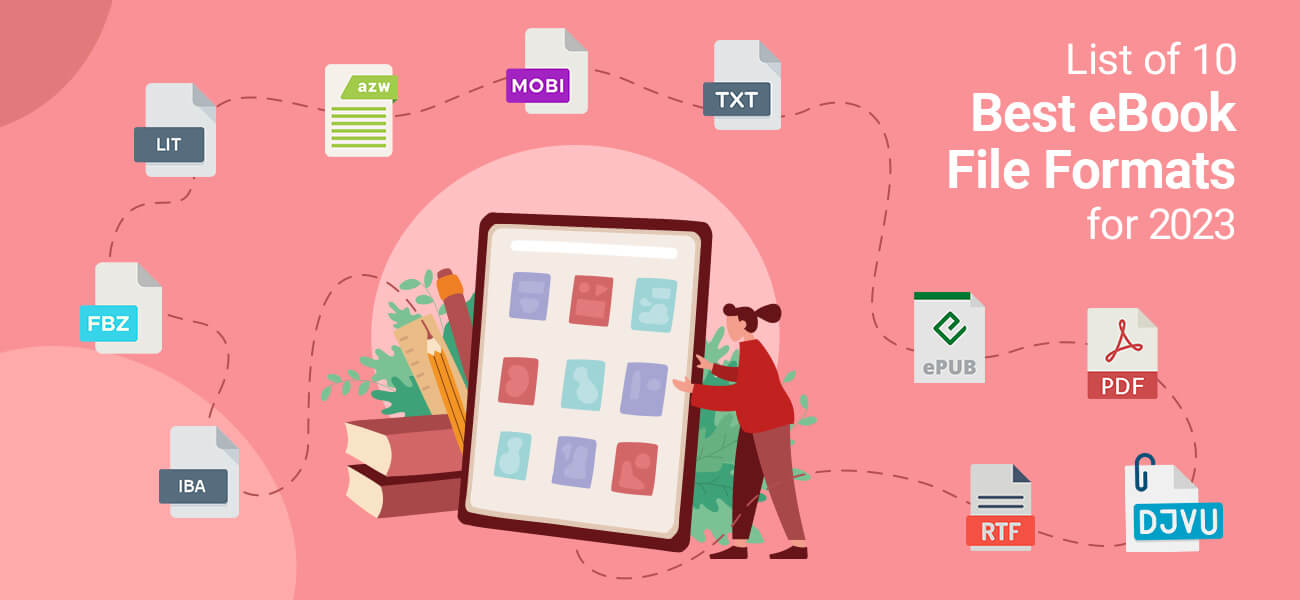 Top 10 Best and Commonly Used eBook File Formats explained
There are more than 18 and above eBook formats out there. The list below narrows down the top ten of them that are most commonly used and supported by online readers.
TXT

As the name suggests, TXT (.txt) files only support texts and simple formatting options. Graphics, audio, images, etc., are not supported. This is one of the oldest eBook formats that has been used for numerous publications to be distributed electronically. It can only store information with basic textual formatting, and is mostly used for alphabets and numeric.

As a result, no interactivity can be expected from TXT. It also lacks *DRM protection. The simplicity of this format makes it the ideal choice for text-heavy research reports, encyclopedias, thesis papers, wherein flashy interactivities are not required.

FB2

The FB2 is a popular XML-based eBook format developed in Russia. FB2 is heavily used by eBook collectors as it can store metadata within the eBook file itself, proving to be very useful at times. It can also be easily converted into other formats having a much less complex conversion process.

Hence, the format is also used as a handy storage format.

ePUB

One of the most widely used and adopted eBook file formats is the ePUB, developed by the International Digital Publishing Forum. Since its inception, this format has become the go-to choice for digital publishers worldwide, eventually replacing the OEB (Open eBook) format.

ePUBs are supported by a wide range of electronic devices other than digital readers, can support multiple interactive elements such as SVG graphics, hyperlinks, video, audio files, color images, and so on. This format is vendor-independent and open standard, have *DRM protection along with a robust copy protection feature. ePUBs can be reflowable and have fixed layout both.

The only downside is this format is not supported by Amazon Kindle or is not the right format for KDP (Kindle Direct Publishing).

IBA

This is another commonly found format for eBook conversion mostly used for digital content generated in the iBooks Author app, powered by Apple. This format technically resembles ePUBs as it supports many multimedia elements such as videos, audio, interactive, clickable elements, etc.

However, the IBA format is not supported in other eReaders since it functions solely based on the customized widget codes in the Apple Books application. It is an exclusively proprietary product of Apple Inc. Targeted towards iBook Author app. Hence it doesn't have a universal audience compared to ePUB.

MOBI

MOBI, aka Mobipocket eBook file was the by default file format for Amazon Kindle. The format is not open standard and hence is not publicly available for all. Although Amazon has discontinued support for MOBI since 2011, the format still continues to thrive in low bandwidth devices owing to its simplicity.

The format doesn't support DRM protection, audio, video or animation files, and has since been replaced by AZW. More or less most common online readers support MOBI, except Sony, and Nook.

DJVU

One of the most advanced and popular file formats for eBooks in the scientific research and development community. The format was developed by AT&T Labs in Red Bank, New Jersey, and has the most efficient conversion mechanism. The DJVU format stores over 100 black and white scans in less than 1 MB.

AZW and AZW3

As discussed above, the AZW file format has recently superseded the MOBI, and has thus been the exclusive proprietary eBook format for Amazon Kindle. Developed primarily for Kindle eReaders, this format can efficiently store complex content information such as annotations, bookmarks, highlights, and the like.

Nevertheless, being a proprietary product, AZW cannot be viewed in other devices such as Kobo eReader, or Nook. However, Android and iOS both support AZW, as well as it is supported by eBook management tools like Calibre and Alfa.

The AZW3 is an upgraded version of its predecessor, the AZW, developed by Amazon after the release of the Kindle Fire. This format gives much more advanced support such as additional layout formatting, font styles, CSS, etc. Any eBook downloaded from Amazon will be available in either of the two formats.

RFT

Universally compatible with most eReaders available in the contemporary market, the RFT file format for eBooks has a special ability to reflow and format texts. This feature gives the RFT format a competitive edge over TXT files in retaining the special characters and support text formatting and reflowing.

The same reason also makes it a preferred format amongst avid eBook readers.

PDF

Although the PDF format is the oldest and most common format to circulate documents online, it has some limitations when it comes to the new-age readers. However, it is still one of the commonly used formats for exporting and distributing eBooks and other online reading resources, which has contributed to its widespread adoption worldwide.

As far as the limitations are concerned, PDF files cannot reflow or adjust itself per the size of the device in which the content is being viewed or presented.  Also, Kindle store or iBookstore do not sell PDFs, albeit the format is supported in any device.

Another good thing about this common file format is, it is open standard and has become ISO 32000 certified since 2008.

LIT

A proprietary, *DRM-enabled format of Microsoft, readable only on the Microsoft Reader application. The Microsoft Reader application was the by default electronic documents reading software on Windows devices.

The LIT format, which was a modified extension of the compressed or compiled HTML help, was developed by Microsoft primarily for its Reader app users; however, the app was stopped in 2018, and the LIT format saw its last release in 2011.
How to Choose the Right eBook Format for You?
There are several aspects that one must keep in mind while selecting the correct format for their eBook content publication. A wrong format can cause a lot of unwanted compatibility and support trouble that can be swiftly avoided if the following criteria are considered:
Who is the target audience? (who will read the content, children, grown up adults, parents, or elderly)
Where will the eBook be distributed? (e-tailer, website homepage, online platforms)
What are the types of content or digital assets present in the eBook? (graphics, images, videos, animation, sound effects, or only texts)
One doesn't necessarily have to be familiar with the technical lingos, but answering these points can help narrow down the exact file type for a seamless user experience.
If you wish to sell via Amazon Kindle store, you may go for the Amazon-compatible formats like MOBI, the AZW, or the AZW3- either of the three. If Nook, Apple or KOBO is your pick, then opt for the reflowable/fixed layout ePUB, PDF, or MOBI. ePUBs are also the right choice for direct selling from websites.
Why is ePUB the most commonly used eBook format?
It is the most common file format for eBook publication, and happens to be the primary choice of publishers and authors. As well as most leading electronic readers and platforms support the ePUB format. There are several reasons behind this and why ePUBs have eventually replaced PDFs in circulating digital documents.
Check out the reasons why:
Easy creation and editing process – ePUBs are zipped files containing CSS style sheets, JPGs, HTML, XHTML files, etc., that makes editing super easy. Besides, creating ePUBs are extremely hassle-free; numerous online software are available for the conversion.
Reflowable according to the device – ePUBs come in both reflowable and fixed layout format, amongst which the reflowable quality makes the format the best choice for publishers. Reflowable ePUBs flow and adjust the texts, the layout, images, paragraphs and other onscreen visual elements regardless of the viewing device, ensuring better reading experience.
Unlimited multimedia elements addition – Authors and publishers can add as many interactive elements within the content to make the eBook more immersive and engaging for the readers. Files like audios, graphics, videos, clickable widgets, pop-ups, all can be added without any issues. Most other formats don't support these multimedia files.
Supported by multiple eReaders and platforms – ePUBs are compatible with any electronic reader, computers, smartphones, tablets, iPhones, iPads, iPod touch, etc., given the fact that the format was originally developed for this purpose.
Robust security – The ePUB format has a strong password protection system that locks confidential files that have limited access. ePUBs offer DRM protection that specifies a certain period of time to access and read the content, or limit the devices on which the content can be viewed on. This helps preventing illegal printing, piracy, etc.
Why should you outsource your digital conversion requirements to professional service providers?
Simply put, outsourcing your digital conversion requirements to a team of professionals not just ensures the utmost quality, but is also the best cost-effective and less time-consuming way of getting your eBook ready for publication. Digital conversion appears to be challenging mostly because of the preparation and the technicalities involved in it; but for an experienced professional agency, offering stellar eBook conversion services is an effortless job.
Although there are a lot of online conversion software applications available that help in easy PDF or other file format conversion to ePUB, it is always recommended to solicit a professional agency if someone is aspiring for top-notch quality. These third-party agencies have conversion specialists who are competent and have thorough domain knowledge across a vast range of industries.
Moreover, they are skilled in wielding the latest technologies, ensuring international standards and flawless formatting. And lastly, the cost of hiring such an agency is way less than buying the expensive licenses of the conversion software.
Wrapping up!
Hope you have enjoyed your read and received useful takeaways to implement. eBook creating, formatting, and publication though appear to be daunting, it's just a matter of time, practice, and selecting the right format. We believe the information and the detailed list of eBook file formats given above will help anyone to correctly format their digital reading assets and reach their target audience effectively.
Just remember to be aware of each of the formats mentioned in this guide and you are halfway through!
Also as mentioned, it is always a great ideal to consult a professional to get the best out of the digital conversion process. Not only are they cost-effective, but also they are the master of their trade. Start publishing eBooks now and enjoy the thrill! Good luck!