The world is on the path of using artificial intelligence, so businesses are also finding ways to include these automated programs via chatbots, auto-generated emails, and more to interact with their customers.
But, some studies suggest differently; according to these studies conducted by the market researchers, when it comes to an exchange of words, customers want human interaction; this is where inbound & outbound call center services play a vital role.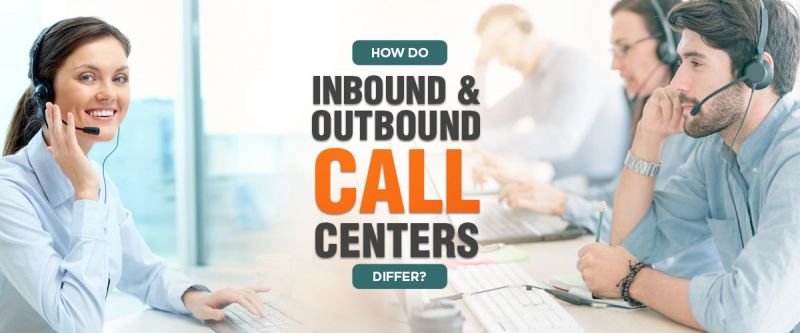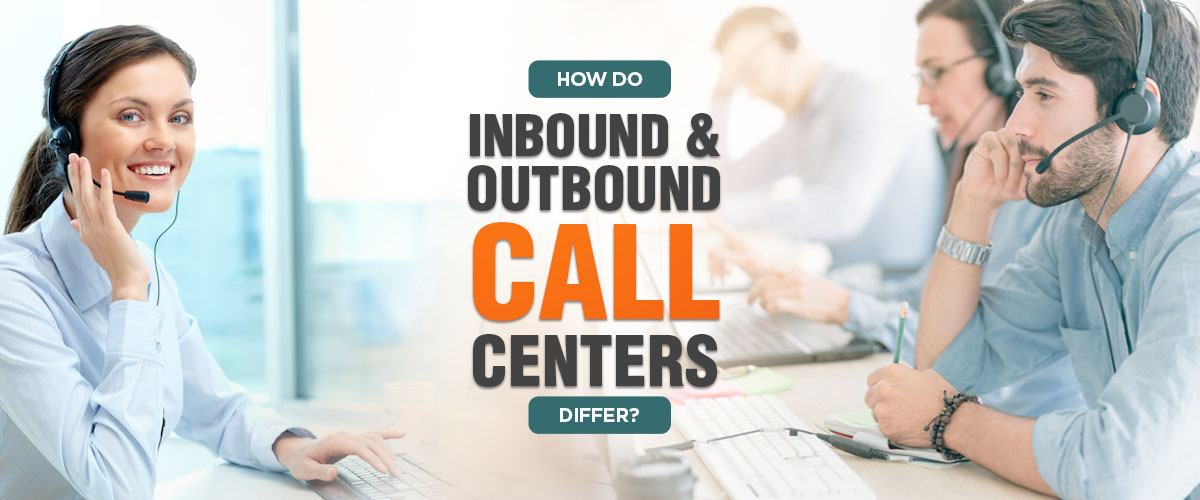 Before discussing the difference between the two, let us understand the crux…
Contact center companies offer 3 types of services, namely-
Inbound call center services
Outbound call center services
Hybrid call center services
Now that we know precisely the types of services let us discuss what are inbound and outbound calls and how they differ?
What is an inbound call center service?
Before jumping into the explanation, we have a question for you…
Have you ever reached out to any customer support against your purchase?
If your answer is yes…then you have experienced the inbound call meaning on your own.
Inbound call centers are a hub of customer support that receives calls from existing customers on behalf of the company they are working for.
With this support, a company can resolve customer queries, concerns, and issues, and they can also help generate revenue by cross-selling and upselling.
Giving you a more comprehensive vision of inbound call center services, let's look at their types.
Types of Inbound Call Center Services
Customer Support

This section broadly covers calls from the existing customer for their account management, product-related query, or other support required during the buyer's journey. It covers-

Frequently asked questions (policy & practices related)
Customer feedback
Returns & Refunds

In most cases, businesses use automated chatbots or emails for the interaction followed by a feedback procedure, but in some, a human voice works better than any electronic medium.

Product or Tech Support

This section broadly covers the tech part related to account management, or we can say updating account information, password change, enabling/disabling of user accounts, etc.

It also covers calls related to tech support like system updation or reports of product malfunctioning. This part of the tech support demands patience with the customer, and any automated medium can't be of help; this is why many businesses hire call center companies for help.

Inbound Sales

Inbound call center services work on the support part but also helps in generating sales for businesses via inbound marketing.

This is quite possible that some potential customers also reach out to you with their queries along with the calls from your existing customers. This is when customer support plays a part in inbound call center sales by cross-selling and upselling.

Upgrade & Renewal of Services

This type of service is required when existing customers reach out to a business for the upgradation of the services they are enjoying. It includes- subscription plans, renewal of services, benefits of becoming a community member, and more.

For playing this part, inbound center contact points should be well-versed in understanding the customer's requirements and well-informed about the company's entire product and services, ongoing promotional activities, and the benefits of retaining or upgrading their plans.
This sums up the topic of inbound call center services, and now it's time to understand how it is different from outbound call center services?
What is an outbound call center service?
When we elaborate on the outbound call meaning, it turns out to be the opposite of the service mentioned above.
In short, outbound call center service is a process of cold calling potential customers. It is an outgoing call to the shoppers based on the specific database collected.
These calls target a pool of customers to buy a particular product or service to Attract-Engage-Delight and convert them to buying.
These calls are also used for collecting market-related reports, surveys, etc.
Let's now move on to the types-
Types of Outbound Call Center Services
Market Research

Cold calling is not always made to convert customers; it is sometimes used to get the nerve of the market, products, or services customers prefer.

In this call process, the agents ask questions to the pool of databases to extract their thought processes and know the trends customers are following and enjoying from the market.

This calling helps businesses find the right path to approach customers, or it also helps design a particular product in demand.

Generation of Leads via Warm & Cold Calls

Under this, the agents reach out to the potential customers to check the intention whether they are interested in the particular product or service or are simply curious.

This is a process where agents guide potential customers in their buying journey and generate a willingness to purchase.

This part covers both the telemarketing and telesales in it.

Appointment with Salesperson

This section broadly covers setting meetings, appointments, etc., of the client with the salesperson or the point of contact from the vendor company.

Many businesses work on this criteria, and outbound customer support service is a handy solution for managing these appointments and meetings.
Hybrid Call Center Services
Many companies require both inbound and outbound call center services; this is where hybrid call center services come into the picture.
These service providers are responsible for receiving calls and reaching out to shoppers for conversion.
This communication process creates a seamless, consistent customer experience as it provides both services from one channel.
What is the Difference Between Inbound and Outbound Call Centers?
When we talk about the call centers, there are two major types of inbound call center and outbound call center.
Both inbound and outbound call centers help businesses, but in the exact opposite way.
An inbound call center is more of a customer support type that receives calls from customers and prospects to provide solutions to their problems, guiding and educating them about the product or service on behalf of the business they are working for.
An outbound call center on the other hand, is more of a calling the new potential customers or existing customers to generate sales.
To Conclude
So, whether your business requires support for customer acquisition or to resolve queries of the existing ones, you will need to put metal on the paddle, and inbound and outbound call center services can be of maximum support.