ProGlobalBusinessSolutions (PGBS) has been producing flawless portraits for over a decade, serving numerous clients of both business and individual levels. Be it photography studio, budding photographers, or individuals with portrait retouching requirements.
Our team of upskilled portrait editors work tirelessly to give the utmost satisfaction to our clients. This is how we have gained the trust of our clientele thus far.
Talking about professionalism, we are considered one of the most professional photo editing service providers in the industry. We follow a step-by-step process to make the output look impeccable.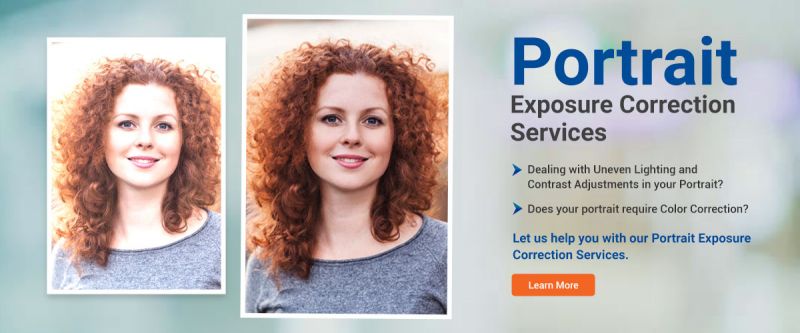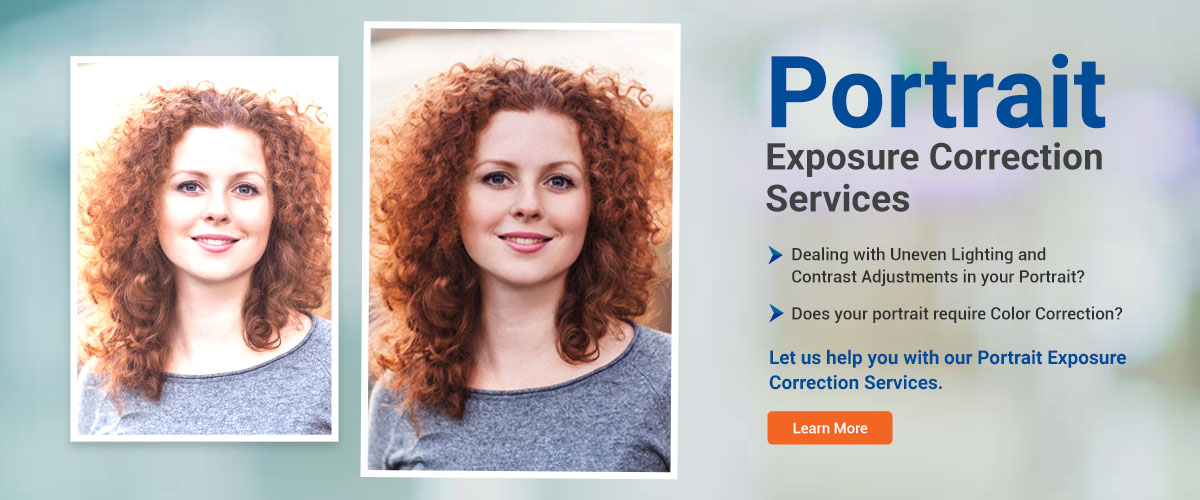 While working on the portrait refurbishment, we consider fixing lighting issues, color correction, skin retouching in case of close-ups, etc. We even keep a keen eye on the slightest details which need some brushing up.
PGBS is reaching new heights daily with a strong portfolio providing solutions for various niches listed below
Portrait Exposure Correction Services at PGBS
Our photo exposure correction services address various challenges that are quite common during photography.
These challenges make the portrait look dull. It may be because of inadequate lighting conditions or sometimes uneven lighting distribution, irregular contrasts, equipment limitations, and more.
Our editors make the necessary touch-ups in images to make them look flawless. We have an advanced infrastructure and upgrade techniques that help us achieve what you are looking for in our services.
Our work stands out in diverse environments and applications thanks to the varied services we offer in this niche.
Business/Corporate Portrait Correction

Here, the exposure correction demand comes for both professional and casual portraits depending on the nature of the business.

We approach differently in both the cases as both demand a different type of mindset and skill set in photo retouching services.

For professional ones, we provide targeted exposure to the portraits focusing on the subject that reflects sharp details. For the casual portraits, we enhance the elements along with the other corrections.

Lifestyle Portrait Correction

Our retouched images bring life even to the dullest lifestyle portraits!

While working on this niche, we always make sure that the essence of lifestyle portraits is never compromised. With detailed internal discussions and an apt approach, our editors always reach the most satisfying exposure output.

Couple or Wedding Portrait Enhancement

It does not matter how advanced technology you use to capture moments of life; you must know this! The cameras may never be able to reach the level of beauty that only eyes can see.

This is why considering image editing services to get the job done is a smart move.

Whether wedding photo editing or couple portrait retouching, our editors try their best to make these beautiful memories everlasting.

We have a lot of budding professional wedding photographers who work with us to get their shots to reach perfection.

Family or Group Portrait Enhancement

A family portrait has its place in the heart of every close-knit family. We use the most advanced tools to make it the perfect one.

We focus on adjusting exposure levels across various subjects for family or group portraits, including both formal and informal approaches.

Maternity or Baby Portrait Enhancement

Some memories are made to cherish forever, including maternity photo-shoots or baby pictures. But as mentioned above, all need a bit of brushing up as cameras have their limitations, but creativity has none!

We work on enhancing the portraits to increase the beauty element in them. Like most portraits, these is also a good focus on exposure and lighting to pop up the subject.

Glamour or Fashion Portrait Correction

This niche requires a different approach with a shift from a soft color palette to the pop-up one. We provide a super-focus effect to the portrait that enhances the beauty and glamour part.

With the reduction of unwanted elements that make it look not very interesting, we provide the most flattering fashion portraits.

These portraits demand a special focus and keen eye on the exposure parts.

Candid Portrait Enhancement

The candid moments are the most natural shots clicked to make the photography count. These portraits require an over the top approach and a moment of inspiration style of the candid portrait genre.

These portraits can be used for fashion, casual, entertainment, artistic, or sometimes even for media. Hence, it requires various unique exposure techniques that suit each one of them.

Traditional Portrait Enhancement

In traditional portraits, the subject and the background require shallow field depth to keep both separate yet highlighted.

The adjustment of these includes exposure enhancement so that it correctly highlights the subject against the background.

A full body cropping is required to give a highlight to it subject-wise. Also, it requires special attention to the enhancement of bone structure, facial features, and even eye color.
PGBS Portrait Exposure Techniques
With a pool of young and creative minds, we have a state-of-the-art technology. We convert an ordinary image into a very attractive piece of art.
Exposure correction techniques we use include
Color correction
Contrast Adjustment
Gloss Finishing
Skin Texture Correction
Hue Adjustment
White Balance Adjustment
Matte Finishing
The Process of Professionalism
We strive to deliver the most professional outputs. Our successful endeavors are a result of our hard work and the most organized process we follow
Understanding the Core of the Client's Brief

We have long discussions with our clients in the first place to understand their requirements.

Secured Data Transferring

The next step includes sharing securely the required files bearing the raw images on which the work will be done.

Work Allotment

We start the allotment of work and responsibilities according to the need.

Portrait Exposure Correction Phase

We use the best-in-class tools to fix the shortcomings and make the work look most satisfying.

Quality Checks- A Must Have

The quality check is done within the team based on various factors. Once it pass through the quality check stage, it is sent to the client.

Feedback & Final Delivery

As our client gives a go-ahead, we share all the files in the most secure file transfer protocol.
Why Choose PGBS For Portrait Exposure Correction Services?
Dedicated subject matter experts will work on your projects.
Meeting international standards
High-quality assurance even for high volume handling
Use of most advance technology & unique approach
24/7 customer support
We provide the ultimate support to get your business-related portrait photo retouching requirements solved when you reach us.
With a client base in almost every part of the world, we serve with our most refined photo editing services meeting international standards.