ProGlobalBusinessSolutions (PGBS) is a trusted photo editing company among real estate agents looking for editing or enhancement services. Real estate marketing is the most competitive industry these days, and only presenting raw real estate photos will not be enough. Instead, those photos need to be edited by using advanced technologies and resources better. PGBS offers a wide range of image blending services with the help of our highly skilled professional team. We can remove imperfections and create appealing images for our clients. We also remain updated with the new market trends to produce outputs per the industry standard.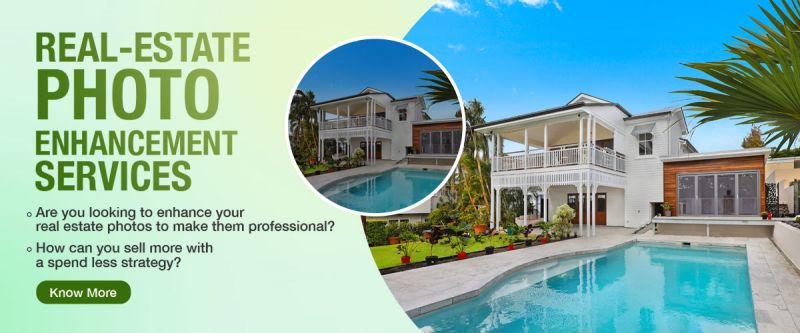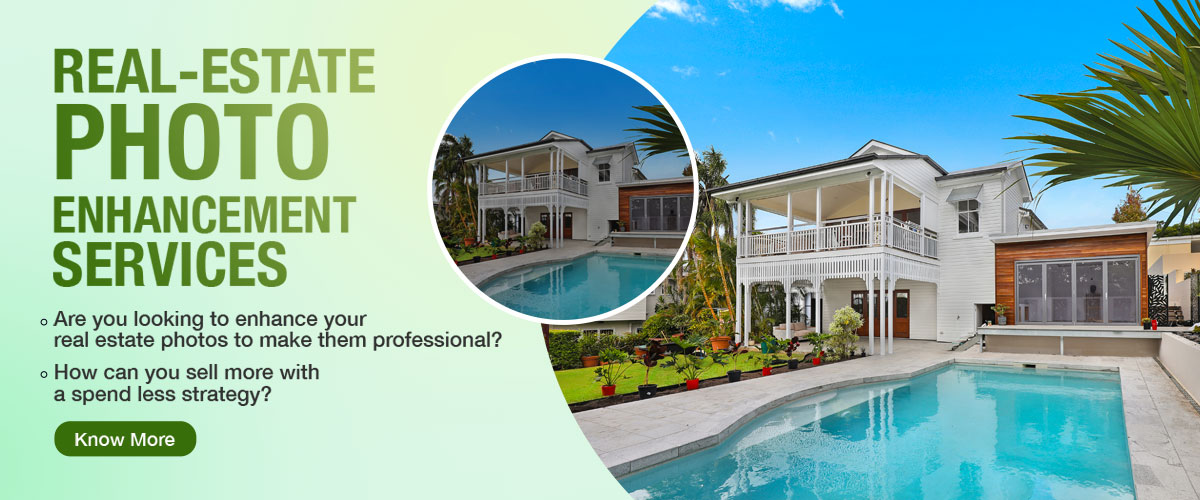 We have a team of experts who can help you enhance your real estate photos with popular image editing tools. Outsource your requirement and improve your real estate images with all the essential elements. We can remove unwanted images, enhance lighting effects, color correction, and much more so that the image appears excellent. Our real estate photo enhancement services at PGBS ensure proper fine-tuning of the photos without compromising quality.
Our real estate still image enhancement services include
We have skilled real-estate photo editors who work on your property photo enhancing in the best way possible. Some of the real estate still image enhancement services features include the following
Brightness and contrast adjustment

Improper brightness and contrast settings can ruin your most elaborate interior design composition. Our team of experts can take care of these kinds of issues and give your real estate image a well-balanced look.

TV image replacement

Some people think that a TV in the background can ruin the look of the interior images. Sometimes it may be the cause of distraction that might take away your buyer's attention from the things that matter. However, our TV image replacement service can help you eliminate this tension.

White balancing

Real estate images need to look fresh and appealing, but the discoloration factor must be handled with care. It will make your image brighter and crisper. Balancing will help white objects be seen as white, showing your listing in a professional light.

Image straightening

It will misrepresent the building's natural appearance and beauty if your real estate photo looks as if it's falling backward or inward. Straightening all the vertical lines plays a vital role in presenting realistic images, which will make the potential buyers come closer to their buying decisions.

Image sharpening

Our real estate image enhancement services help you sharpen your images to ensure your pictures get a professional appearance and are of high quality. Image sharpening will remove defects making it more impressive and improving lighting.

Removal of wires and plug points

Unwanted plug points and wires will be a massive distraction for the viewers. With our real estate image editing services, those can be removed, and the background can be turned into plain making the image look more attractive.

Tone adjustment

Tone adjustment helps in image enhancement taking it from a dull and bland image to something appealing and bright with the creativity of our experts. Our photo editors use some of the best retouching techniques and turn your picture into a stunning real estate image.

Lens distortion removal

Enhance your images and get rid of unwanted aberrations caused by the lens's focal length, camera model, etc. Our editors can help you with lens distortion removal with some advanced tools and technologies.

Lawn Enhancement

A lush green lawn is essential in adding a curb appeal to the property. It can affect the buyer's decision and increase or decrease his interest in the property. So with our lawn enhancement services, we can make it look more appealing.

Dust spot removal

Dust spots or blemishes in your picture can negatively impact the buyer. There are chances of your viewers disliking the property. Our editors can offer the best services and remove all the dust spots and blemishes.

Adding fire in the fireplace

Impressing your audience with an image is a challenging task. Suppose it's a new apartment. You might need to add some decorative objects to the fireplace, including showpieces, furniture, and fire. Our editors can help you enhance your images by adding decorative objects into the picture.

Sky color change

This sky color change service can ensure an extra glow to your valuable photos. It will help you get long-lasting customers. Our editors will use the latest tools and replace a dull sky with an authentic shining sky. They can also transform all the dim images into brighter pictures.

Removing flash reflections

We help you remove unwanted reflections in your images, helping you sell the property and providing your viewers a natural appeal. We will remove all the distractions from the image, making it more impressive for the buyers.
How do you benefit from our image enhancement services?
By choosing us for your real-estate photo enhancement services, you work with a leading service provider with a global clientele.
We have a well-experienced team of photo editors who serve you within the shortest deadline possible.
We have broad exposure to global standards and benchmarking since we have worked for many international clients.
Complete transparency in communication is what we aim for throughout the project.
We never make you wait for us: our experts help you with timely delivery and within the specified deadlines.
We offer affordable pricing structures to all our clients.
Hire our real estate photo enhancement services company
Client testimonials
Thanks for the awesome editing and the fastest delivery! When I sent my Real Estate property images to ProGlobalBusinessSolutions, they were like good-clicked pictures, but what they had done with those images was like magic. Corrections were made most creatively, and now I can't wait to see them get printed.

Good job!
Your team of editors is great; they deliver professional work, I saw your edited pictures on our projects, and I must say, they were beautiful. Cheers Team PGBS!
FAQs
Contact Us
If you are looking for professional support for your real estate photo editing needs, please contact us!
Contact Us