Companies small and big rely heavily on call center service providers to grow their business. Being available to the target audience in their own native language is key to gaining favours. Innumerable benefits are there if you opt for companies that are specialized in availing multilingual call center services.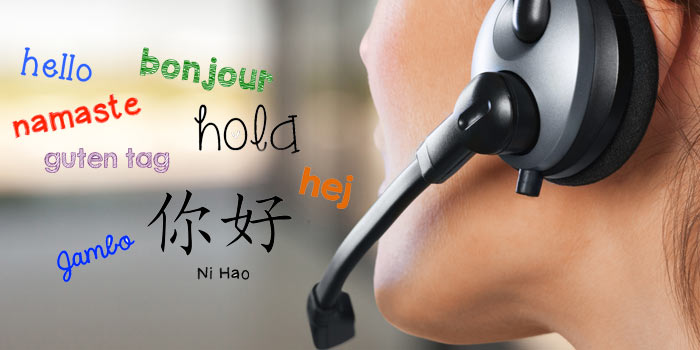 In general, the pressing issue of skill deficiency is solved when you outsource. Also costs are reduced drastically and you get access to accomplished resources and thus high quality outputs. Now let us see what exclusive benefits are there with multilingual service hiring.  
1) Mobilizing stationary marketplace
Exploiting the potential offered by global market is never that easy. Yes! Globalization has obviously become a strong force with the capacity to contour business world. But market localization is still a farfetched strategy. Attaining the same requires constant and consistent effort.
By outsourcing to a BPO service provider offering multilingual assistance, your sales and services can be extended to varied market sectors. Such an aid can help you to fill the gap when you encounter issues because of language difference while establishing connections. 
2) Enhancing customer experience
Customer experience is what matters the most. Brands are competing each other to offer better experience for their customers.  Connection established through emotion is vital and can be a decisive factor. If you succeed in that, you may be gaining a loyal customer or else it may be the final deal. You don't want the latter to happen. Do you?
Achieving personalization is easily facilitated when your customer support team speaks in the client's language. It signifies sincerity as well as an authentic desire towards initiating greater quality relationships. This is what every prospect will appreciate.
3) Alleviating cultural fissures
Cultural gaps can be threatening many times and it stands as an obstacle to your success. Miscommunications or lifestyle differences can ruin the whole connection. This main issue can be completely eliminated by assuring multilingual customer services.
Transactions will be made smoother, swifter and really comfortable if the language barriers are pushed away from your lane. Also new business opportunities can be explored and you get newer connections which can be of inordinate help in taking your business to greater elevations by stepping into unmapped new market sectors.
PGBS has been a favourite multilingual call center outsourcing destination for businesses from every nook and corner of globe. Separate team with specialization in each language is a unique feature that keep the company ahead of others. Having native people in the respective teams assures that the executives easily synch with customers during conversations as they are well aware of the attitudes, expectations and cultural nuances. With regular training, the company performs with more perfection and professionalism as it continues its growth.
For any requirements or to clear any doubts, get in touch with PGBS multilingual customer support team. They will surely help. Get best services at most genuine rates.