Are you a real estate owner?
How have you utilized technological innovations to grow your business?
What makes architectural 3D rendering a better way to promote your business?
Let's dive in!
Today, the real estate industry has been completely revamped with architectural rendering – the precious way to represent your property in a three-dimensional view supported by animations and graphics. This completely enhances real-estate properties, apartments, and more. Architects are adapted to the new digital technologies to create and carve structural designs with 3D rendering. Now, the real estate industry makes efficient use of these architectural rendering services with which they get a chance to represent their properties in a 3D model which illustrates every corner of it for a better perception.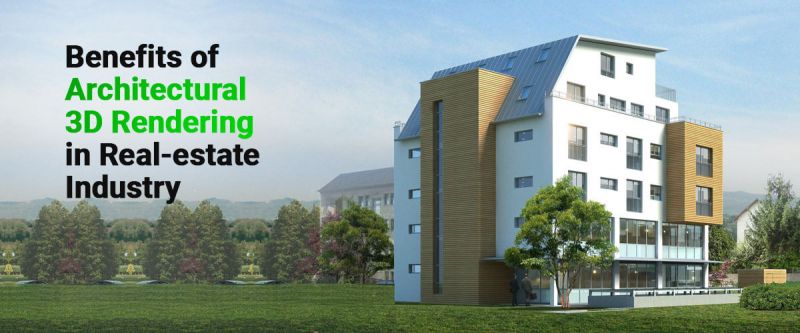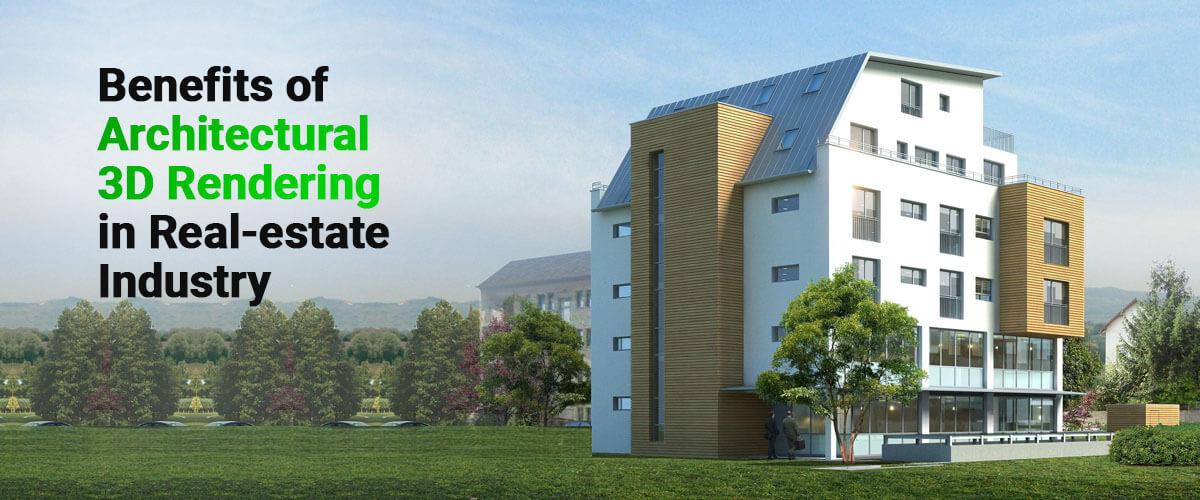 3D architectural rendering for real-estate is equipped with a plethora of benefits. From allowing the designers to come up with new ideas and innovations, boosting productivity to creating the amazing marketing collaterals that do wonders for your business.
Let us look at some of the most important benefits that 3D architectural rendering offers to the real estate industry.
What are the Key Benefits of Architectural Rendering for the Real-Estate Industry?
No doubt, real-estate is one of the most competitive industries across the globe – every town and city will have real estate agents working for the business. So, getting noticed with new ways of innovations is highly crucial. At the same time, companies would also look at options to save time and costs too. That's where 3D rendering becomes the best option.
Some of the advantages of 3D rendering for real estate industry are listed below:
Attract New Clientele 

Attracting new clients is always cumbersome for real estate companies. Present your ideas in the best way and keep them simple. A 3D rendering would help you get the aesthetic designs for your properties that are appealing to the end customers. And, surely, customers always feel delighted when something additional is provided to them to get a step ahead of the competition.

Stunning Realsome Property Designs

Looking for the best ways to convince your prospects? Of course, photography is at the top, but there are a lot of limitations in photography as well as the blueprints. You cannot disclose the property with a wider angle with photography. Even though Google Maps may help to some extent, there are quite a lot of restrictions.

So what's the way out? Make use of 3D modeling services wherein you can get the photorealistic version of the property. Not just that, 3D rendering even allows you to visualize your upcoming projects too. Especially for the real estate business, new project developments might take their own time. Within this time frame, you can start promotions for your future projects like a new residential development where you can showcase the whole area like roads, etc.

Reduce Operating Costs and Design Time

When promoting your properties in traditional ways, you have to hire a photographer to take shots and then edit them, which is again chargeable. Or if you wish to do the photography on your own, again, getting the necessary accessories would also be expensive. So, is there a better way to do it?

Yes.

Go for 3D architectural design companies to get it done quickly with the help of good 3D rendering software – and with this operation, costs can be saved to a large extent.

Easily Customizable

This is highly beneficial when you wish to make any modifications to your property images. In traditional methods, you will go for multiple iterations which will be expensive and time-consuming. With 3D models of your architecture, architecture rendering helps the real estate owners to modify their property visuals with just a couple of clicks. Not just this, you are also presented with options to make a few instant updates like matching wall paints, changing the floor tile setup, or even furniture setup too.

Streamline Marketing efforts

We must understand that marketing runs not just with super content, but also with appealing and convincing visuals of your brand/product. Especially for the real estate industry, the quality of the visual plays a greater role – be it an exterior view or even a furnished interior view.

With 3D rendering, you enjoy amazing quality, photorealistic images of your property which illustrates even a minute aspect of it. This is an excellent way to penetrate markets amidst competition to light up your prospects.

Penetrate VR and AR Networks

Be a part of the ground-breaking technologies – Virtual Reality (VR) and Augmented Reality (AR) networks. With this, you get adapted to the best way of listing your property across networks. VR helps you to get your prospects to interact with your property virtually thereby offering exceptional experiences to your customers.

With the help of VR and AR, customers get a chance to view your property on your websites as a virtual tour which would be implemented with the help of 3D rendering. With this, you make the prospects view your properties even without stepping out of their homes.
Wrapping up
The real estate industry's business depends on having a strong portfolio. Customer satisfaction can always be daunting but can be well achieved by adapting to technological innovations. One such innovation for the real estate sector is the utilization of 3D architectural rendering services to present your properties. By doing so, you also go a long way ahead of your competitors and present a new viable option to your customers.
Utilizing 3D architectural rendering for real estate businesses can help by cutting down unnecessary costs, saving time, and providing better customer services.
Are you looking for high-quality 3D rendering services for your real-estate business? We can help!