The world of 3D is upgrading and is dynamic; it is important for Texturing Artists to keep their arsenal up to date with new tools and technologies. To create photorealistic 3D designs, one must know the latest 3D design software to boost texturing and deliver top-notch designs. Here is a list of the best 3D texturing tools that will be a game-changer for you as a 3D artist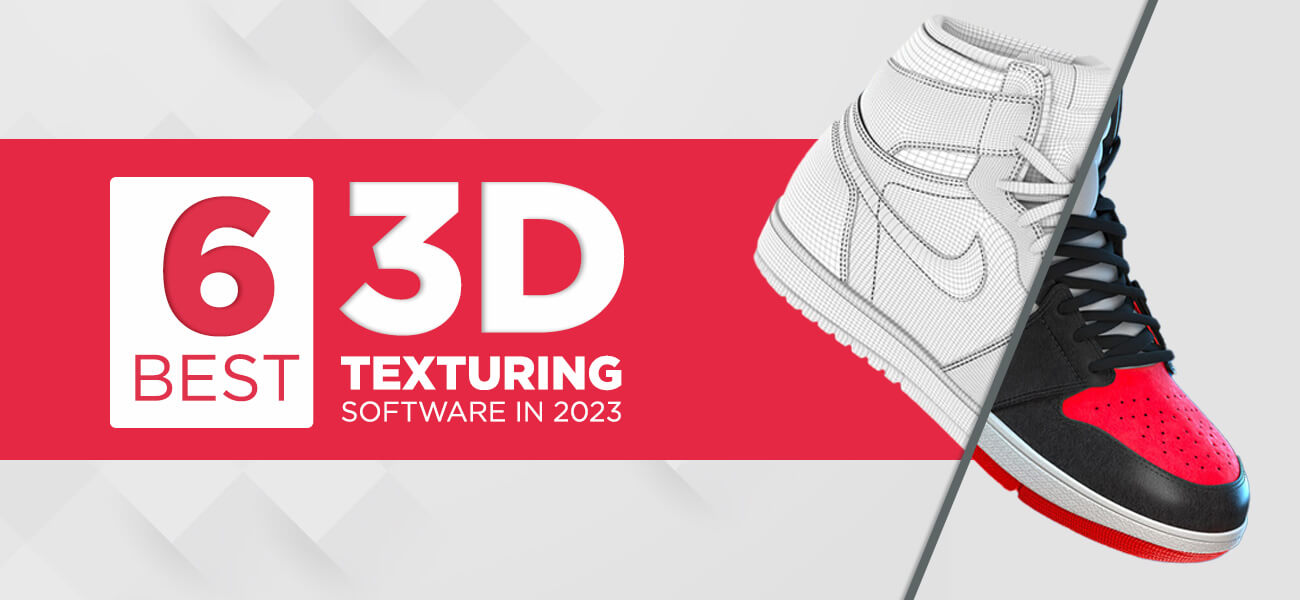 Quick Overview of Best 3D Texture Painting Software
3D texturing is a unique Computer Generated Imagery (CGI) that demands the time and skills of a 3D artist. While creating these photorealistic designs, the 3D model texture maker requires certain tools and techniques to achieve the best and most professional output.
And when there is a need for tools, there comes the list of best 3D texturing software to choose from and upgrade the armory.
In this write-up, we will share the most up-to-date 3D texturing software free & paid to make your work easy, but before that, let us understand the topic from the basics, the meaning, the process, and more.
Please stick with us to unleash the best version of knowledge for yourself!
Free 3D Texturing Software
Here is the list of the best free 3d texturing software in 2023
This is one of the best and most professional 3D creation suites with free open source.

Blender is the best choice for creating visual effects, animation, and video game visuals.

Features include

Raster graphic editing
UV unwrapping
Texturing

Blender has been a popular choice for 3D texturing because,

Open-source program.
Stands out from other 3D texturing tools because of its release-to-release improvisations.

Pricing Model: Open-Source Program

Operating System: Windows (8.1, 10 & 11), macOS, and Linux

Usage: Beginners & Professionals

This texturing tool is considered best for meeting various texturing needs; in short, it is a one-stop solution for all 3D texturing needs including

Multi-channel 3D Painting
ID Masking
Real-time 3D Curvature
Seamless Texture Projection
Procedural Noises
Smart Materials
Displacement Sculpting

This most versatile 3D texturing software allows artists to work in their preferred style. It has mega scan-based smart material that adapts in the most realistic way to the 3D asset and gives it a photoreal material definition.

Pricing Model: Free

Operating System:  Windows and Mac.

Usage: Beginners & Professionals (Zero Learning Curve)

This tool has all the features required for 3D texturing, or we can say that it is a platform which creates a 3D idea from a block of digital clay to a full-fledged 3D textured model which is ready for production.

The features include

Digital Sculpting
Easy Texturing & PBR
Fast & Friendly UV Mapping

This platform enables artists to create free-form organic and hard-surfaced 3D models from scratch.

Pricing Model: Free

Operating System: Windows XP, Windows Vista, Windows 7, Mac X, and Linux

Usage: Beginners & Professionals

ArmorPaint is an open-source software designed for physically-based texture painting. It is a user-friendly software that allows you to drag and drop 3D models, receive instant visual feedback, and work fast with nodes.

As ArmorPaint is run on the GPU, you can get a smooth 4K painting experience even on medium-power integrated hardware. You can get a seamless 16K texture painting experience with a high-end graphics card.

If you like working on the go, you will be pleased to know that ArmorPaint has several versions compatible with iPads.

ArmorPaint is free to download, and you can compile it yourself. According to their website, you can download the code from GitHub. You can also get pre-built versions that cost ~$20.

The ArmorPaint website also offers a vast amount of helpful material to help you learn how to use the tool.

The features include

PBR Texture Painting Software
Node Based Workflow
Ray Tracing
GPU Accelerated
Plugins
Live Link
Baking
Path Traced Viewport

Pricing Model: Free (pre-built binaries ~$20)

Operating System: Windows, Linux, macOS, iOS and Android

Usage: Beginners & Professionals
Paid 3D Texturing Software
The best software for virtual texturing and texture streaming and the final output is integrated with Unity. This tool not only provides the specifications mentioned above but also helps in generating high-resolution texture details.

However, this tool was recently terminated as a standalone tool and is now a complete part of Unity.

This tool uses minimal storage and memory, which is why it is considered favorable to use by artists dealing with the storage crunch.

Pricing Model: Paid License ($20/mo or $349/yr)

Operating System: Windows, Mac & Linux

Usage: Professionals

This tool requires no introduction and is quite known to one and all in the design industry. This tool falls under Adobe's umbrella and is considered one of the finest 3D texturing tools.

Talking about the features, this tool consists of all the specs an artist requires during the journey of 3D texturing.

This software comes up with new updations now and then, and the latest is the Creative Cloud, where the work is saved, and the artist can leave and start the work again with any other device sitting anywhere in the world.

Pricing Model: Paid ($20.99/mo or $239.88/yr)

Operating System: Windows 7 and above, Mac

Usage: Beginners & Professionals

Developed by Adobe, this tool helps artists paint in full 3D. This software is created to make the texturing work easy, but the detailing must be professional as it supports a 4K definition shader.

The best part of this software is that it is compatible with other Adobe tools and technologies, giving it a wider scope of presenting its work. The only shortcoming of this tool is that it works with limited UV maps.

Pricing Model: Paid ($99.90 for Pro version)

Operating System: Windows 7 & 8, and Mac

Usage: Beginners & Professionals

Mudbox is 3D sculpting and texture painting software that allows the creation of realistic characters and environments. It was developed by Autodesk, makers of the 3D modeling software Maya. Many 3D artists like Mudbox for its user-friendly UI, intuitive tools, and helpful tutorials.

Mudbox offers a vast range of tools (brushes, pencils, stamps, and stencils) that 3D artists can use to make high-quality textures. Moreover, Mudbox allows users to personalize brushes and add special effects like bumps or specular maps.

Pricing model: Paid ($15/mo or $100/yr)

Operating System: Windows & mac.

Usage: Professionals
Conclusion
The above-listed software is the best of other options available in the industry and is considered the most purposeful in 2023 for diverse freelancer 3d artists and 3D design services companies.
We hope this topic will help you choose the best one for you.
This sums up the topic of the best 3D texturing software, and we hope our knowledge sharing has helped clear the topic to you quite well!
For more such write-ups, you can follow us on social media or can also get yourself notified by signing up for our newsletter.
Need 3D texturing support?