ProGlobalBusinessSolutions is a professional photo editing services company with a team of experts who can customize any edits for the clients and improve the quality of the wedding photographs. We can work on both digital and scanned images, and our editors are much familiar with the diverse editing styles. PGBS ensures high-quality wedding photo retouching services by adopting proven practices while editing wedding photos. Over the years, PGBS has emerged as a trusted company with a dedicated, brilliant team of editors.
Due to the detailing involved, wedding portrait enhancement is a tough job. Editors need to balance postures, background, lighting, and other essential elements. We provide outstanding wedding portrait enhancement services at an exceptional rate with high quality. We leverage the best tools to help you during seasonal weddings and make your portrait free from any imperfections with our wedding post-processing services.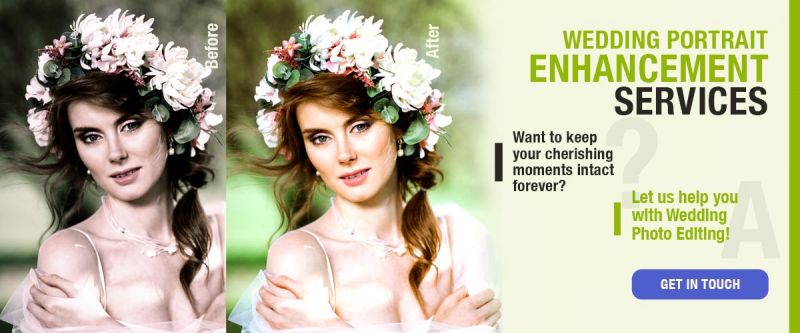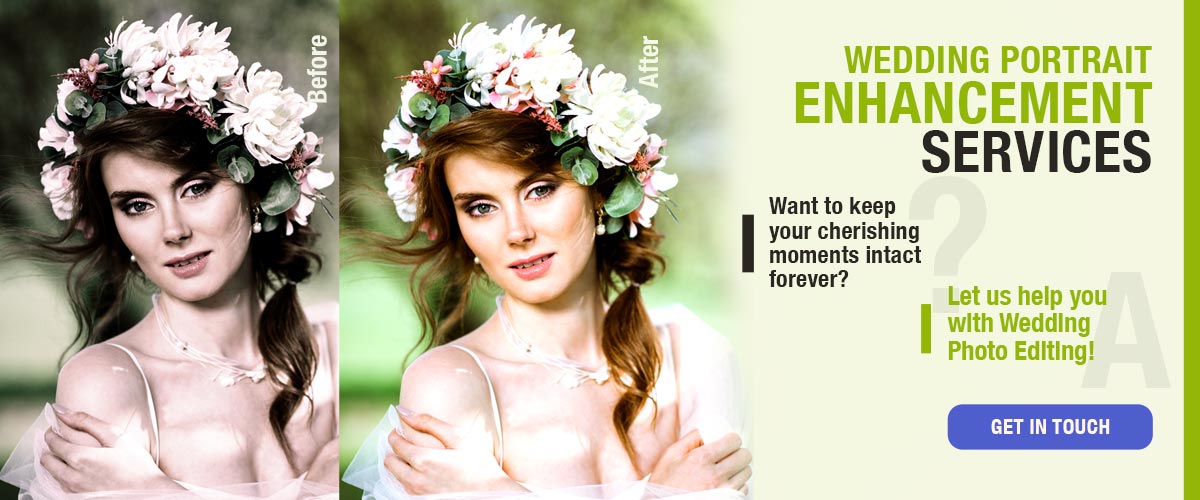 Our Wedding Image Enhancement Services Include
Weddings are a one-time moment in our lives. To make it a most memorable one for you is our core objective with amazing portrait images edited through which you can feel the right vibes. We have been helping photographers create good impressions with the photographs. In addition, we have experts who help you with couple portrait enhancement services within a quick delivery time.
We offer the following services
Enhancement of Bridal Portraits

As a best photo editing company, we adhere to the best practices in the industry. There is no doubt that more than 40% of wedding portraits belong to the bride. So, it is a time-consuming process and needs experienced hands on it. We have expert wedding photo editors who assist you with their excellent expertise in making bridal portraits unique. It will be inclusive of:

Skin retouching and toning
Body retouching
Lighting corrections
White balancing,
Brightness, contrast and hue, etc.

Makeup adjustment

Our expert photo retouchers can help you with the refreshed makeup of the bride so that the bride looks stunning even after a few hours of makeup. Lip colors can be made brighter, eyes can be highlighted, blush and eyeshadow effects can be changed, and a lot more.

Background update

Obviously, as a photographer, you will not be able to arrange the background you need. The only way is to change the background while doing the wedding photo editing. We make it seamless for you. We help you with the right and matching background with full customization based on your needs with our background enhancement. Light balancing of the background will also be taken care of.

Light and Airy Wedding Portraits

We work with expert editors who help you in making your wedding portraits unique. We help you with soft, matte portraits which can be tweaked based on your needs. We also help you with contrast and brightness adjustments, skin toning, shadow removals, and more.

Removal of distortions

We understand the significance of a portrait image in weddings. Hence, we take extra care in removing all the distortions and unwanted objects from the picture to look stunning without any deviations.
Benefits of using our wedding photography enhancement services
Complete transparency in communication
At PGBS, we strive to maintain a crystal clear communication strategy throughout the project. We include your feedback in all stages of our development to understand what is happening inside.
Quick turnaround time
We do not make you wait for long. Our experts will fulfill your requirement in a swift turnaround time, and we will take extra care in meeting the deadlines.
High level of data security
With us, your data will be secure. We agree to maintain the confidentiality of the data throughout the project.
A global network of clients
We have experience working with international clients with different cultures. This helps us expand our clientele and work on different situations swiftly and without compromising quality.
Hire us for your wedding portrait enhancement needs
We have been among the top choices for wedding portrait enhancement services for years now and have been recognized for our works. Our clients greatly enjoy our photo editing services, and we take pride in serving a global clientele. We have experts who stay up to date with the tools and technologies to deliver the wedding photo retouching services efficiently and as per your requirements. We would always be available to support you in any case, irrespective of the time zone differences for the image enhancement services.